Safeguarding well-being through biomedical science - Named Professorship Scheme promotes excellence in research
Technological innovation holds great promise for the medical field, and one of the top scientists at CityU is dedicated to bridging these two domains.
Professor Michael Yang Mengsu
Yeung Kin Man Chair Professor of Biomedical Sciences
Acting Dean, Jockey Club College of Veterinary Medicine and Life Sciences
Professor Michael Yang Mengsu, Yeung Kin Man Chair Professor of Biomedical Sciences and Acting Dean of the Jockey Club College of Veterinary Medicine and Life Sciences, is seeking to improve people's lives by converting his research into clinical applications.
"The ultimate goal of biomedical research is to contribute to human well-being. We hope to encourage more students to find and develop their passions for research and innovation and cultivate an entrepreneurial mindset for the challenge of converting CityU's many high-quality research projects into clinical applications that benefit society," Professor Yang said.
Professor Yang's research activities focus on the study of the biological processes involved in cancer and the development of biochip technology and nanotechnology for molecular diagnostics and therapeutic applications. He has published more than 200 peer-reviewed papers, received 30 US / China patents and co-founded three spin-off biotech companies since joining CityU in 1994. He was awarded the Chunhui Scholar Award by the Ministry of Education in China in 2003, the K. C. Wong Foundation Award in 2004, the Shenzhen Science and Technology Innovation Award in 2006, the Hong Kong Technological Achievement Grand Award in 2007, the Natural Science Award by the Ministry of Education in 2015, and the Wuxi AppTech Life Science and Chemistry Award in 2016.
His latest work won a Gold Medal for a microfluidicsbased technology platform for disease diagnosis and drug screening at the 47th International Exhibition of Invention of Geneva in Switzerland in April 2019. The microfluidic chips can be used for the sensitive detection of multiple gene mutations on barcoded microbead arrays.
This process enables the early identification of infectious pathogens and tumour cells. The platform can also be used to generate arrays of single cells and tumour spheroids for screening the most efficient anti-cancer drugs with their optimal dosages. The patented technology has been licensed to a CityU spin-off company that was co-founded recently by three PhD students who graduated from Professor Yang's laboratory.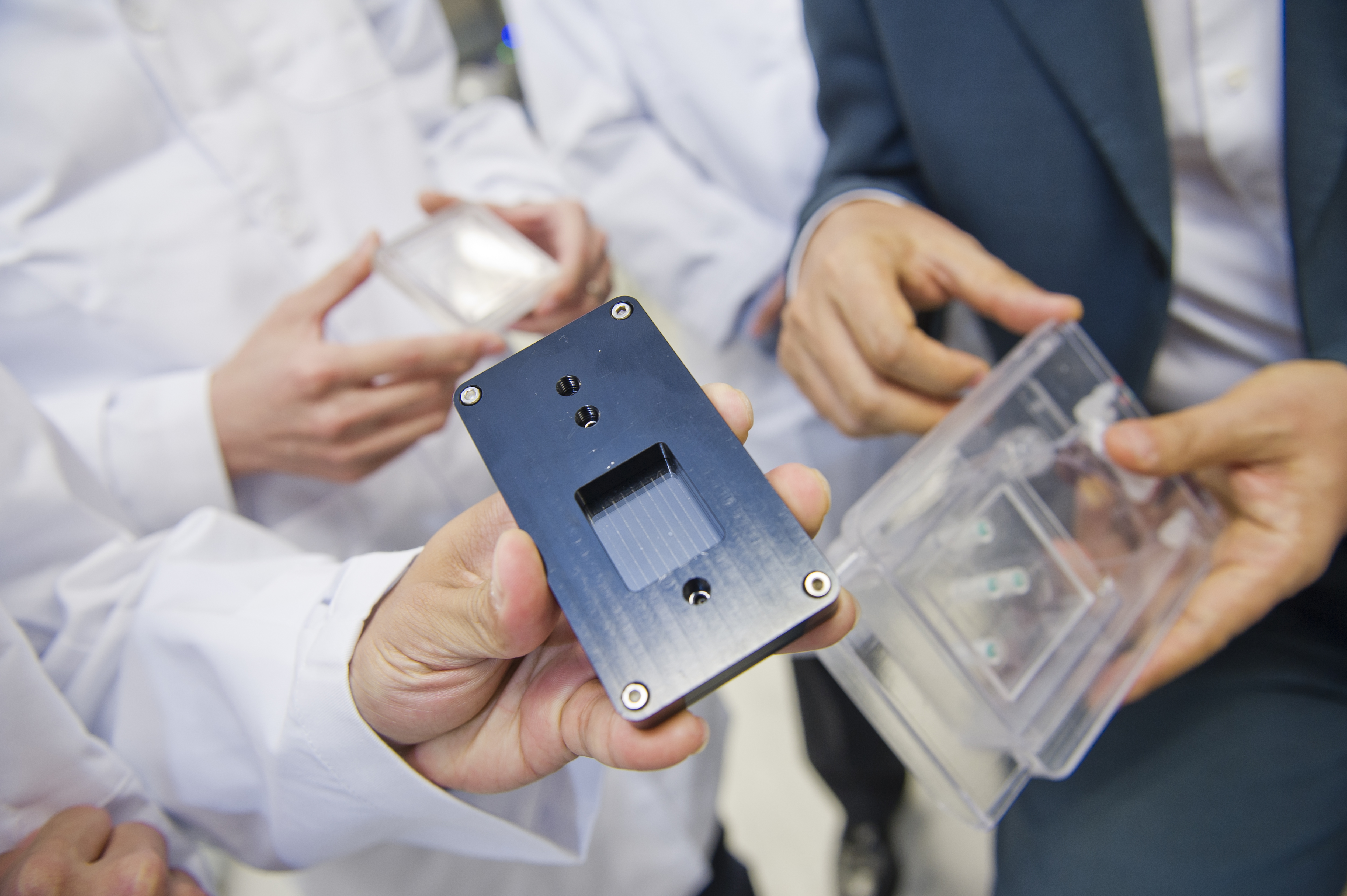 Professor Yang has already turned several research projects into clinical applications. His group previously developed DNA chip technology for the early detection of cervical cancer. That application has been commercialised by a Shenzhen-based company co-founded in 2004 by one of his PhD graduates. Millions of women have benefited from the breakthrough. In addition, a company he helped establish with a PhD graduate and a post-doctoral fellow in Hong Kong in 2010 provides pharmacogenomics and assessment services for side effects from drugs and then suggests relevant preventive measures.
He thanked Dr Yeung Kin-man for supporting the Named Professorship Scheme. With the support of donors, this new scheme aims to promote excellence in research and professional education in the University's distinguished research areas.
These areas include architecture, behavioural and policy sciences, biomedical sciences, data science, data engineering, energy and environment, engineering, environmental veterinary medicine, finance, international economics, information engineering, IT innovation and management, media art, nanomaterials, neuroscience, nuclear engineering, translational neuroscience, and One Health.
"Donations have enabled my students and me to carry out pioneering biomedical research and innovations. We will continue to work hard to develop new technologies that benefit more and more people," he said.
Research in CityU Biomedical Sciences brings new hope and opportunities

In addition to Professor Yang's efforts to improve people's lives by converting his research into clinical applications, faculty in CityU's Department of Biomedical Sciences are dedicated to contributing to human betterment through their pioneering research. Associate Professor Dr Yao Xi developed a world-first, self-healable, anti-smudge coating, which enhances medical and aerospace equipment (details); Assistant Professor Dr Chow Kwan-ting studied rare cells that provide insights into developing cancer immunotherapy (details); and Assistant Professor Dr Ban Ki-won developed the first dual stem cell therapy for cardiac repair (details). These research achievements in biomedical science bring new hope and promise new opportunities for safeguarding human well-being.