Meet and greet the University Mascot
The start of the new semester featured a very special ambassador for City University of Hong Kong (CityU). 
Our new University Mascot helped to celebrate the first school day on 29 August by wishing everyone at the gathering on campus an enjoyable and rewarding 2022/23.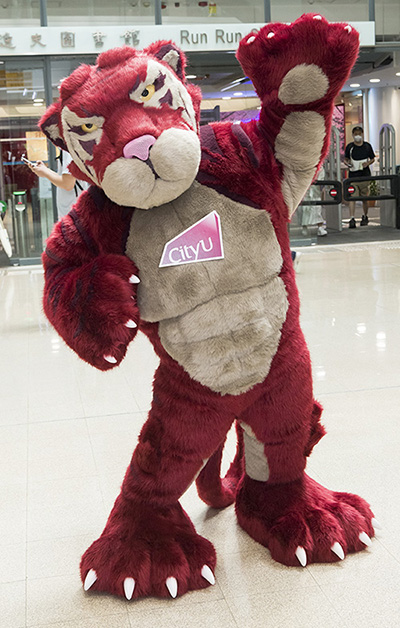 Enthusiastic students and staff appreciated the warm welcome and grabbed the chance to take photos with the Mascot, who had made its first public appearance just days before on 23 August. 
"I think the Mascot is striking and stylish, and different to the usual ones. Its appearance has heightened the atmosphere of the new semester. I'm happy to see campus so lively again," said Alan Law Kam-hei, Year 5 student in the Department of Mechanical Engineering. 
Maria Jose Robles, PhD student in the Department of Infectious Diseases and Public Health, said, "The Mascot looks strong and confident, which may represent the characters and strong mind of a leader. I'm excited about the new semester and hope that our projects in hand can be successful."
Adam Gear, Year 1 student in the Department of Economics and Finance, said, "The Mascot is very strong and energetic, and its colour matches the CityU logo. I think it reflects the very characteristics that the University wants to cultivate in the students."
Our Mascot takes the form of a brightly coloured tiger and reflects the University's wise, vital, vigorous and proactive character, a set of traits that CityU shares with this dynamic big cat and that symbolises CityU's determination to venture beyond boundaries. 
Life-size cardboard cutouts of the Mascot will be placed around the campus to help promote CityU's special characteristics and will be highly visible at publicity events and on various promotional channels.