A huge CityU welcome to freshmen and the University Mascot
Freshmen including local and non-local students were warmly greeted at the annual University Welcoming Ceremony held by City University of Hong Kong (CityU) on 23 August. At the ceremony, the long-awaited University Mascot appeared live for the first time, cheering for everyone at CityU as the new academic year kicked off.
The innovative idea of establishing a University Mascot was initiated by President Way Kuo of CityU. The Mascot reflects CityU's wise, vital, vigorous and proactive character, a set of traits that CityU shares with the tiger. The final decision on the design for the Mascot was taken by a working group composed of representatives from administrative and academic departments (including a professor from veterinary medicine) after discussions held over several months. This was the Mascot's first public appearance since its launch on University Day in March.
President Kuo began the event by acknowledging how the CityU freshmen had successfully persevered in defeating the uncertainty presented by COVID-19 over the past two years to enter university. Their determination echoes the CityU spirit as symbolised by the University Mascot, i.e. to "venture beyond boundaries and conquer challenges".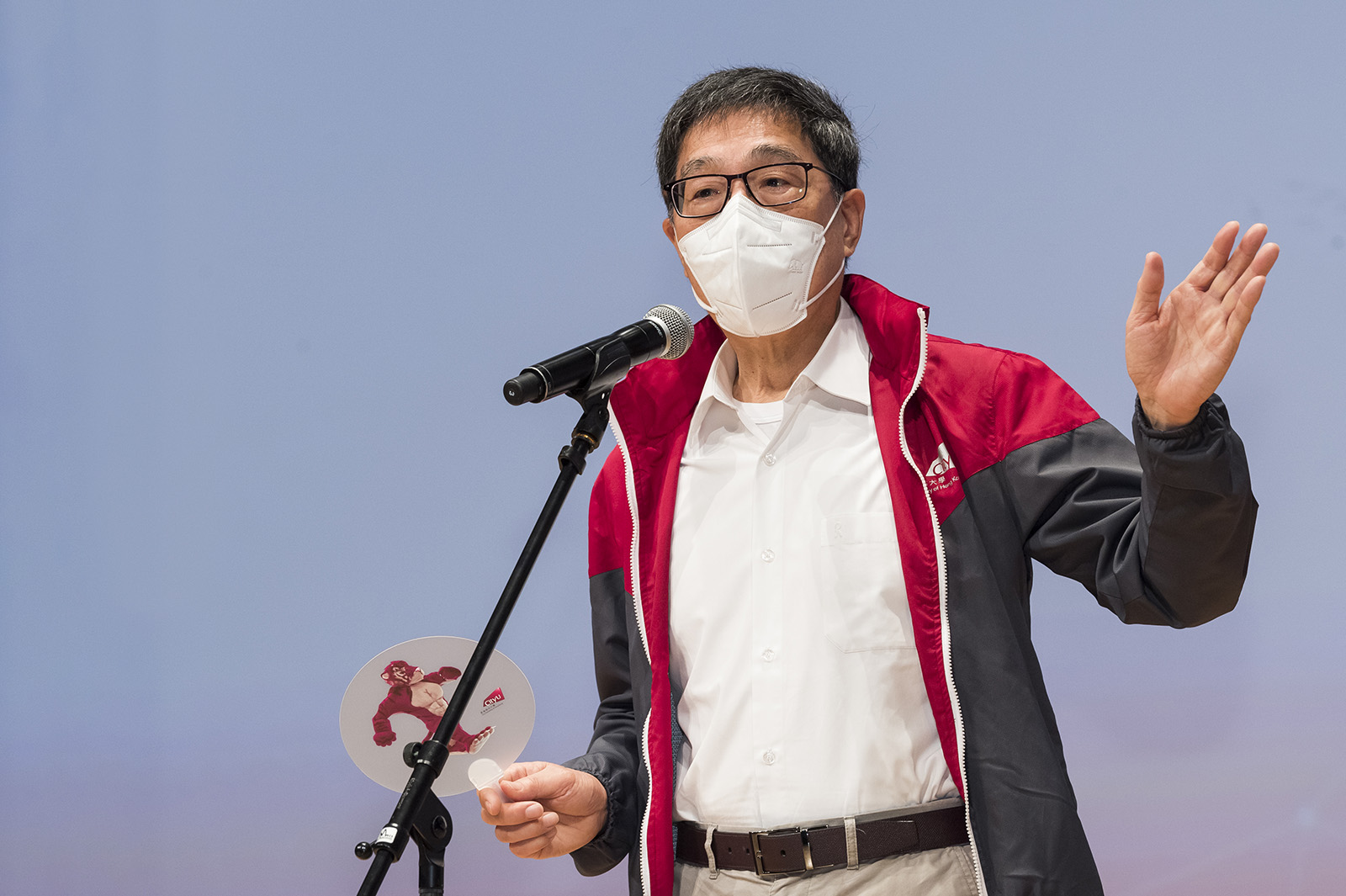 He then introduced several initiatives that shone the spotlight on CityU's strengths such as Asia's largest large-scale innovation and entrepreneurship project, HK Tech 300, as well as projects for advancing teaching and research facilities and exchange activities.
"CityU will develop even further as a diversified and multicultural world-leading institution thanks to its enhanced academic and research capabilities," said President Kuo.
At the ceremony, Professor Raymond Chan Hon-fu, Vice-President (Student Affairs), gave students three tips beginning with the letter "e". He encouraged students to enjoy CityU's dynamic university life, join exchange programmes, and enrich themselves by participating in employability and career planning programmes.
"Caring for and connecting with our community is a precious learning journey. We have service-learning programmes that provide students with training plus opportunities for helping those in need. Take your step to dream big and fly high," said Professor Chan.
Other guests attending the ceremony included Professor Christian Wagner, Provost; Professor Michael Yang Mengsu, Vice-President (Research and Technology); Professor Matthew Lee Kwok-on, Vice-President (Development and External Relations); Mr Sunny Lee Wai-kwong, Vice-President (Administration); Professor Richard Yuen Kwok-kit, Chief-of-Staff; Professor Henry Chung Shu-hung, Dean of Students and deans of colleges and schools.
Three outstanding alumni and senior students chatted about academic and extra-curricular activities at sharing sessions during the ceremony, encouraging freshmen to make effective use of CityU's resources, plan their university life, and equip themselves for their careers.
In addition, students of CityU Musical performed songs and dance from the classic musical "Fiddler on the Roof" while the CityU Karate Team demonstrated techniques and moves.