CityU organises canine breeding programme for HK Customs
The Veterinary Medical Centre of City University of Hong Kong (CityU) organised a canine breeding training programme for the Customs Canine Force in early July, the first pilot canine breeding course offered by CityU for a local enforcement agency. The programme helps the Force reduce overseas training costs and provides content that is better suited to local needs.
Professor Way Kuo, CityU President, and Mr Hermes Tang Yi-hoi, Commissioner of Customs and Excise, officiated at the certificate-presentation ceremony in the Customs Headquarters Building on 10 July, marking the completion of the one-week programme.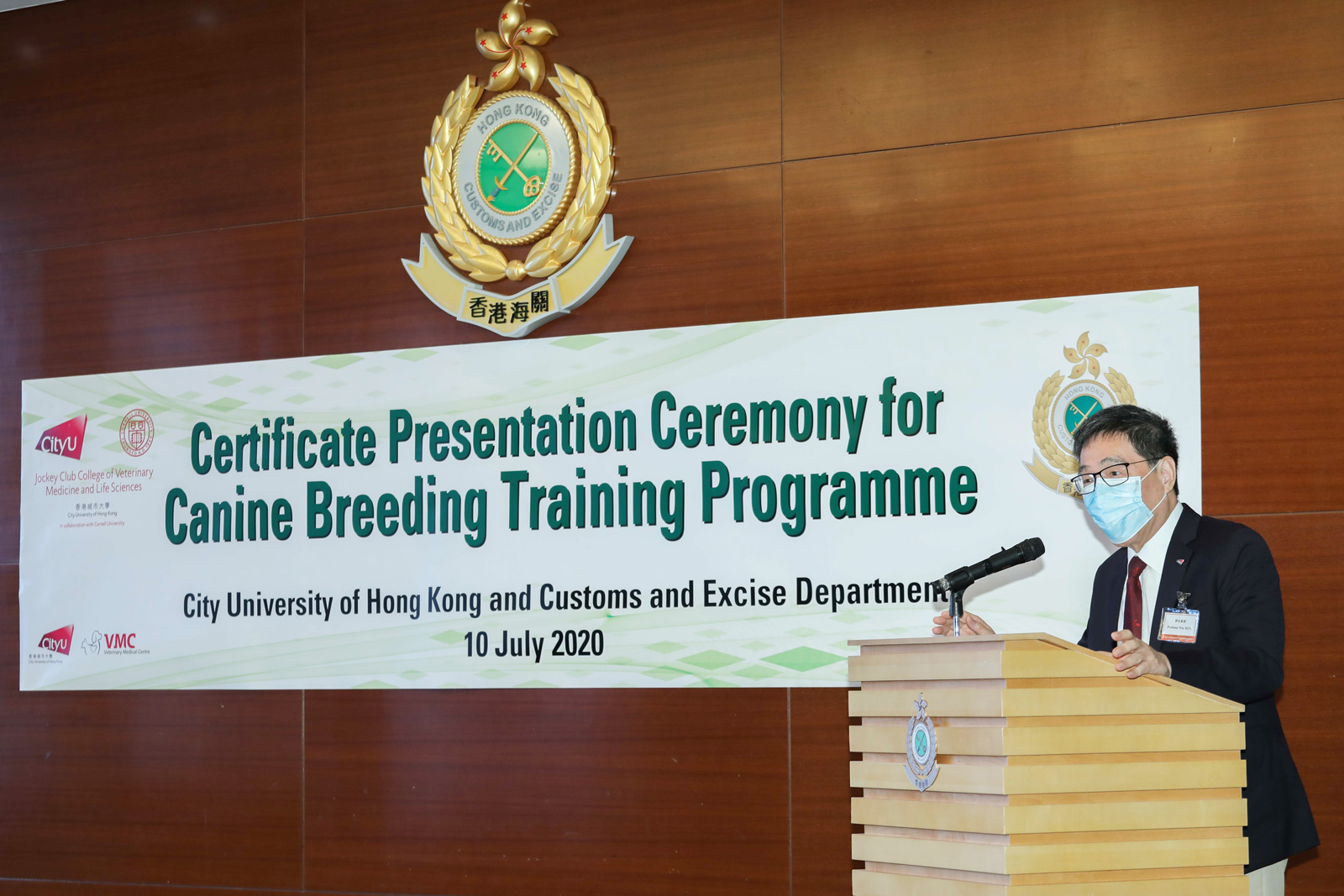 Guests attending the ceremony included Professor Michael Yang Mengsu, Yeung Kin Man Chair Professor of Biomedical Sciences at CityU, Dr Howard Wong Kai-hay, Director (Development for Veterinary Medicine) of the CityU Jockey Club College of Veterinary Medicine and Life Sciences (JCC), Dr Duncan Hockley, Executive Director of CityU Veterinary Health Group Ltd, Ms Louise Ho Pui-shan  and Ms Ida Ng Kit-ching, Deputy Commissioner and Assistant Commissioner (Boundary and Ports) of Customs and Excise Department, respectively. 
President Kuo said at the ceremony that the collaboration allowed Customs and Excise Department officers to be trained locally, helping to reduce the resources and time spent on overseas training, while its content catered for local needs better. "Localisation of education and training remains one of the goals of CityU's Jockey Club College of Veterinary Medicine and Life Sciences," he added. 
Mr Tang expressed his gratitude to CityU for providing the Customs Canine Force with a professional canine breeding training programme, which covered advanced breeding techniques, selection of breeding pairs, pregnancy, whelping, nutrition and puppy management. He said the graduate trainees will soon have their first internal breed of working dogs.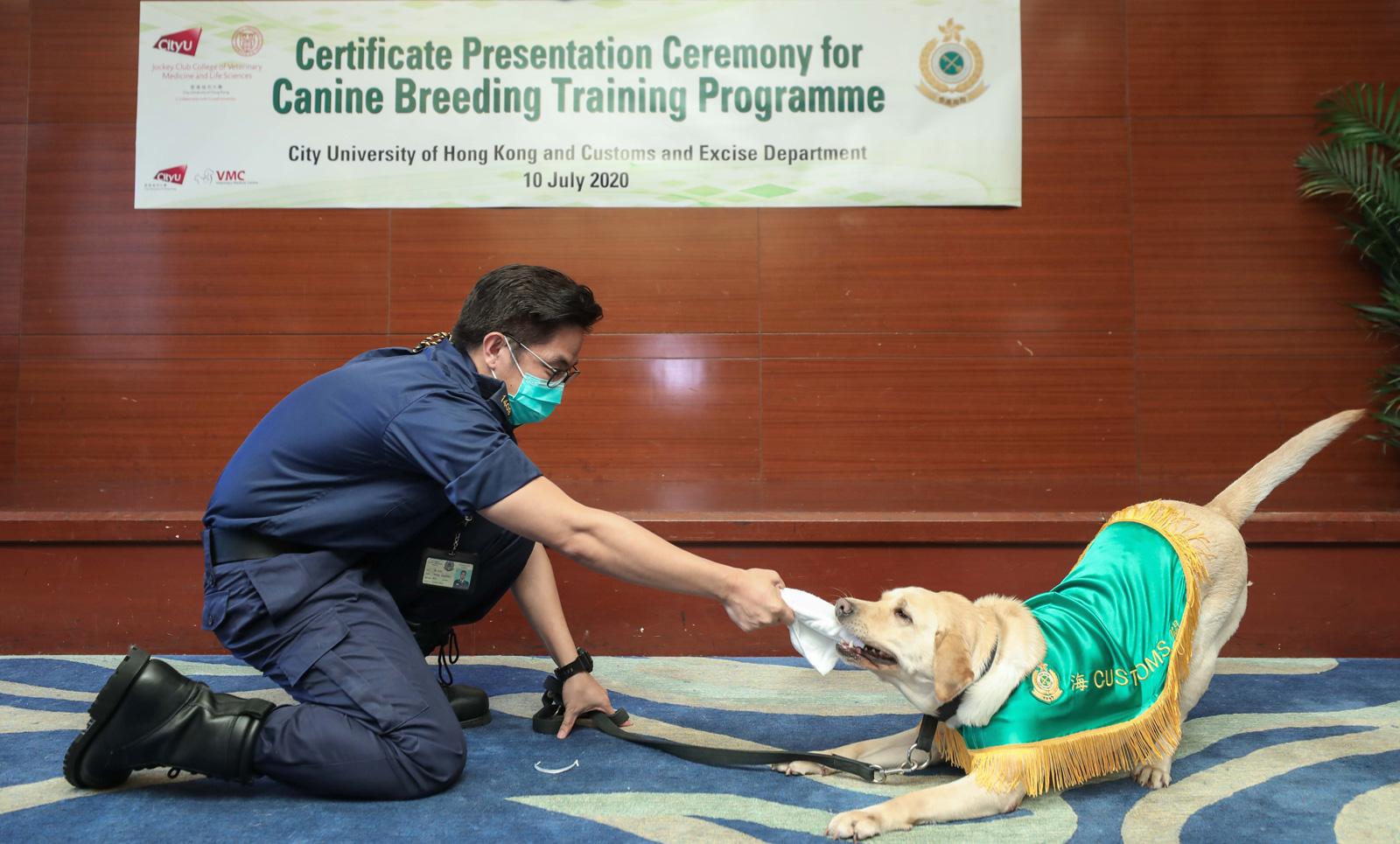 Dr Wong added, "The JCC has been a long time coming and is the first and only vet school in Hong Kong. CityU feels a sense of responsibility to the community, and I am delighted that this has resulted in this training programme, which will benefit Hong Kong people for years to come."
The Customs and Excise Department signed a Memorandum of Understanding with CityU's School of Continuing and Professional Education (SCOPE) last month, providing a credit-transfer arrangement with Hong Kong Customs College to promote continuous learning among customs officers. The Canine Breeding Training Programme is another cooperation with the department within a short time, marking the establishment of a good partnership. Dr Wong said he hopes that this will be the beginning of fruitful cooperation between the two institutions. 
Several law enforcement agencies with working dog units also attended the ceremony. The event provided a good platform for the participants to exchange ideas on canine handling and training, fostering future joint breeding programmes, and enforcement co-operation.