CityU and Mary Rose School join hands for Hong Kong Marathon 2022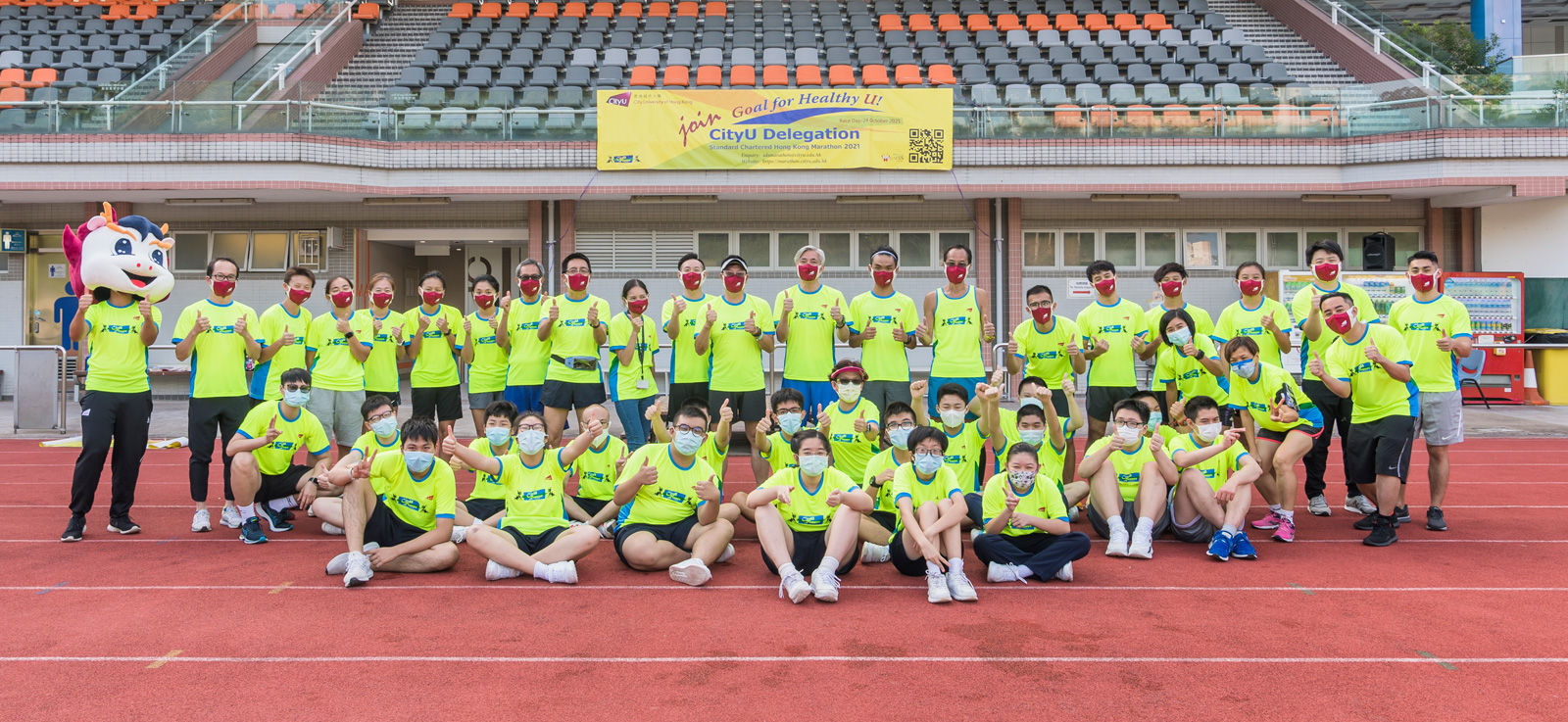 Staff and students at City University of Hong Kong (CityU) will partner up for the third time with students from Mary Rose School for the Standard Chartered Hong Kong Marathon in 2022 to promote greater social integration through sports.
About 20 students with different learning needs from Mary Rose School will pair with members of the CityU delegation, comprising CityU faculty, students, and alumni, to run the 10-kilometre race.  A ceremony on 1 November kicked off preparations for the "CityU X Mary Rose School Inclusive Run".
"I hope the students will be encouraged to train hard for the 10-kilometre run now that we are not far away from the next Hong Kong Marathon," said Mr Sunny Chau Yat-kwong, Chairman of the Organising Committee, CityU Delegation cum Associate Director of Student Development Services (PE).
Ms Chan Ngar-lai, Principal at Mary Rose School, said her students hadn't participated in the Hong Kong Marathon for two years because of the pandemic. She thanked the CityU team once again for supporting this activity with Mary Rose School students. She encouraged the students to stay energetic, keep the pace, exercise every day, maintain a positive mindset, and complete the race with a positive attitude.
Dr Ron Kwok Chi-wai, Director of the Alumni Relations Office, thanked the CityU Convocation and the CityU Marathon Club, which is organised by CityU faculty, students, and alumni, for enabling CityU members and students from Mary Rose School to participate in this meaningful event.
Yoyo Ng Tsz-yan, a Year 3 student from the Department of Marketing signed up for this Marathon for her first time. She is a member of CityU's cross-country and athletics teams. "My partner felt very tired at the beginning of recent training and wanted to give up. But I kept cheering by her side, counting down the laps, and she finally crossed the line. At that moment, an unprecedented sense of satisfaction came over me as this was something we'd accomplished together," she said.
She encouraged all participants to stick to their goals and try their best to complete the race.
This event falls under the "Sports Ambassadors Programme" organised by the Physical Education Section of Student Development Services. This Programme aims to unleash the potential of student athletes, emphasising academic and sporting achievements, serving the community through sports talents, and gaining experience in organising activities. The Programme helps to promote the exceptional spirit of an athlete and promote healthy living.
CityU advocates "excellence in both academics and sports" and encourages students to immerse themselves in academic knowledge and in the modern-day equivalent of the Confucian idea of the "Six Arts".
While emphasising a strong academic performance, the University equips students with athletic and musical skills, which helps to explain why CityU leads in international academic rankings. In addition, CityU encourages staff and students to respond to the needs of the disadvantaged in society.
For example, anti-pandemic products have been distributed to nearby social welfare organisations and CityU volunteers donated fruit and other gifts during the last Mid-Autumn Festival to senior citizens at a care home as part of a drive to promote greater social integration.