Professor Freddy Boey is installed as 5th President of CityU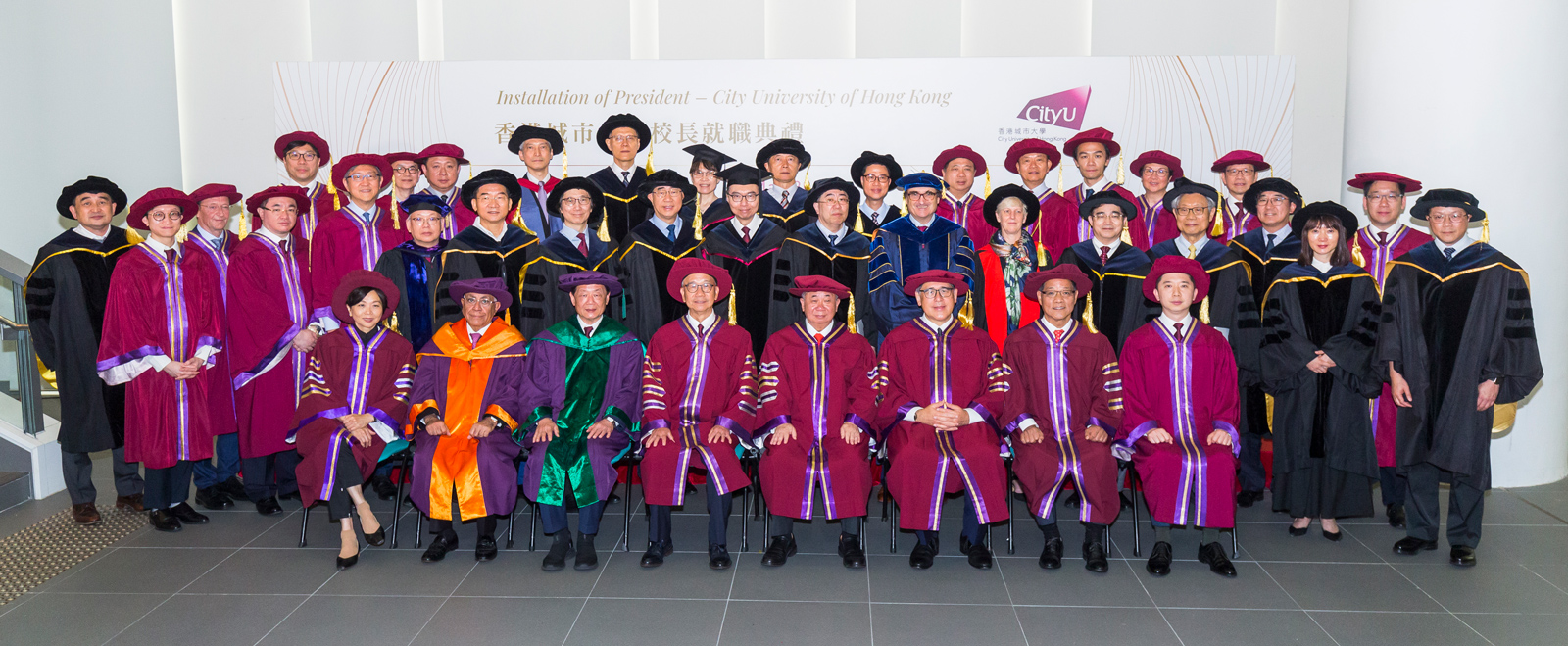 Professor Freddy Boey Yin Chiang, an accomplished leader in higher education and an outstanding scholar, was installed on 18 May as the 5th President of City University of Hong Kong (CityU).
Dr Chung Shui-ming, University Pro-Chancellor, presided over the Installation Ceremony and Mr Lester Garson Huang, Council Chairman, together with Council members, the senior management team, Deans and Heads of academic and administrative units, joined the Ceremony as the platform party.
At the Ceremony, Mr Huang said CityU had made excellent progress in professional education and research.
"Professor Boey is joining CityU at a very exciting point in our development within the local, regional and international higher education sectors. We now have a new leader of great talent and vision, a pioneering inventor with a rich research, administration and teaching background," said Mr Huang. 
Professor Boey, who assumed office as President on 14 May, was formerly Deputy President (Innovation and Enterprise) at the National University of Singapore. He has led key research contributions using functional biomaterials for medical devices and he has founded several spin-off companies to commercialise his cardiovascular, ocular and surgical inventions. His customisable hernia mesh received USA FDA (Food and Drug Administration) approval, while his recent COVID Swab design received the CE Mark approval.
In his address at the Ceremony, Professor Boey took the opportunity to encourage faculty members and students to become more learning-centric rather than teaching-centric.
"Innovative Learning exposes students to exploring beyond academic boundaries and embracing inventions. You cannot lecture or set exams for these things, but you can empower students to experience them through internships. I have every intention to ensure CityU students learn effectively institutionally, inspirationally, interactively and innovatively," he said.
Professor Boey also stressed the importance of connecting and engaging with the community. "Engagement with the local community should not be an option, but a core value, both to benefit the community around us, and for us to educate our students about their social responsibilities," he said.
Today's ceremony was attended by over 600 guests, including Mr Ong Siew Gay, Consul General of Singapore in Hong Kong, higher education peers, students, staff, alumni, and people from the wider community.
Read the full biography of Professor Freddy Boey here.
Read the installation speech of Professor Freddy Boey here.