CityU's new blood test technology for accurate detection of cancer cells
Groundbreaking technology that can accurately perform early screening for cancer cells and effectively monitor disease status has been successfully developed by a biomedical research team at City University of Hong Kong (CityU).
With an accuracy rate of over 90%, the new technology can detect cancer cells with as little as 
4 ml of blood in no more than five minutes, allowing a patient to know his or her risk of cancer as soon as possible. The new technology can also monitor the effectiveness of drugs used for medical treatment. 
Developed from the "cell manipulation and test platform based on microfluidic chip technology," the process can accurately identify tumour cells circulating in the blood. Without requiring patients to undergo surgery, the technology can detect tumours as small as 0.1mm in the early stages of cancer. 
Led by Professor Michael Yang Mengsu, Acting Dean of the Jockey Club College of Veterinary Medicine and Life Sciences and Yeung Kin Man Chair Professor at Biomedical Sciences at CityU, key members of the research team include Dr Henry Zou Heng, Dr Edwin Yu Wai-kin and Dr Xu Tao, all Senior Research Associates in the Department of Biomedical Sciences at CityU.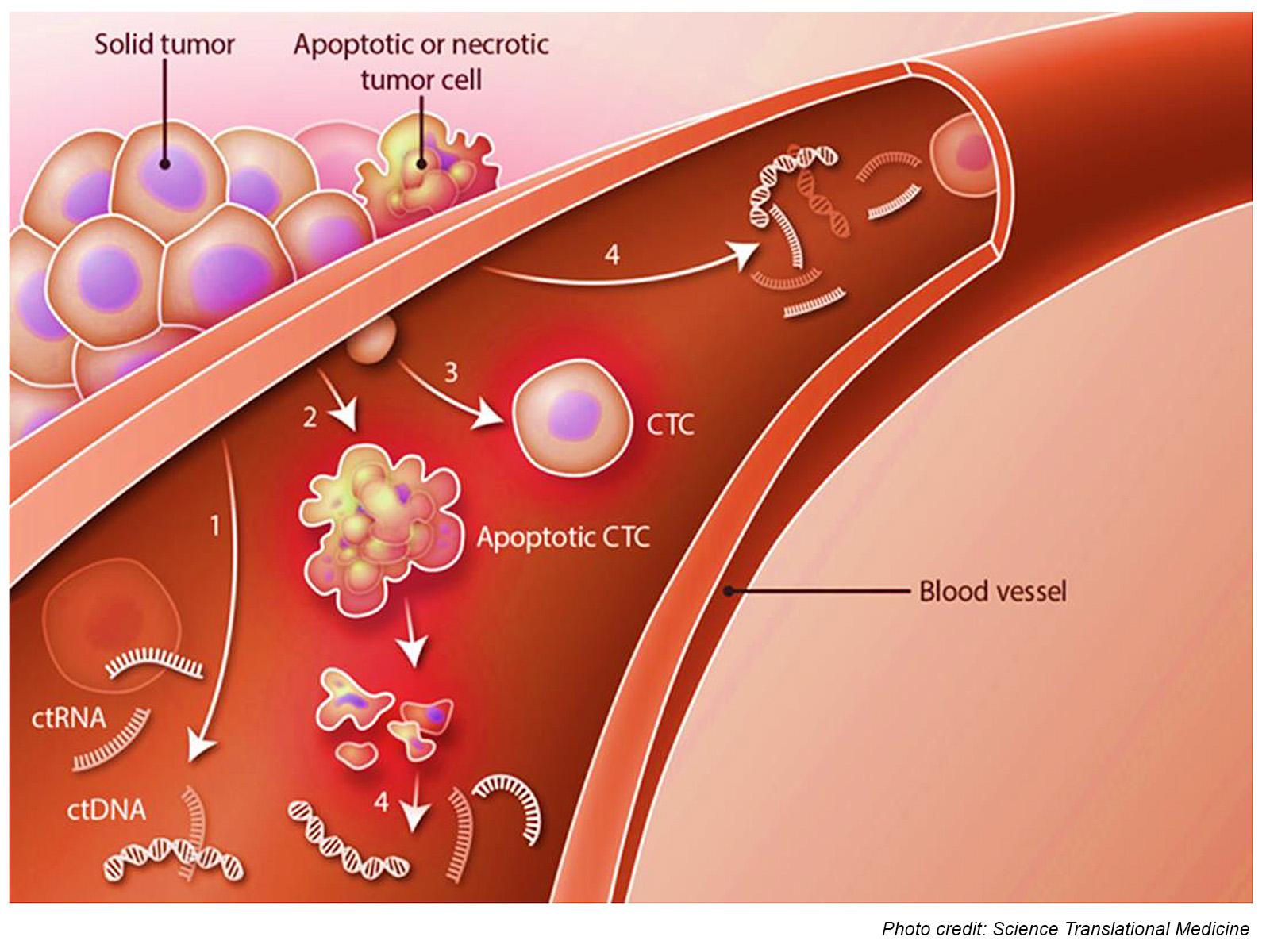 Conventional means for cancer diagnosis such as medical imaging and tissue biopsy aren't accurate enough. Testing blood for protein markers produced by a tumour has a sensitivity and specificity of only around 50 to 60%. 
The accuracy of blood tests for liquid biopsy has been significantly improved by the screening technology developed by CityU's research team, with high sensitivity and specificity of over 90%. The technology can screen for cancer three to six months earlier than medical imaging can. For instance, medical imaging might not detect tumours as small as 0.1mm where as CityU's new technology can detect cancer cells in as little as 4 ml of blood and within five minutes, which makes it currently the fastest screening technology in the world.
 
"Although cancer markers can be found through a blood test, we want to examine the existence of cancer cells in the blood directly. It's quite difficult to do so. Our breakthrough research achievement is to examine circulating tumour cells within the shortest time in the world and with high accuracy through the use of a microfluidic chip and tumour surface marker detection," Dr Yu said.
"Our technology can be applied to blood tests for the early screening of tumour cells and the identification of risk. Also, it can be used to monitor the status of cancer patients so as to know how they are responding to their current medical treatment and whether they should receive new treatment," Dr Zou added.
When determining whether immunotherapy is an appropriate treatment for cancer patients, the standard way is to conduct tissue biopsy. However, CityU's tumour target technology can determine whether or not a patient needs surgery simply by analysing proteins on the surface of cancer cells. The test result is more accurate than tissue examination. 
The new technology can also be used to test whether cancer patients have drug-resistance problems, which can help doctors decide if new medication or treatment is required.
"We hope that patients can receive treatment quickly through extremely early screening and accurate monitoring of disease status. Our new technology can help doctors review the effectiveness of treatment and make necessary adjustment," Dr Zou said. 
CityU has licensed this newly developed technology to Cellomics International Limited, a start-up company set up by the research team. The products invented by the company have received accreditation from China's National Medical Products Administration and will be awarded the CE marking certification of in vitro diagnostic devices from the European Union next month. 
Also, Cellomics has earned the title of Hong Kong Rising Star from Deloitte China and received the Gold Award and the Outstanding Biotechnology Invention Award of Asia International Innovative Invention Award 2019 from Hong Kong Federation of Innovative Technologies and Manufacturing Industries. 
Set up with the support of CityU in 2017, Cellomics has been granted funding and work space to convert research achievements into commercial products through CityU's Technology Start-up Support Scheme for Universities and the Incu-Bio Programme of Hong Kong Science and Technology Parks.