CityU scholar promotes digital humanities Utilising digital tools for research on Chinese history
Social media makes it easy for us to know how friends are doing recently, and even give us clues about our friends' social networks. But in order to know the social networks of people of the past, you may have to bury yourself in countless ancient books and put in a lot of effort to figure out their actual relationships. A historian from City University of Hong Kong (CityU) who actively promotes digital humanities research uses digital tools to study the history of the Song dynasty. For example, he is drawn to the "circles of friends" from the letters written by historical figures from the Song dynasty in China. He has been sharing his experience in applying computer and information technology to the humanities in recent years. In addition to revolutionalising the humanities research model, he hopes to gather scholars from different fields to conduct joint research initiatives.
Digital humanities could be interpreted as the use of computer technology for humanities research. Dr Tsui Lik-hang, Assistant Professor from the Department of Chinese and History in the College of Liberal Arts and Social Sciences of CityU, is one of the few leading digital humanities experts in Hong Kong.
The first step of analysing massive data is to obtain data, but digitising classical Chinese literature to generate data could be quite challenging. "First of all, there are numerous Chinese characters and several different scripts to write them. Using computers to recognise all the characters in ancient books accurately is not easy. Those texts often are not punctuated, so humanities scholars need to use their professional knowledge to 'train' the computers in performing data input and digitisation," Dr Tsui explained.
He described that the essence of digital humanities is to combine the human intellect of humanities scholars and computational power. He expected that researchers could use digital technologies such as artificial intelligence and machine learning for more in-depth analysis in future.
Interest in Chinese history that began from Romance of the Three Kingdoms
As a boy born and raised in Hong Kong, Dr Tsui played video games featuring characters from the novel Romance of the Three Kingdoms when he was a pupil, and hence developed an early interest in Chinese history. That was why he enrolled in the Department of History of Peking University as an undergraduate. He later focused on studying the history of the Song dynasty. Since he was so fond of Chinese history, he believed that it was a good idea to gain training in history in mainland China, and Peking University is one of the best places for that.
During his undergraduate study, he once went back to Hong Kong during the holiday and attended a talk at CityU's Chinese Civilisation Centre. "The speaker at the time talked about the combination of historical research and computer technology, which was at that time a very new research method. And surprisingly, that was my first encounter with the concepts of digital humanities research," he recalled.
After graduating from Peking University, he was awarded the prestigious Rhodes Scholarship for pursuing a doctorate at the University of Oxford. During that period, he assisted his mentor in using digital tools to organise and study the flow of political information under the Song dynasty. Since then, Dr Tsui's academic career has been closely associated with digital humanities research. He also used digital tools for his research on letters written by Song scholar-officials, especially when examining the social networks reflected in the letters written by the Northern Song Dynasty painter Mi Fu, the famous official Li Gang, the literary official Sun Di, and so on.
Taking part in the China Biographical Database Project
After obtaining his doctorate, Dr Tsui went to Harvard University and became a Postdoctoral Fellow. He participated in the China Biographical Database Project (CBDB) there. This database was jointly developed by the Fairbank Center for Chinese Studies of Harvard University, the Institute of History and Philology of the Academia Sinica, and the Center for Research on Ancient Chinese History of Peking University. It currently stores the biographical information of approximately 490,000 people from the 7th to 19th centuries in Chinese history. Relevant information, including their places of origin, social and kinship relationships, can be used for digital analysis.
Dr Tsui believes that the database can be an important tool in helping scholars to study various aspects of historical figures. In explaining this, he used his research on the Song dynasty as an example. The traditional research method is to read the classics in the library, select historical sources carefully, then analyse and interpret them. "But it is impossible for us to read and accurately understand all Chinese texts. If assisted by computers, then we could make observations on a larger scale by comparing, screening, and analysing massive amounts of data, then revisit the findings from our careful reading of historical sources," he said.
Dr Tsui and his colleagues at that time summarised their work on how to digitise the data and how scholars could make good use of the database in a paper titled "Harvesting Big Biographical Data for Chinese History: The China Biographical Database (CBDB)". The paper has been published in the Journal of Chinese History, hoping to promote the database, so that more people could utilise the data for their understanding of Chinese history.
Promoting digital humanities research
Dr Tsui joined CityU in 2019 and is currently the Convenor of Research Cluster "Digital Society" of the College of Liberal Arts and Social Sciences. He believes that digital humanities can bring new opportunities for humanities research, and cooperating with scholars in different fields such as computer science would also innovate research approaches and ideas. Therefore, he has been actively promoting the development of digital humanities and encouraging researchers to think through their research questions with digital data.
On behalf of CityU's Department of Chinese and History, Dr Tsui organised "Rethinking the Datafication of Culture in the Chinese World: An Online Workshop on the Digital Humanities" in June 2021. International scholars were invited to share online, and about 280 people participated from around the world via the internet.
Moreover, Dr Tsui co-founded the WeChat account "01Lab" with some of his close collaborators. They took turns to publish articles and to mentor young students to write about their reflections on technology and the digital humanities, with the aim of academic knowledge transfer. The WeChat account is awarded the 1st Runner-up in the Best DH Blog Post or Series of Posts of the Digital Humanities Awards of 2019.
"We named our account with '0' and '1' because computers use the binary digits 0 and 1 to store data, so '0' and '1' denote that we focus on dealing with issues of the digital. We also think our explorations in digital humanities and digital culture is an exciting new start, as if a leap from 0 to 1," explained Dr Tsui.
The Digital Humanities Awards are established by international academics in digital humanities and relevant fields. The public can nominate and vote for the recognition of talent and expertise in the digital humanities community.
Dr Tsui also shared how historians used information technology tools to conduct research at an event organised by CityU's College of Liberal Arts and Social Sciences for secondary school teachers in May 2021. He showed a map to compare the native places of "presented degree (jinshi, 進士)" degree holders in the examinations of the Tang and Song dynasties and shared how these types of visualisations would help in teaching.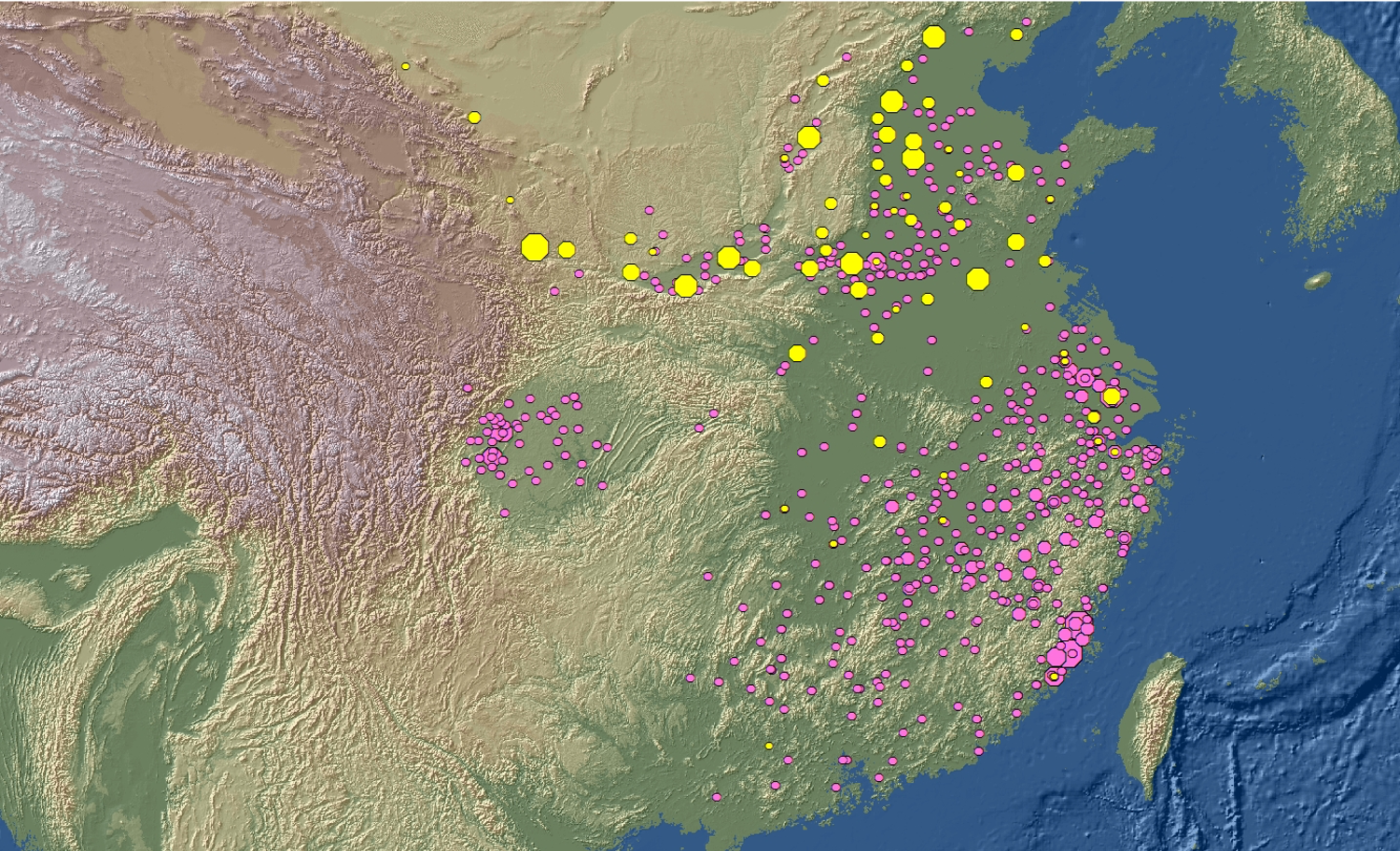 Dr Tsui believes that digital humanities can bring broad impacts on the academic community. It can facilitate interdisciplinary research collaboration, and help researchers present research results in new and accessible ways, such as digital maps and online databases, and not limited to academic papers and books only. More importantly, digital humanities can help researchers deal with scattered and massive data, improving efficiency and inspiring new perspectives.