Finding the "Real Value" of Human Values
With the advancement of information and communication technologies, digitalisation has permeated our daily lives. We can easily quantify many different things, but how about abstractions like love, peace, respect, and other human values? Professor Maurice Benayoun, in the School of Creative Media (SCM) and a renowned artist, theorist and curator in media art, has been working on the "MindSpaces HK - Responsive Neuro-design for Urbanism, Architecture and Interior Design" project with interactive exhibitions to consider social, innovation and technology challenges in a different way.
MindSpaces is a big project funded by the European Union (EU) to improve the design process in indoor and outdoor environments through participatory design, involving multisensory measurements of individuals' responses. Started in Europe, it has formed a consortium of 12 partners worldwide, including Professor Benayoun and CityU. As one of the two projects funded by the Research Grants Council (RGC) under the EU-HK Research and Innovation Cooperation Co-funding Mechanism, the MindSpaces HK project is an extension of this, using the same technologies, like artificial intelligence (AI), machine learning and Brain-to-Computer Interface (BCI), to create individual and collective "neuro design", from shaping abstractions to shaping objects and architecture. 
Neuro design and the Brain Factory
"Neuro design is the idea to use brain to control the evolution of shapes and forms," said Professor Benayoun. With external contributions from the MindSpaces consortium partners and neuroscience support from Dr Rosa Chan Ho-man, Professor Sir Colin Blakemore and Professor Bruce Ransom from CityU as advisors, he worked with Dr Tobias Klein, Associate Professor in the SCM and the team at the Neuro-Design Lab, part of the CityU Centre for Applied Computing and Interactive Media (ACIM) lab and developed a technology called a "Brain to Shape" machine, based on Brain-Computer Interaction. It can get electroencephalography (EEG) information from the users' brains, which helps them figure out how the users react to the shapes they see. 
To calibrate the system accurately, the team started with the most difficult things to design - abstractions, like space, power and love. They created the Brain Factory project and exhibitions, in which they invited exhibition visitors to produce various shapes based on different abstractions. The EEG headsets monitored the visitors' brain waves, and the produced electrical signals contributed to the assessment and the evolution of the 3D shapes on a screen.
The shapes, which look like liquid in motion or dancing flames, were then converted using 3D printing into actual objects for distribution to the visitors, or sculptures for displaying in exhibitions. Professor Benayoun described this materialisation process as "reification", meaning converting thoughts into objects. 
In collaboration with a CityU alumnus Dr Nicolas Mendoza, they went one step further, creating the Value of Values ("VoV") project to help people understand human values better "by giving shapes to values". Instead of receiving a 3D-printed shape, this time the visitors got a "Value of Values" token in their digital wallet and owned the shapes registered on a blockchain. The shapes are converted into "VoV" tokens, so that people can barter or sell the "values". "On this blockchain trading platform, we can see what the transaction and ranking of values is for different human values across various individual cultural backgrounds and countries," said Professor Benayoun. 
Trading human values on blockchain
Based on the transactions, a series of ethical statements were automatically generated, creating "Transactional Poetry". "If you give love for peace, or if you give money for sex, it says different things. This is what we called an 'ethical statement'," he said. "A collection of "VoV" tokens also reflects the collectors' priorities in their life."
Professor Benayoun and his team are working on the next step of the project by adapting the technologies to architectural design. They will generate shapes in a different way, using a huge database of architectural history, AI and machine learning, and see how people react.
Also, as part of the MindSpaces project, he is working with famous American-Turkish artist Refik Anadol on "DïaloG" to reflect on the difficulty of building mutual understanding beyond social and cultural differences. This is an urban art installation project in which each of them is developing a "living entity". "These two artworks will be like aliens, strangers or immigrants, landed in a city that they don't know. They will need to learn how to understand each other. And they will be affected by the reactions of the people around them," Professor Benayoun explained. At Ars Electronica Festival 2020, a major global media art festival, they presented the "baby aliens" for the first time before they were fully grown. They will meet face to face later.
"So this global project is very complex," said Professor Benayoun. "We develop technological tools to make 3D design, to design objects, to design architecture, and to give shape to human thoughts. We make artworks with a high level of engagement in society, going beyond aesthetics, into the fields of ethics, finance, neuroscience and social awareness. This may allow us to have a better understanding of the real value of human values."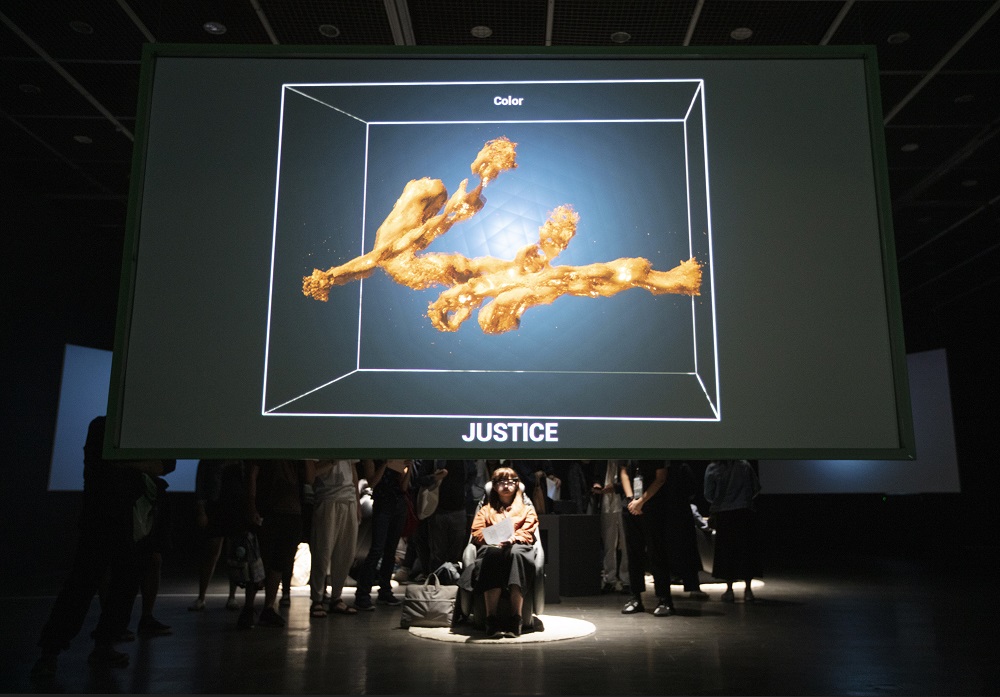 This research article originated from CityU RESEARCH.