Building a Quality, Efficiency-driven Healthcare Delivery System
Given the rapidly ageing population and an overstretched public healthcare system in Hong Kong, a CityU-led interdisciplinary team comprised of experts from various institutions has offered a new perspective on healthcare system monitoring and management in a big data environment. 
The Theme-based Research Scheme (TRS) project, led by Professor Frank Chen Youhua, Dean of the College of Business and Chair Professor of Management Sciences at CityU, was undertaken by a strong collaborative team made up of researchers from CityU's Department of Management Sciences, School of Data Science and College of Engineering, as well as the Jockey Club School of Public Health and Primary Care (JCSPHPC) of the Chinese University of Hong Kong (CUHK).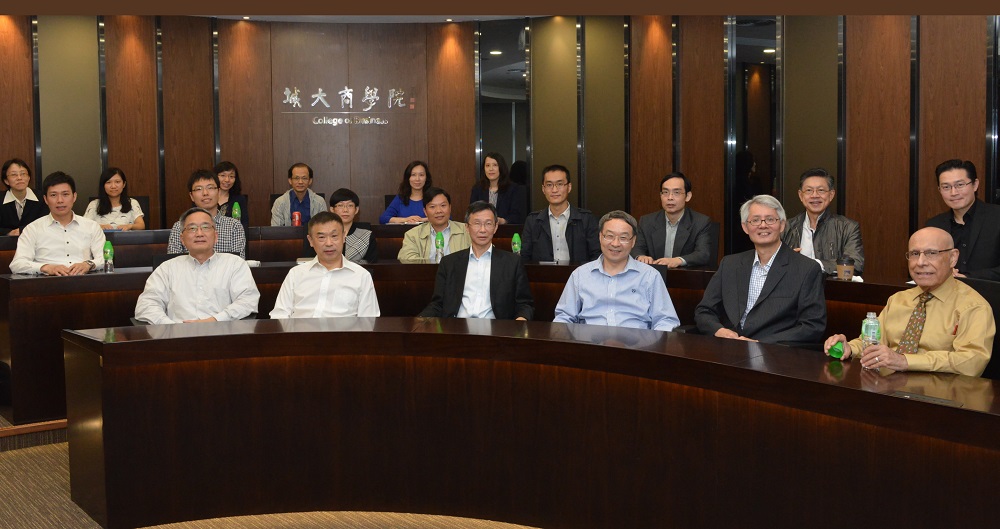 To develop a quality, efficiency-driven healthcare delivery system in Hong Kong, they focused on two areas: improving public hospital resources management to maximise limited resources and cope with increasing demand; and providing better integrated community elderly care to enhance their self-management skills and minimise the need for hospitalisation. 
Healthcare data analytics and AI
With the use of data analytics and artificial intelligence (AI) technologies, the team processed vast amounts of data collected from healthcare delivery and management systems. They achieved tremendous results, including over 115 articles published in reputable, refereed journals and the following research output:
i)    identified target elderly patient segments for the most effective and affordable post-discharge care portfolios in the community;
ii)    developed machine-learning models to predict the onset of critical chronic diseases, including heart failure, mitral regurgitation, acute myocardial infarction and dementia, and to conduct suicide and depression risk assessments; 
iii)    developed advanced machine-learning models to predict future high-cost patients, such as those with chronic obstructive pulmonary disease or infectious diseases; 
iv)    applied algorithms for predicting the re-hospitalisation of discharged patients to reduce emergency department admissions, compare public-private partnership (PPP) subsidy schemes to reduce waiting time for public healthcare services, and analyse and allocate hospital resources;
v)    designed a personalised telehealth monitoring system for community-dwelling older people, utilising sensor technology to monitor their health, including general wellness, blood pressure, gait and balance, for comprehensive evaluation of health conditions and fall risk prediction; and  
vi)    proposed a general framework for health system monitoring and management, covering continuous surveillance, analysis, and interpretation of related data.
The AI and data analytics tools developed in the project can have an additional social impact. For instance, by applying their newly developed algorithms to the Hong Kong-wide Electronic Health Records, made accessible by the Hospital Authority Data Collaboration Lab, the team was able to characterise district-specific profiles of high-risk residents and their secondary and tertiary prevention needs. With further development, these tools can be used for service planning for upcoming District Health Centres in Hong Kong. Also, the CityU team, led by Professor David Li Yanzhi, has been commissioned by the Hospital Authority to prepare the planning and provision of patient transport services to cope with service demand in the next 10 years. 
"The completion of the TRS project is just the start of a new phase of healthcare management research in Hong Kong," said Professor Chen. "With these AI-driven service innovations for community care, we can help expand the capacity of our primary care resources and better utilise them to provide coordinated care for older people and deploy community nurses in the neighbourhood." 
Homecare to promote ageing with dignity
A team comprising faculty members from the College of Business and the JCSPHPC is currently working towards transforming the existing ecology of institutional elderly care and centre-based health management to the actualisation of ageing-in-place with sufficient support from quality homecare, to fulfil the desire of older people to live at home rather than in a nursing home.
Through piloting a world-renowned innovative community nursing model – Buurtzorg – in Hong Kong, the team led by CityU is exploring a PPP home-based care scheme prototype in collaboration with local non-governmental organisations (NGOs) and an acute hospital, with the introduction of self-steering nursing teams and care coordinators, who will be equipped with case management skills and health-coaching qualifications.
The localised model will be tech-enabled, with an IT platform for care coordination and integration, and portable and mobile app-based solutions to facilitate home-based care, such as telemedicine and an electronic pillbox. 
"Our ultimate goal is to develop a comprehensive solution that can provide sustainable and affordable holistic home-based care to help individual older people live with dignity, despite the gradual deterioration of their body functions," said Professor Chen. He added that with modifications, their AI and data analytics tools could be applied outside Hong Kong.