$4m donation launches Bright Future Engineering Talent Hub for STEM education
The Bright Future Engineering Talent Hub has been established at the College of Engineering (CENG) at City University of Hong Kong (CityU) thanks to a generous donation of HK$4 million from the Bright Future Charitable Foundation.
CityU and secondary and primary schools plan to collaborate on nurturing engineering professionals through the 24-month STEM education programme to be offered by the Hub.
One of the key features of this programme is to recruit secondary students as interns for research projects conducted by CENG students and professors. The interns will visit state-of-the-art laboratories such as CityU's State Key Laboratory of Terahertz and Millimeter Waves, learn about the development of 6G network technology, and see how CityU's Inter-University 3D Atom Probe Tomography Unit (the first of its kind in South China) contributes to major advances in materials science.
Guests attending a Programme Preview on 11 January included:
Dr Roy Chung Chi-ping, Co-founder and Non-Executive Director, Techtronic Industries Company Limited; Founder and Chairman, Bright Future Charitable Foundation; and Honorary Advisor and Patron of the Hub;
Professor Way Kuo, President and University Distinguished Professor, CityU;
Professor Matthew Lee Kwok-on, Vice President (Development and External Relations), CityU;
Professor Kuo Tei-wei, Dean of CENG, and an Advisor to the Hub;
Professor Henry Chung Shu-hung, Dean of Students, CityU, and an Advisor to the Hub; and
Professor Shek Chan-hung, Associate Dean (Education), CENG, and Principal of the Hub.
The Programme Preview is available online for secondary school principals and teachers.
In his speech, Dr Chung said, "To cope with the imminent need for technological advancement in contemporary society, I sincerely hope that the Bright Future Engineering Talent Hub will help promote engineering disciplines and inspire and nurture youngsters to become elite engineers in their chosen fields. I believe the series of STEM education activities to be launched shortly will provide a good avenue for secondary and primary students to interact and learn from veteran engineers, researchers and engineering students at CityU."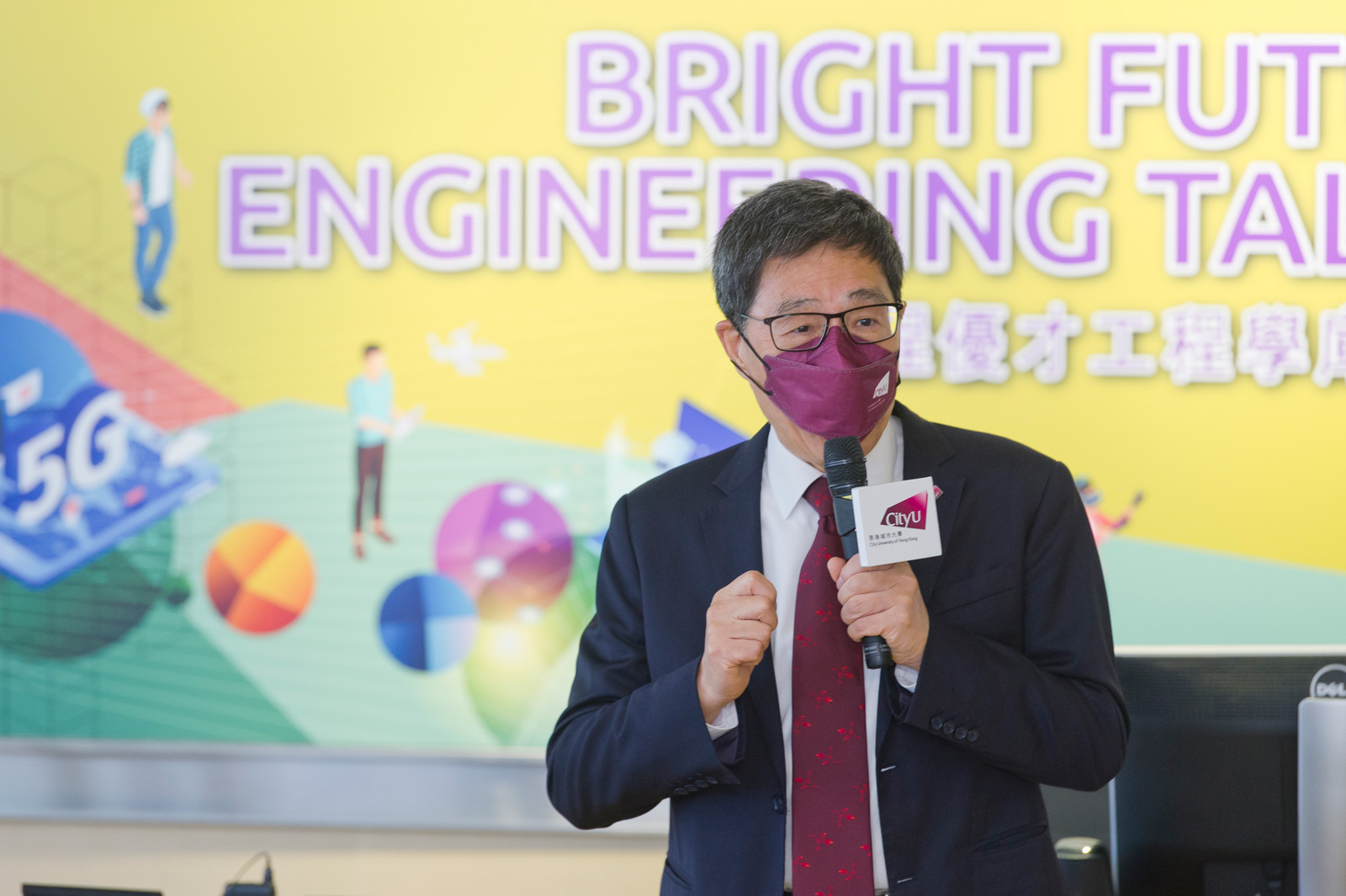 President Kuo said, "We gratefully thank Dr Chung for his trust in CityU. Following his generous donation to set up the Bright Future Whole Person Development Scholarships, Dr Chung now makes another donation to the College of Engineering to establish the Bright Future Engineering Talent Hub. This initiative will allow CityU's engineering students to promote STEM education among secondary and primary students, and inspire them to pursue a career in engineering."
At the Programme Preview, Professor Shek said, "The Hub aims to promote STEM education among young people in Hong Kong. Activities in the first phase will target secondary students. We hope that through an array of interesting STEM activities, they can develop their interests in science and engineering, and learn about career opportunities in related research."
CENG plans to offer 30 to 40 internship places to secondary school students in the summer of 2022. Based on their individual interests, the interns can choose from among seven scientific research projects currently conducted by CENG students and professors, and learn from world-renowned researchers. CityU students acting as mentors will guide the students in their scientific exploration.
Students joining the Hub can also participate in activities co-organised by CityU and professional engineering associations, which will help broaden their horizons and help them to acquire industry intelligence for better career planning.