New exhibition spotlights diffusion of Buddhism along Maritime Silk Road
A new exhibition "Atlas of Maritime Buddhism" at the Indra and Harry Banga Gallery of City University of Hong Kong (CityU) turns the spotlight on how the Maritime Silk Road enabled cultural exchanges through the diffusion of Buddhism.
This visually impressive exhibition, being held from 7 July to 14 October, uniquely integrates transnational academic study, archaeology, digital imaging, digital media, and location shooting, among others, through a variety of advanced technologies that vividly and pan-dimensionally reveal magnificent historical sites related to Buddhism.
Thanks to pioneering audiovisual technologies, visitors are immersed in rituals and ceremonies as if they are on a real pilgrimage to major Buddhist sites, experiencing cultural treasures and gaining a deeper understanding of the Maritime Silk Road.
The chief curators are Professor Jeffrey Shaw, Yeung Kin Man Chair Professor of Media Art at CityU, and Professor Sarah Kenderdine, Professor of Digital Museology at the École polytechnique fédérale de Lausanne. Other experts include Dr Isabelle Frank, Director of the Indra and Harry Banga Gallery, and Venerable Ru Chang, Director of the Fo Guang Shan Museum of Buddhism in Taiwan.
Dr Frank said that the maritime route of the Silk Road was just as important as the overland one, although it has attracted less attention. "This exhibition highlights the maritime route's contribution to the diffusion of Buddhism and is a crucial reminder of the continued importance of the Silk Road today, which is stimulating and engaging in economic, social and cultural development across Asia," she said.
The exhibition is composed of four virtual interfaces and a physical artwork section:
360-degree VR Travels: A set of five 360-degree panoramic movies are projected inside a 5-metre-in-diameter circular screen. Each of the movies makes the maritime journey from India to Sri Lanka, Myanmar, Cambodia, Thailand, Java and China. Visitors can steer the projection to focus on their areas of interest. The installation is accompanied by 7.1 ambisonic sound compositions that reflect the Buddhist ethno-musical identities of each of the countries and regions visited.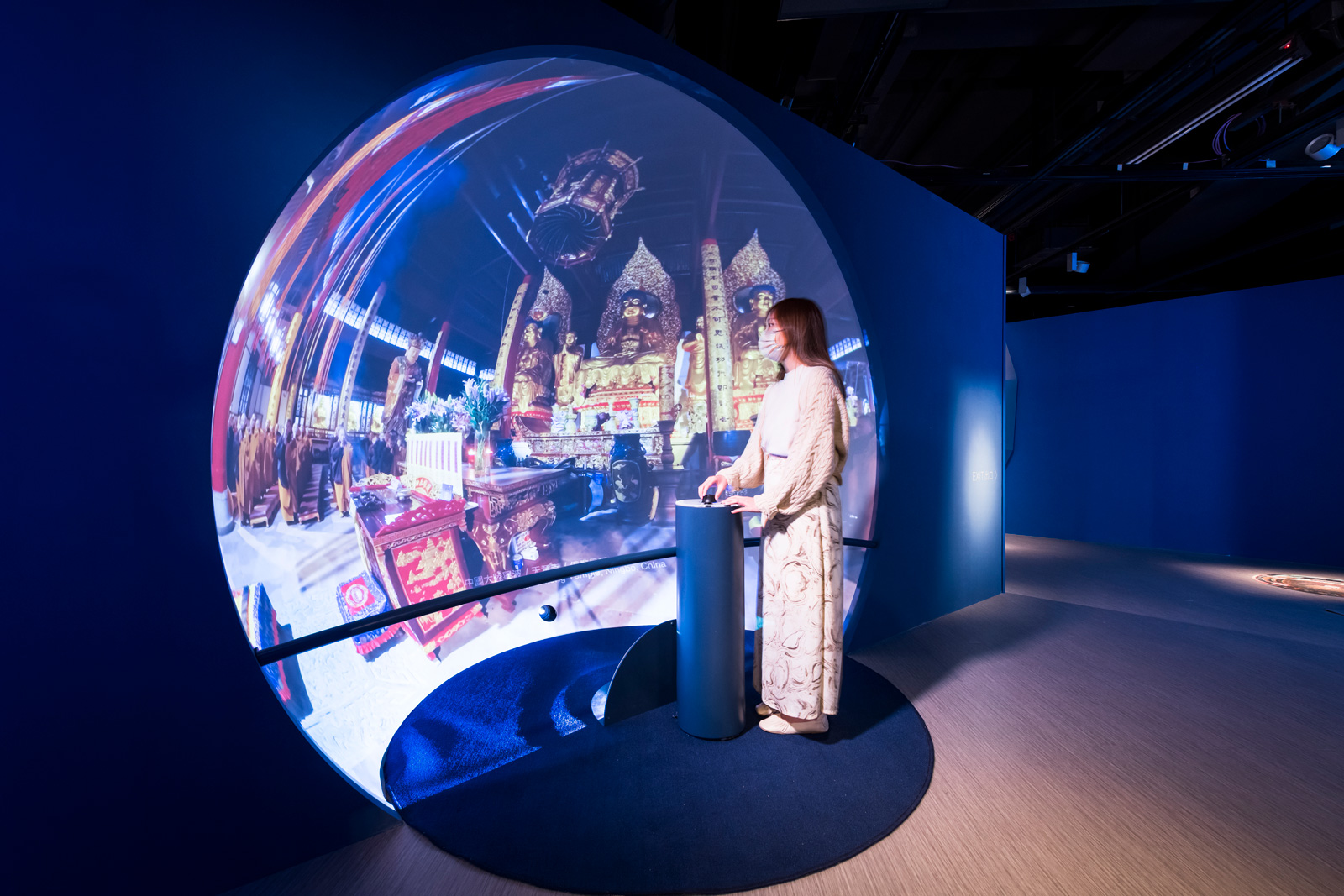 iDome Hemispherical Projection: 360-degree spherical photographs of numerous Buddhist rock-cut caves are displayed at a 1:1 scale through a vertical hemispherical projection screen. Some of these rock-cut caves were built in the third century BCE with a long history. In addition, Buddhist rituals and ceremonies in India, China, Thailand and Taiwan will be shown, including the Annual Ceremony of the Kitchen God Returns to Heaven, Lunar New Year Light Offering Ceremony, and Morning Meditation. At this hemispherical projection, visitors can feel as if they are literally participating "in person" at various Buddhist ceremonies.
Linear Navigation of Panoramic Sites: The Linear Navigator system of this exhibition features a track of 8 metres in length. Visitors can shift the mobile LED/LCD along the track to interact with the 90 panoramic site images from India, Sri Lanka, Myanmar, Indonesia and Thailand.
3D Rotating Models of Buddhist Sculptures: The ten 3D photogrammetrically created sculptures are presented in vertically mounted 55" LEC/ LED screens with high-resolution models rotating slowly. These sculptures, such as the "Ashokan Lion Capital" and "Scenes from Buddha's life" that memorialise the eight important events in Buddha's life, contribute significantly to the narratives of transmission and knowledge about art history. This digital collection is world-first as many of these sculptures are not permitted to travel internationally, and leave their museum, due to their national significance.
Physical Artworks: 38 Buddhist physical artworks are specially selected from museums and galleries in Hong Kong. They are major works of mainly Chinese Buddhist sculptures, including the glazed pottery "Lead-glaze Figure of Seated Buddha" from the Sui Dynasty, bronze and silver "Standing Bodhisattva with Flaming Mandorla" from the Six Dynasties period, and gilt bronze "Seated Guanyin" from the late Yuan–early Ming Dynasty.
"Atlas of Maritime Buddhism" exhibition details:
Date: 7 July–14 October (Closed on Mondays)
Time: 10am to 7pm
Venue: Indra and Harry Banga Gallery, 18/F, Lau Ming Wai Academic Building, City University of Hong Kong
Admission: Free of charge. Pre-registration required. (https://www.cityu.edu.hk/bg/visit/book-a-visit)
Website: https://www.cityu.edu.hk/bg/exhibitions/atlas-maritime-buddhism