CityU ranks first in Hong Kong for the 5th consecutive year in granted US patents
City University of Hong Kong (CityU) encourages research and innovation. By translating new knowledge and discoveries into applications, CityU contributes to the development of society. Recently, CityU shone again in the top 100 worldwide universities granted US utility patents by the National Academy of Inventors (NAI). CityU ranked 51st in the world on the list, the highest position in the University's history, and top among local universities for the fifth consecutive year, reflecting the effort CityU has put into promoting innovation and invention.
CityU President Way Kuo said he was deeply honoured to receive these prestigious accolades once again. "CityU is committed to applying knowledge for social and economic advancement and to contributing excellent research for the benefit of society," he said. As at 15 June 2021, CityU had applied for more than 1,100 technology patents around the globe, 603 of which had been granted. Under the leadership of President Kuo, CityU advocates "the integration of teaching and research" to align CityU with other world-class universities. In addition, CityU is committed to promoting a knowledge-based economy and is well-known as an innovation hub for research and professional education.
HK Tech 300 launched to encourage innovation application
To nurture talent and develop a knowledge-based society, CityU announced in March 2021 the launch of a large-scale flagship innovation and entrepreneurship programme, called HK Tech 300, with a dedicated allocation of HK$500 million. HK Tech 300 aims to help young entrepreneurs including CityU students leverage the University's intellectual property and patented technologies to establish 300 start-ups within three years. This is the largest university-based entrepreneurship programme in Asia in terms of capital investment and scale.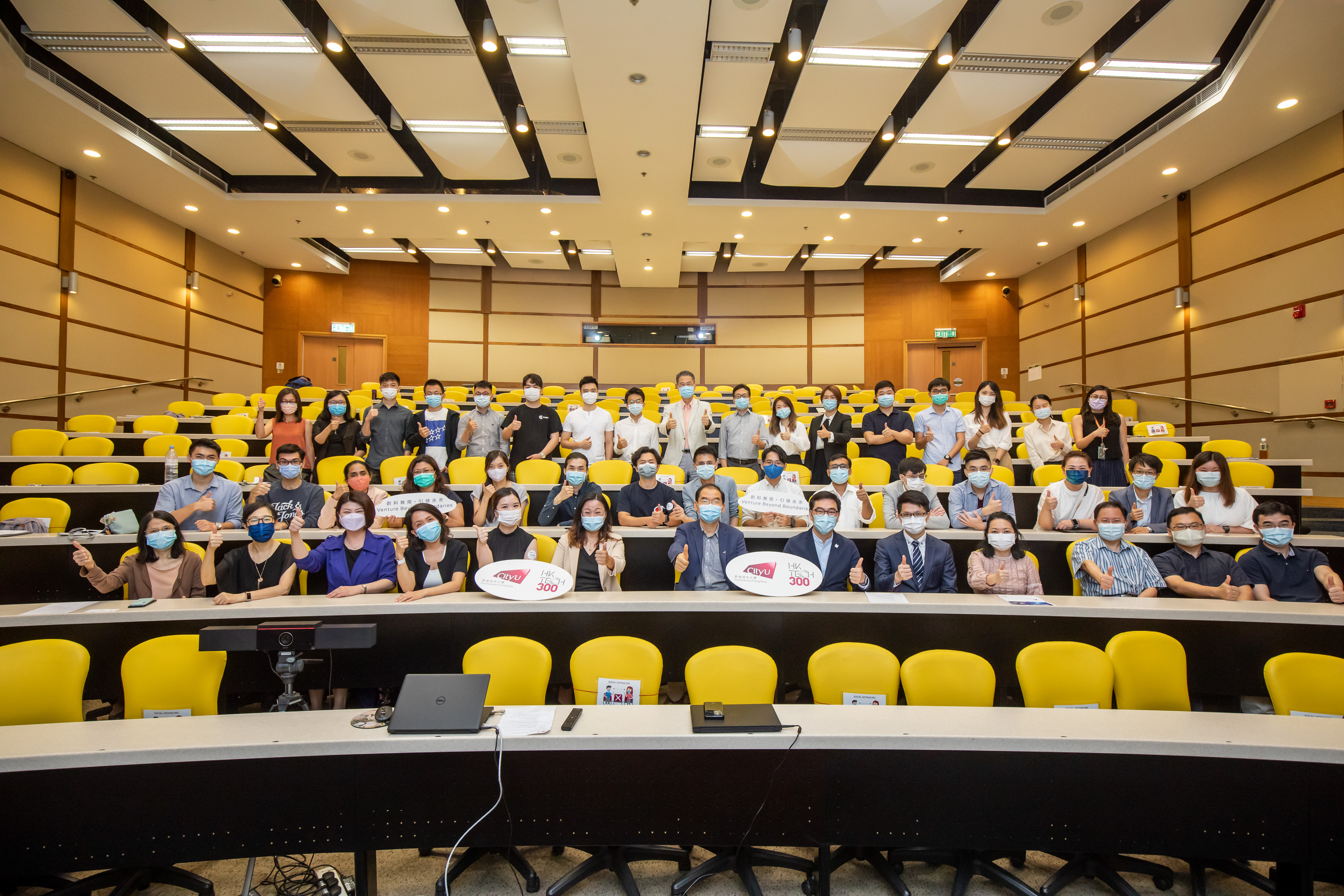 The response to HK Tech 300 has been enthusiastic since its launch. The first cohort of seed fund-winning teams was announced earlier. Nineteen teams were selected to receive seed funding of HK$100,000 each. One of the teams is developing a type of hierarchical artificial skin, which has industrial, marine and aero applications. The project is based on a material with mechanochemical robustness that is superhydrophobic, self-cleaning and anti-corrosive, which was developed in research conducted by Professor Wang Zuankai, Associate Dean (Internationalisation and Industry Engagement) in the College of Engineering, and Professor in the Department of Mechanical Engineering and the Department of Materials Science and Engineering,
Another team is working on a novel antimicrobial drug to reverse antibiotic resistance in bacteria, which was collaboratively developed by  Dr Lam Yun-wah and Dr Sun Hongyan, both Associate Professors in the Department of Chemistry.
CityU promotes knowledge transfer by converting outstanding research into commercial products that we can use in daily life. For example, a wireless charging technology developed by a CityU research team has become an important technology in the global wireless charging standard, Qi. It allows different smart mobile devices to be charged on the same charging plate at the same time and has become a global wireless charging standard used by millions of popular mobile phone brands and smart mobile devices.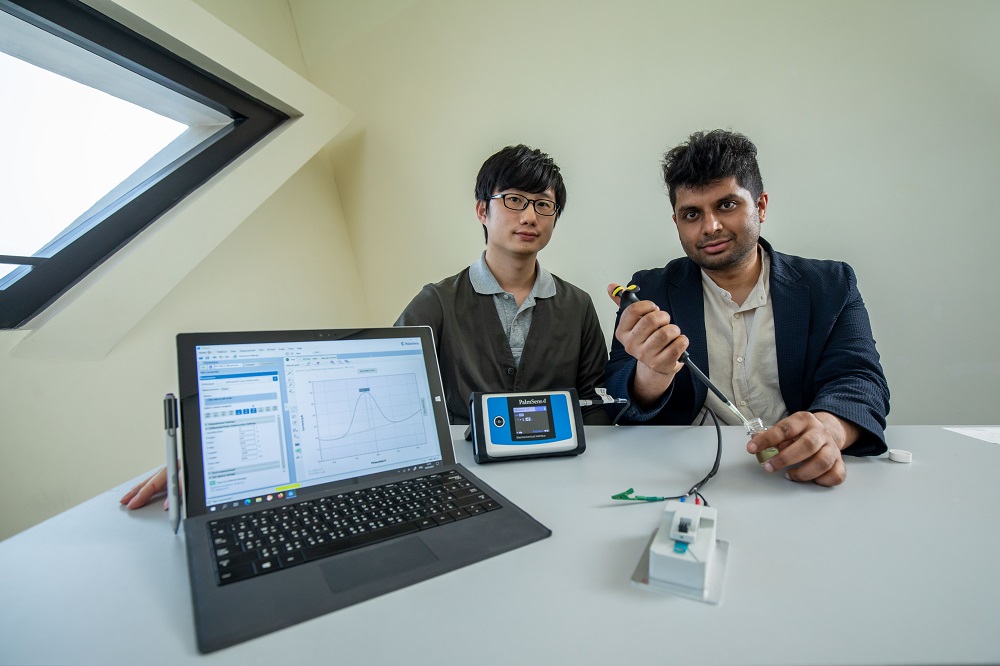 Another technology, developed by Dr Roy Vellaisamy, Associate Professor in CityU's Department of Materials Science and Engineering, combines research in multiple academic fields, such as molecular biology, chemistry, biomedical science and materials science to develop a multifunctional testing platform that can be used to measure human molecules, cancer biomarkers, health indicators and drug-resistant bacteria. The related project is being supported by the Technology Start-up Support Scheme for the Universities (TSSSU), under the Hong Kong Innovation and Technology Commission.
Dr Shishir Venkatesh and Mr Yeung Chi-chung, members of Dr Vellaisamy's research team, established Portalyze, a start-up applying the above technology in the fast detection of prostate cancer. 
Research led by Professor Liu Chain-tsuan, University Distinguished Professor, led to the discovery of the ideal formula for complex nanoparticles, consisting of nickel, cobalt, iron, titanium and aluminium atoms, achieving superb mechanical properties at both room and elevated temperatures. The results of this highly relevant research have been patented.
CityU's outstanding research capabilities have been repeatedly recognised around the world. For example, CityU won 12 awards at the Inventions Geneva Evaluation Days 2021, including a Gold Medal with Congratulations of the Jury, five Gold Medals, three Silver Medals and three Bronze Medals, winning the highest number of awards among all universities in Hong Kong.
CityU has been honoured by the NAI. Founded in 2010, the NAI comprises members from international universities, and governmental and non-governmental organisations, among others. It encourages inventors to register innovative creations and intellectual property in order to educate and mentor world-class students and enable members' inventions to benefit society. Since 2013, NAI has ranked the top 100 universities worldwide for the highest number of utility patents granted by the United States Patent and Trademark Office. CityU has obtained the most US patents among local universities for the past five consecutive years.