Leaders Circle promotes University-industry partnership and donation support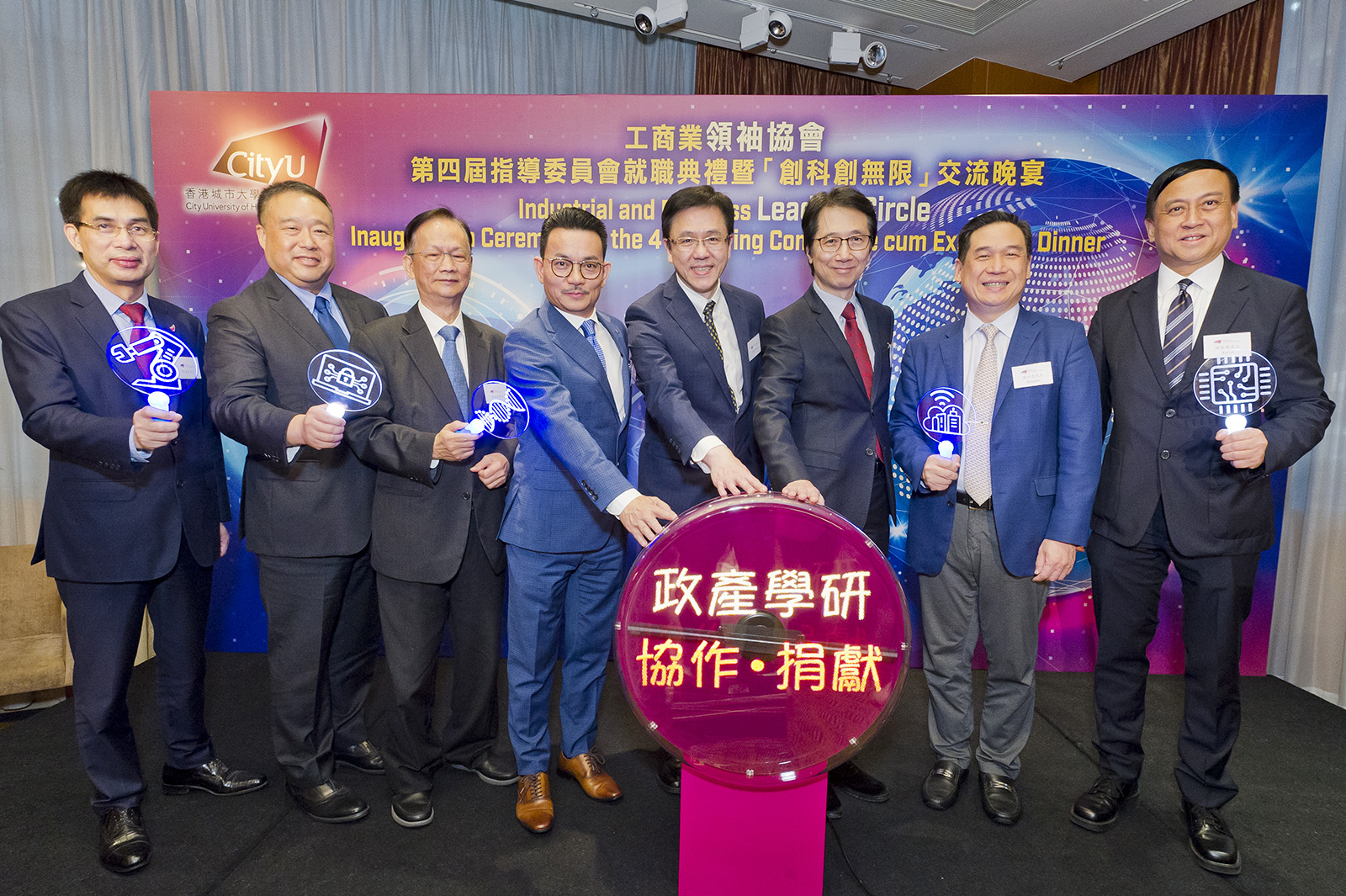 The Inauguration Ceremony of the Fourth Steering Committee of the CityU Industrial and Business Leaders Circle (Leaders Circle) was held on 31 March. 
The Leaders Circle, established in 2016, aims at strengthening University-industry collaboration and experience sharing, as well as soliciting resources for the University's advancement. 
The ceremony was officiated by Professor Sun Dong, JP, Secretary for Innovation, Technology and Industry, HKSAR Government; Professor Matthew Lee Kwok-on, Vice-President (Development and External Relations), CityU; and Mr Steve Chuang Tzu-hsiung, Convenor of the Fourth Steering Committee and Honorary President of the Leaders Circle. They were joined by Steering Committee members Dr Ng Chi-ho, Mr Anthony Lam Sai-ho, Mr Kyran Sze, MH, Mr Douglas Chan Lap-tak and Mr Lau Tat-chuen. Other Steering Committee members included Mr Eric Chow Yik-cheung and Miss Lily Chow.
In his welcome remarks, Professor Lee expressed his gratitude to Professor Sun for gracing CityU with his presence at the inauguration ceremony and for sharing his insights with industry and business leaders. He also expressed his appreciation to Steering Committee Convenor Mr Chuang, the Steering Committee members, Honorary Presidents and members of the Leaders Circle for their generous support and donations.
"The Leaders Circle is developing vigorously and its membership scale is growing day by day. It is a significant platform for connecting CityU with leaders from various sectors," said Professor Lee. "We launched a new initiative this year to engage our professors from different academic fields as Fellows of the Leaders Circle. Through the concerted efforts of the University, our Members and Fellows, I believe that the Leaders Circle will further create synergy for the development of innovation and technology, and foster collaboration and donation support among the industry, academic and research sectors."
 
Mr Chuang, who has actively referred industry and business leaders to support the Leaders Circle, also encouraged the industry to establish a closer partnership with CityU. 
"I am honoured to be the Convenor of the Fourth Steering Committee," said Mr Chuang in his speech. "The Leaders Circle will bring together industry elites with insights, resources, networks and collaboration opportunities for promoting technological advances and nurturing talent for tomorrow." 
In addition to the inauguration ceremony, another highlight of this event was the dialogue session held under the theme of innovation and technology development. Professor Sun, Mr Chuang and Professor Yang Mengsu, Vice-President (Research and Technology) of CityU, discussed how to transform and realise scientific research outcomes from the perspectives of the government, industry and academia.
Professor Sun introduced the Hong Kong Innovation and Technology Development Blueprint launched by the government. "For the successful transformation and realisation of scientific research outcomes, the government must formulate definite policies so that academia can understand more clearly the direction of the transformation of scientific research outcomes and assist in the rapid development of related industries," he said.
Professor Yang summarised CityU's scientific research advantages and university-industry collaboration. "HK Tech 300 is a large-scale flagship innovation and entrepreneurship programme organised by CityU for encouraging and assisting CityU students, alumni, research staff and others to launch start-ups. It also helps translate CityU research outcomes and intellectual properties into practical applications," he said. More than 500 start-up teams have been nurtured since HK Tech 300's launch.
 
Mr Chuang mentioned the opinions and expectations of industry and the business sector on the development of innovation and technology. "The industrial and business community thoroughly understands what the market genuinely needs. Academia should communicate and collaborate more closely with the industrial and business community to effectively industrialise research outcomes, and the Leaders Circle is an important bridge connecting the two," he added.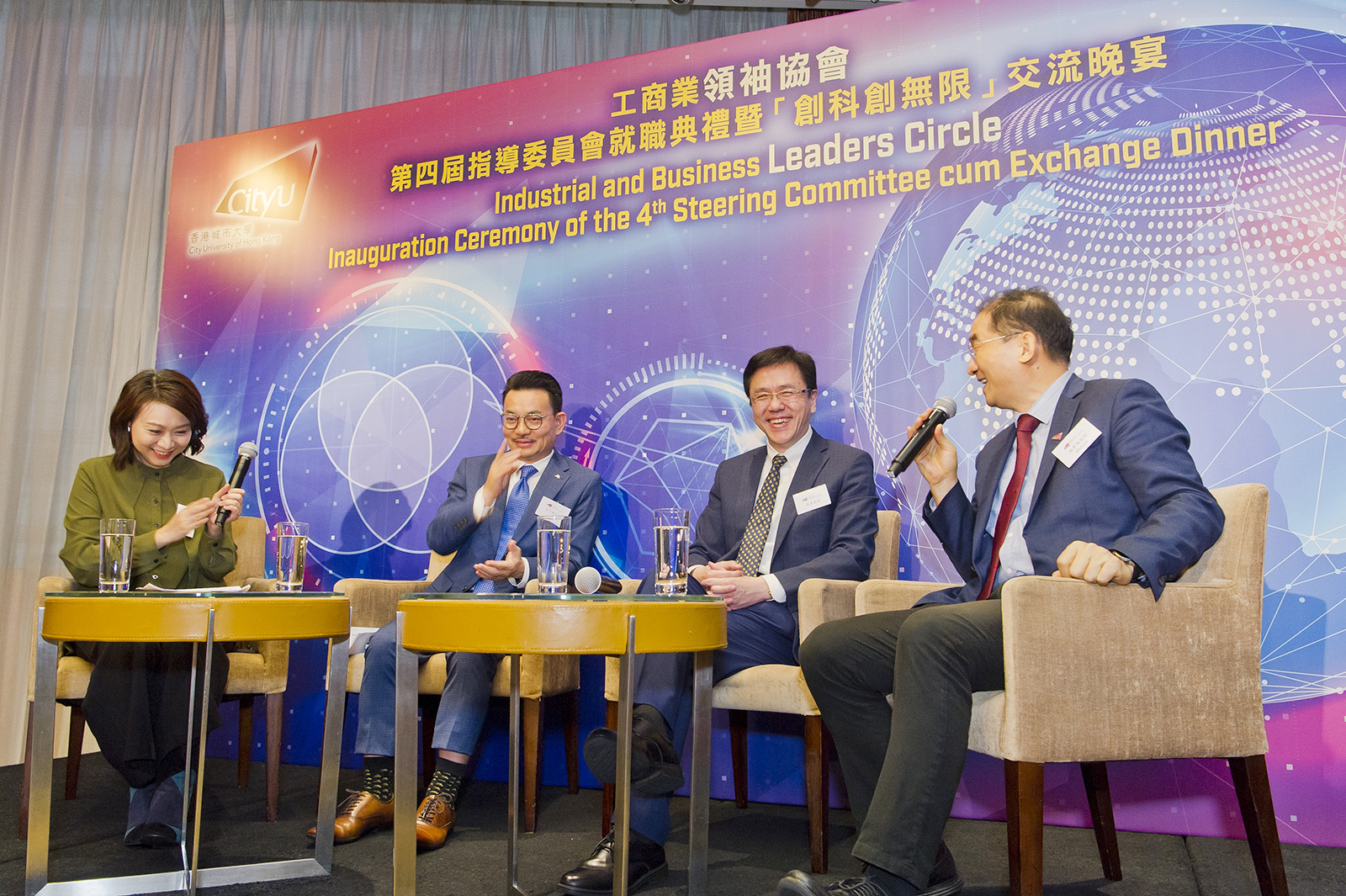 Other guests attending the ceremony included Mr Winfred Chan Hon-pun, member of the CityU Foundation's Board of Governors and former Steering Committee member of the Leaders Circle; Dr Roy Chung Chi-ping, Honorary President of the Leaders Circle; Professor Chan Chi-hou, Acting Provost; Ms Kathy Chan Yin-ling, Associate Vice-President (Development and Alumni Relations); and Dr Laura Lo, Associate Vice-President (Mainland Affairs and Entrepreneurship).