CityU Employers' Luncheon is back, showcasing award-winning inventions from students
City University of Hong Kong (CityU) held the CityU Employers' Luncheon 2023 (the Luncheon) on 27 March at the Hong Kong Convention and Exhibition Centre. This marks the return of the highly acclaimed event after a short hiatus since 2019. First launched in 2015, the Luncheon is an important platform for networking and interaction between CityU and industry, with the aim of strengthening connections and collaboration among CityU academics, students and enterprises. It also aims to help employers and industry leaders learn more about CityU's educational philosophy, and showcase the students' outstanding talent and achievements, enabling them to better understand the latest market needs and trends, while laying the foundation for their future employment and entrepreneurship development.
There were nearly 500 participants at the Luncheon, among them close to 300 representatives from over 200 enterprises, including senior executives from multinational corporations and other organisations. More than 200 faculty members and students of CityU joined them for the enjoyable luncheon.
Mr Lester Garson Huang, Chairman of the CityU Council, extended a warm welcome to all guests, saying that CityU has risen to become one of the world's top universities, known for innovation, creativity and research aimed at making a difference in people's lives. He added that the full-time employment rate for graduates from CityU in 2021 was the highest among the eight publicly-funded universities and was a record high compared to CityU's employment figures over the past 10 years. Also, CityU is currently ranked 54th in the QS World University Rankings 2023.

Professor Way Kuo, President of the University, expressed his sincere appreciation to the representatives from various industries and corporations for taking the time to attend the Luncheon, which provided CityU students with an invaluable opportunity to engage in conversations with professionals from a multitude of industries and professions. Through industry insights and experience sharing, the students were able to further equip themselves as they prepare for their future careers, while gaining a deeper understanding of the real-world business environment and the current job market.
Professor Raymond Chan Hon-fu, Acting Vice-President (Student Affairs), introduced the keynote speaker, Dr Harry Banga, Chairman and CEO of The Caravel Group. Dr Banga delivered an inspiring speech on "Global Challenges and Opportunities for Young People", remarking, "In my mind, success means contributing your skills, talent and resources to enriching the community around you — including your family, friends and society, both close to home and globally. I hope the students in this room will keep this in mind as they step out of the CityU halls into the workforce."
As one of the world's leading and fastest-growing universities in the past decade, CityU is committed to creating an internationalised teaching and learning environment with sufficient educational training and resources to nurture outstanding students with both academic knowledge and practical skills that prepare them well to be competitive in the employment market. 

Other CityU representatives in attendance were Professor Chan Chi-hou, Acting Provost, Professor Matthew Lee Kwok-on, Vice-President (Development and External Relations), Mr Sunny Lee Wai-kwong, Vice-President (Administration), and Professor Richard Yuen Kwok-kit, Chief-of-Staff.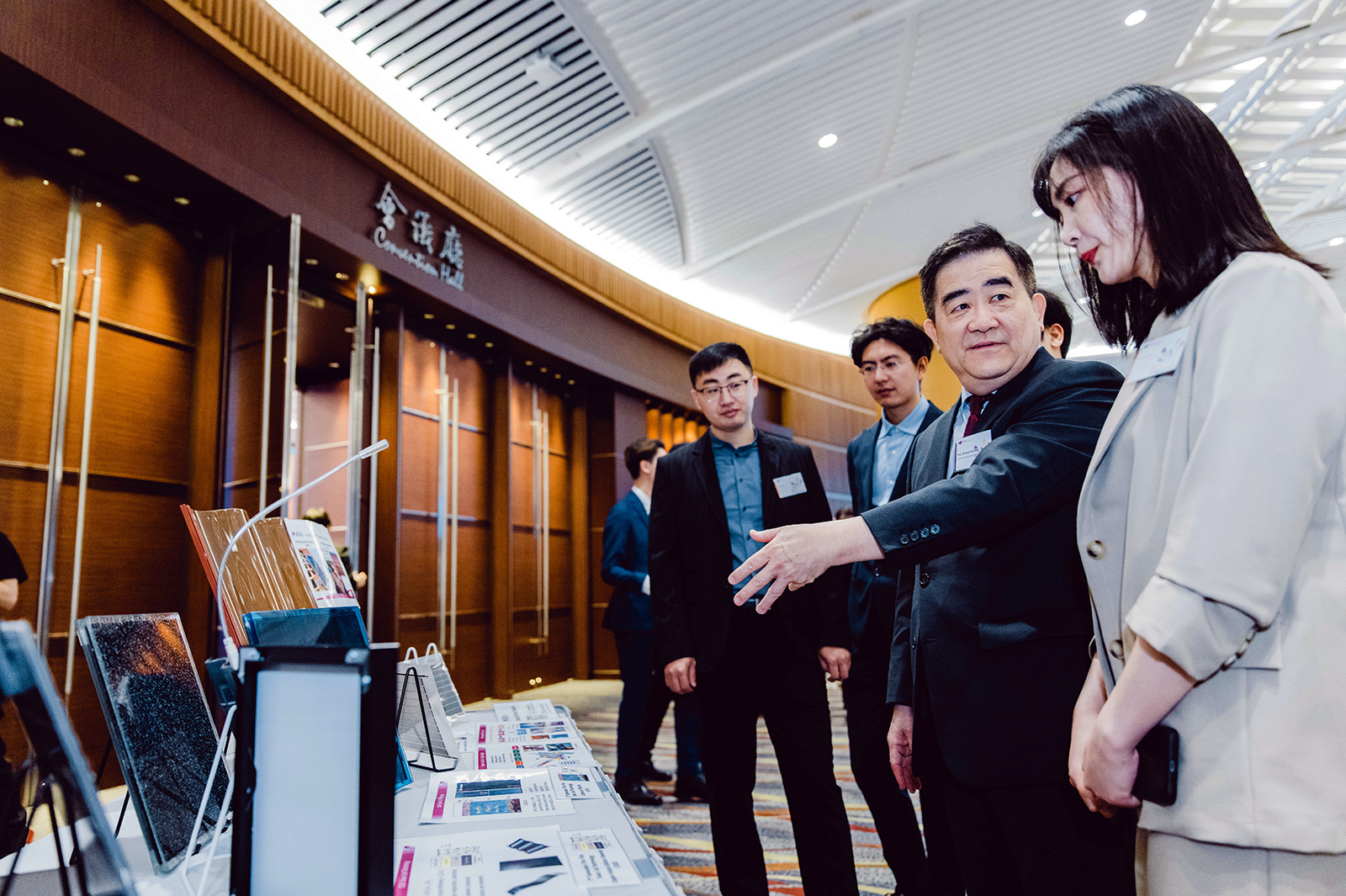 A student project exhibition was held before the Luncheon, and a number of entrepreneurs spoke highly of CityU students' creative thinking and innovative inventions. More extensive and in-depth exchanges and collaboration with CityU academics and students are highly anticipated in the future to jointly promote Hong Kong's innovative technology and economic development. A student project team led by Professor Alex Jen Kwan-yue, Director of the Hong Kong Institute for Clean Energy and Lee Shau Kee Chair Professor of Materials Science at CityU, showcased their latest research project on solar cell technology. The technology converts solar energy into electricity with extremely high efficiency, allowing the solar panel to achieve maximum energy output in the shortest possible time. The research project received a grant of HK$5.03 million from the Hong Kong Environmental Protection Department's inaugural "Low Carbon Green Innovation Fund".

Comprising 40 students from various disciplines and countries, a CityU team showcased how to operate a remotely operated underwater robot to complete a series of complex tasks, with the goal of creating a sustainable future. The team participated in the MATE ROV World Championship in the Explorer Class in the United States in 2022 and achieved excellent results, ranking ninth overall. It also won the most innovative engineering award in the 2019 Singapore Underwater Robotics Challenge.

The employers in attendance included Bank of China (Hong Kong) Limited, Chun Wo Construction Holdings Company Limited, CLP Power Hong Kong Ltd., Hutchison Telecommunications (HK) Limited, KPMG China, New World Development Company Limited, Swire Properties Limited, and many more.

The event, now in its sixth year, was of particular significance to CityU and industries. Looking ahead, CityU will continue to build closer ties with industry elites, in order to broaden the students' horizons, provide more employment and internship opportunities, and promote social and economic advancement.