CityU wins 12 awards at Inventions Geneva Evaluation Days, the highest number among all universities in Hong Kong
Researchers from City University of Hong Kong (CityU) won the highest number of awards among all universities in Hong Kong at the Inventions Geneva Evaluation Days (IGED) 2021, including a Gold Medal with Congratulations of the Jury, five Gold Medals, three Silver Medals and three Bronze Medals, demonstrating the excellence of the research carried out at CityU.
The CityU winners were honoured on 17 May at a special reception officiated by Chief Executive Mrs Carrie Lam Cheng Yuet-ngor, who said at the event that institutions like CityU were set to benefit from support in the National 14th Five-Year Plan for Hong Kong to develop into an international I&T hub. 
"An Energy-Free, Low-Cost and High Cooling Performance Passive Radiative Cooling Technology for Building Applications" led by Dr Edwin Tso Chi-yan, Assistant Professor in the School of Energy and Environment, received the Gold Medal with Congratulations of the Jury.
To provide a sustainable and energy-saving solution to the consumption of electricity in buildings, Dr Tso has developed a passive radiative cooling paint, using the universe as a cooling source.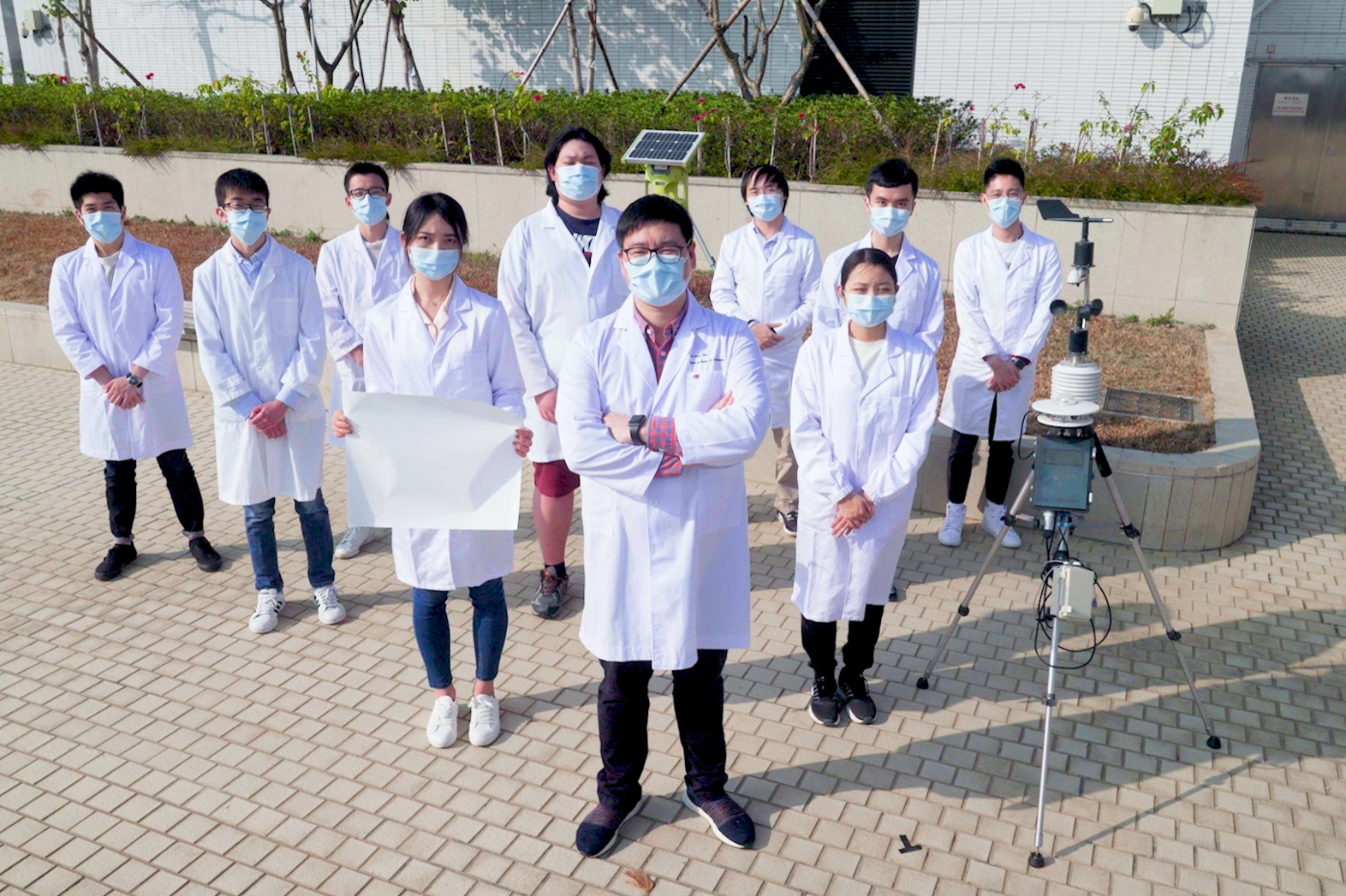 Unlike traditional air-conditioning systems, the passive radiative cooling paint is an energy-free and refrigerant-free cooling technology that reflects incoming solar irradiance, while emitting thermal radiation to the cold universe and achieving sub-ambient cooling. 
This self-cooling technology possesses many advantages, such as a simple structure, easy manufacturing, and low cost. Directly coating this paint on a building's roof or exterior walls will reduce its surface temperature and save on air-conditioning energy. The technology can be used for cooling automobile, in self-cooling textiles and painting roads to mitigate heat from land.
"Aquatic Animal Postmortem Multimedia Analysis Platform" developed by Dr Brian Kot Chin-wing, Visiting Assistant Professor in the Department of Veterinary Clinical Sciences, and his team, won a Gold Medal.
Aquatic Animal Virtopsy Lab utilises virtopsy techniques such as Computed Tomography, Magnetic Resonance Imaging and 3D surface scanning, to provide insights for the assessment of aquatic animal profiles and biological health locally and globally. 
The team is in charge of carcass postmortem imaging, data post-processing, result interpretation, and virtopsy reporting. Data post-processing and evaluation are performed on cutting-edge medical software module and workstation. Diagnosis is made by veterinary radiologists or radiological clinicians who are certificated and well-experienced in reporting virtopsy findings.
All postmortem multimedia are integrated and stored in their well-developed Aquatic Animal Postmortem Multimedia Analysis Platform. This world first novel platform provides up-to-date results to governmental agencies, researchers and stakeholders to facilitate and support marine conservation and policy decisions, which allow the use of aquatic animals as sentinels of ecosystem health, working towards a "One Ocean-One Health" ideal.
Another Gold Medal project is "Super Bamboo – Sustainable Structural Bamboo Materials with High Strength and Multi-function" developed by Dr Lu Yang, Associate Professor, and Dr Fan Rong, Visiting Assistant Professor, and Ms Pu Yiru, Research Assistant from the Department of Mechanical Engineering. 
This novel bamboo-processing technique is called "super bamboo". It includes both mechanical and chemical treatments for densifying natural bamboo without destroying key internal microstructure that are critical for superior mechanical performance. 
The approach maintains the crucial structures of natural bamboo without releasing formaldehyde, and hence is more environmentally friendly. The mechanical properties are much better than existing materials or products on the market, including wood, bamboo scrimber, plastic composites, and even metals in terms of stiffness, strength, and dimensional stability. 
Moreover, because of its densified microstructure, the prototype is water- and even fireproof, making it even more appealing for the construction industry.
Another Gold Medal project is "Youth Sports Education and Management SaaS platform Based on AI & IoT" developed by AI Motion Sports (AIMS), a start-up founded with the support of CityU, and the founder, Dr Wang Yufan, a PhD graduate from the former Department of Mechanical and Biomedical Engineering.
AIMS is a youth sports education and sports management platform powered by Artificial Intelligence (AI), Internet of Thing (IoT), and Motion Recognition Technology. It uses advanced technology to digitalise K12 youth sports industry and define the standards of next-generation sports education.
Sensors on the IoT device developed by AIMS monitors functions such as multiple motions, heart rate, calories and so on. Its smart regional-level and campus-level management platforms greatly improve training, teaching and management efficiency in physical education classes and workouts at home.
Another Gold Medal recipient is Dr Yao Xi, Associate Professor of the Department of Biomedical Sciences (BMS) for the project "Damage-healable Antimicrobial Coating Made from Natural Materials".
In view of the threat of respiratory infectious diseases caused by hand-contact of surfaces contaminated by respiratory droplets and further transmission of pathogens such as bacteria and virus, there is an urgent need for the development and applications of coatings with sustained disinfection abilities for long-term prevention of surface fouling. 
With patented technologies by the CityU team and Medi Biotech Limited, a start-up company funded by CityU, novel damage-healable antimicrobial coatings made from natural ingredients have been developed. Compared to current commercially available antifouling or antimicrobial coatings, the coatings developed by the team hold a unique damage-healing ability and can withstand common mechanical scratches while performing functions for several months in indoor conditions. 
Furthermore, the green-design and natural ingredients together with the damage-healing abilities make the coatings recyclable and reprocessable, which can significantly improve environmental adaptability and sustainability.
Project awarded a Gold Medal also includes "Development of new generation anti-metastasis drugs based on endosomal trafficking" developed by Dr Yue Jianbo, Associate Professor in BMS.
Dr Yue has screened libraries of natural or synthetic compounds using a high-content fluorescence imaging platform. He has identified 6J1/6J2 as potent endosomal trafficking inhibitors that can effectively inhibit tumor progression and metastasis in various experimental mouse models with little in vitro and in vivo toxicity. 
Moreover, 6J1/6J2 block the endosomal trafficking of PD-L1, a critical immune checkpoint protein, and thus reduce plasma membrane levels. The combination of 6J1/6J2 and classical immune checkpoint inhibitors significantly improves anti-cancer immune responses compared to either treatment alone, making 6J1/6J2 the ideal broad-spectrum anti-cancer oral drugs for combination therapy. 6J Biotechnology, a biotechnology company founded by Dr Yue and supported by CityU, is currently developing 6J1/6J2 into next-generation anticancer drugs.
Silver Medal projects include
•    "Neural Motor prosthesis Prototype for the Restoration of Motor Function in Spinocerebellar Ataxia" developed by Dr Eddie Ma Chi-him, Associate Professor and Dr Gajendra Kumar, Research Assistant Professor, both from the Department of Neuroscience, and Dr Tin Chung, Associate Professor of the Department of Biomedical Engineering (BME);
•    "Magnetic Microrobotic System for Precise Cell Delivery in Vivo" led by Professor Sun Dong, Chair Professor of BME; 
•     "IPA Guide for Visually Impaired Learners" by Dr Jackie Yan Xiu, Associate Professor of the Department of Linguistics and Translation. 
Bronze Medal projects are
•    "The Golden Calf" by Professor Jeffrey Shaw, Yeung Kin Man Chair Professor of Media Art of the School of Creative Media (SCM); 
•    "A Microfluidic Biosensing System for Effective Cancer Diagnostic and Screening" by Dr Zhu Shuyan, Research Associate, and Professor Stella Pang, Chair Professor and Head of the Department of Electrical Engineering; 
•    "Electronic Cane Grip Instrumented with Thermal Haptic Feedback" by Dr Zhu Kening, Assistant Professor of SCM as well as Department of Computer Science, and Mr Arshad Nasser, Research Assistant and PhD student of SCM.
IGED, held from 10 to 14 March, is a virtual edition of the International Exhibition of Inventions of Geneva due to the pandemic. It is one of the biggest global events showcasing innovations and inventions from around the world.