CityU, HKUMed and Gleneagles Hospital Hong Kong join hands to introduce portable negative pressure ventilation system in hospital emergency room to reduce COVID-19 cross-infection risk
To support hospitals in Hong Kong to handle the surge in the number of patients amid the fifth wave of COVID-19 in the city, City University of Hong Kong (CityU) modified its fast-track ventilation system invention to meet the practical needs on the medical front line. The system underwent clinical trial in February 2022 in the 24-hour Outpatient and Emergency Department (24-hr OED) of Gleneagles Hospital Hong Kong (Gleneagles). The data has shown that the new system can effectively minimise the risk of cross-infection in the emergency room. Subsequently, the system, which provides a negative pressure environment and is easy to set up, has recently been put into operation in the Gleneagles' 24-hr OED.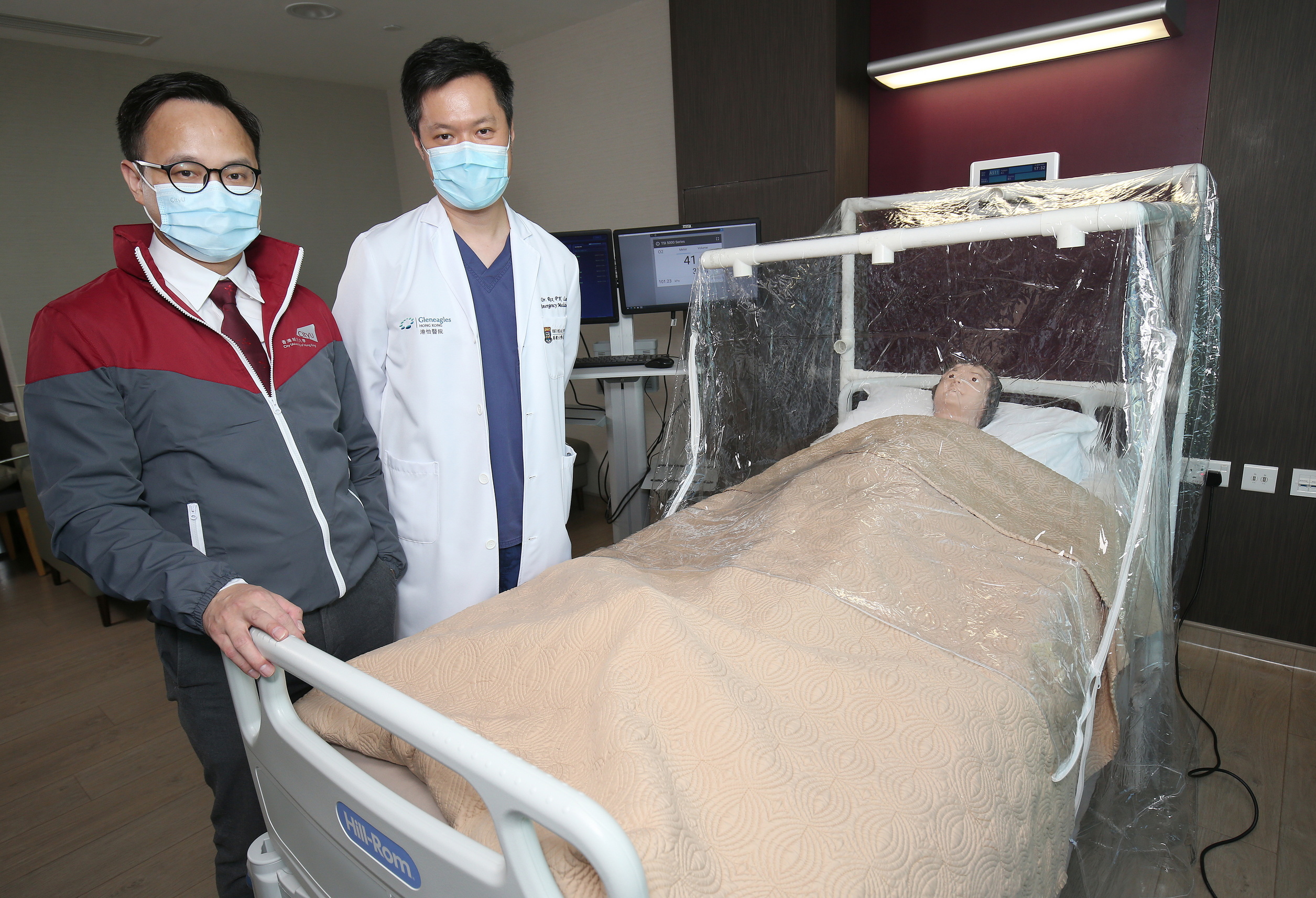 Being a satellite research site of the LKS Faculty of Medicine of The University of Hong Kong (HKUMed), Gleneagles provides a hospital setting for clinical trials to help advance medical knowledge and improve patient care. As the first emergency room in private hospitals in Hong Kong to implement this ventilation system, Gleneagles collaborates with CityU to conduct the clinical trial to study the system's effectiveness in protecting patients and hospital staff from the risk of cross-infection when demand for negative pressure isolation facilities is relatively high.
The system consists of replaceable plastic sheeting with an anti-virus coating, and a frame made of polyvinyl chloride (PVC) pipes with extraction ports and secure connections to a portable pump integrated with a high-efficiency particulate air (HEPA, efficiency rating: 99.995%) filter. An ultraviolet-C (UV-C) disinfection unit is integrated in the filtering system to inactivate SARS-CoV-2.
Through the extraction ports on the pipes, the droplets from patients are trapped in the HEPA filtering system, which removes the viruses and transmits purified air into the ward. Its ventilation rate or air change rate is adjustable and can reach as high as 80 air changes per hour (ACH), much higher than the rate of 12 ACH in a negative pressure ward. Even if the pumping and filtering system is connected to four beds simultaneously, each bed can maintain around 20 ACH. The actual ventilation rate and design were tailored to ensure that healthcare workers have no exposure to the airborne emissions of patients.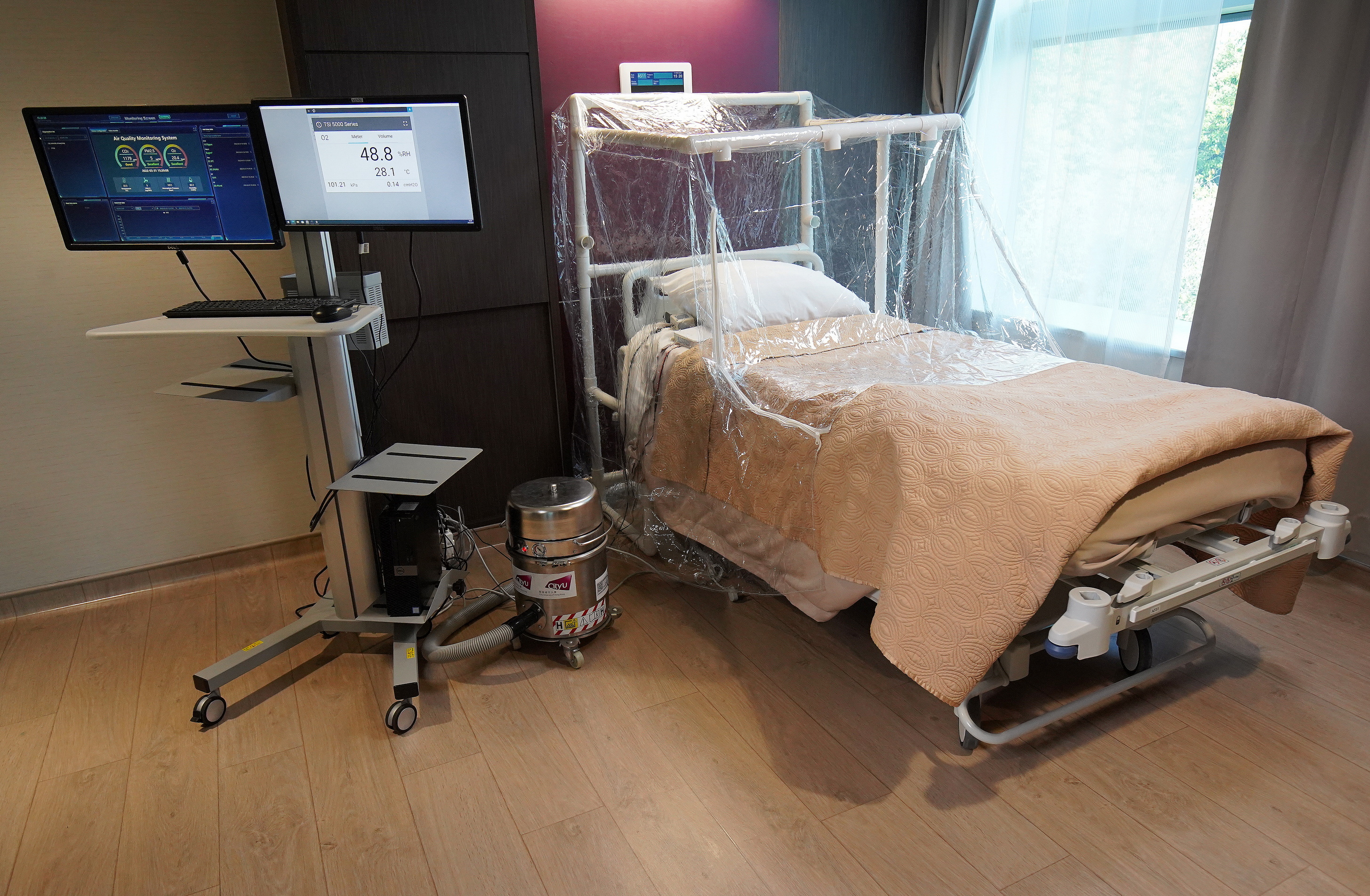 The system is described as "fast-track" as it can be easily set up within five minutes. It is portable and can be adapted to different dimensions. The system was recently further modified to meet different needs in the hospital setting. In addition to the original design for a normal hospital bed, two more designs have been developed, one for patients in sitting position to receive treatment such as dialysis, and one for transferring patients between wards or by ambulances.
Based on the data collected in the clinical trial at Gleneagles, the aerosol-removal efficiency of the system was 98.9% within two minutes and 99.3% after two minutes of the introduction of negative pressure.
"Our system will help relieve demand on negative pressure wards, particularly if there is a severe pandemic. We are glad that our technology can be deployed in hospitals to contribute to the fight against the pandemic, especially during this challenging time in Hong Kong," said Dr Steven Wang, Assistant Professor in CityU's Department of Mechanical Engineering, who invented the system. The technology is being commercialised through a start-up founded by Dr Wang's research team under CityU's large-scale innovation and entrepreneurship programme HK Tech 300. He and this team are working on adapting the system in other hospitals.  
"The ventilation system was deployed for clinical trial in Gleneagles' 24-hour Outpatient and Emergency Department for patients with the risk of airborne transmission of respiratory infections," said Dr Rex Lam, Clinical Associate Professor of Department of Emergency Medicine, School of Clinical Medicine, HKUMed and Specialist in Emergency Medicine at Gleneagles Hospital Hong Kong. "The system allows these patients to be enclosed in a negative pressure environment while further treatment is to be provided. This interim isolation helps protect other patients and hospital staff from the risk of transmission of infection when isolation facilities may not be immediately available."