CityU welcomes research degree students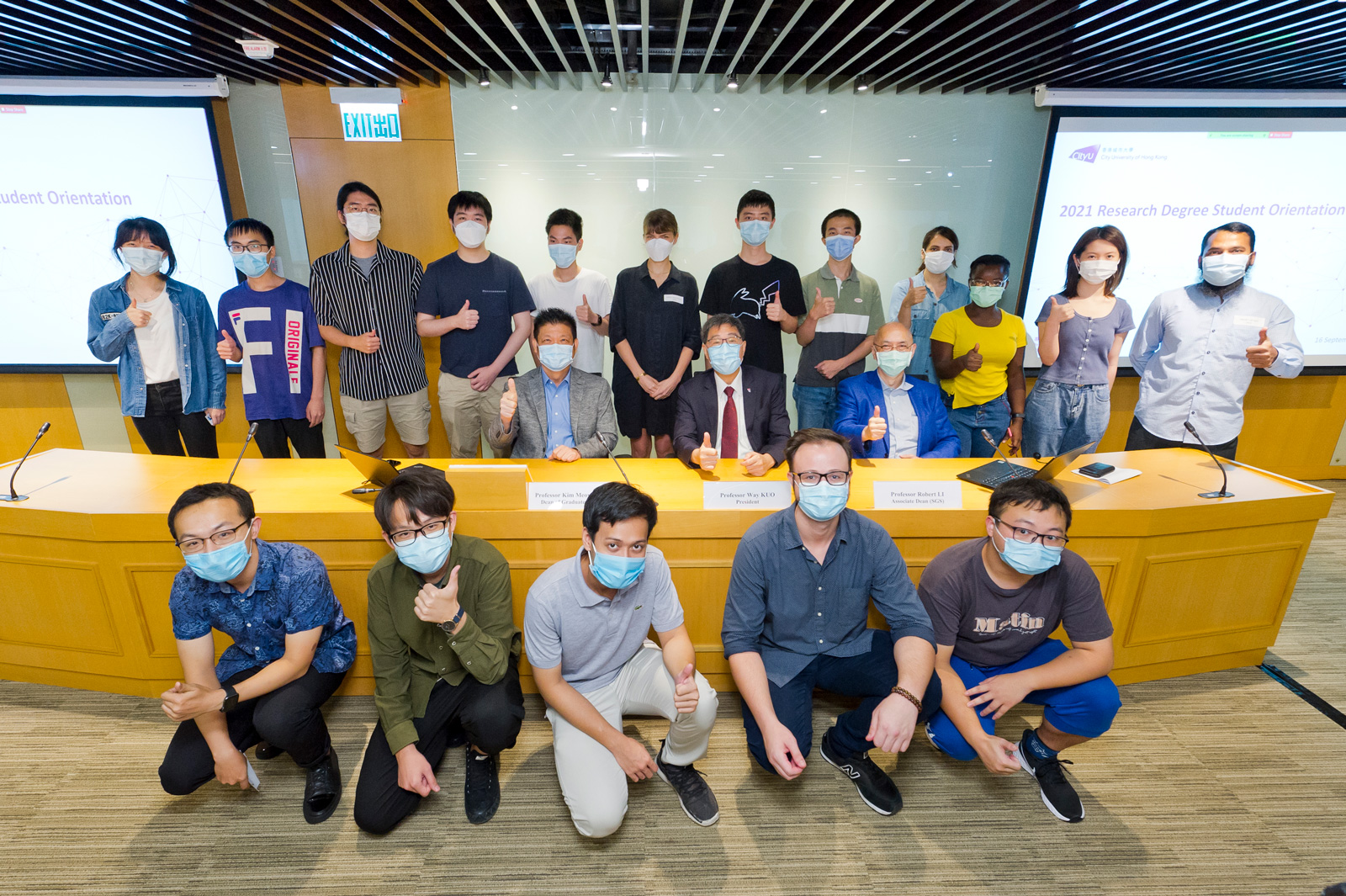 Research degree students from different counties and regions were welcomed in the 2021 Research Degree Student Orientation at City University of Hong Kong (CityU) on 16 September. President Way Kuo was joined by Professor Liew Kim-meow, Dean of Graduate Studies, and Professor Robert Li Kwok-yiu, Associate Dean, Chow Yei Ching School of Graduate Studies, to meet and greet the new students in person. The event was conducted in hybrid mode.
In his remarks, President Kuo emphasised that postgraduate education has been a focus of the University's strategic development. The University has world-class experts and scholars, state-of-the-art learning, teaching and research facilities, and programmes with forward-looking curricula.
"CityU is an exciting, dynamic and vibrant place, with lots of opportunities and interaction for diversified development to nurture our students to become future leaders," he said.
Professor Liew encouraged the students to interact with other members of CityU community, including world-class scholars and fellow classmates in different disciplines. He reminded them to expand their network, as this is crucial for their career development and success.
CityU is one of the most progressive universities in the world, and its world-class faculty have been widely recognised across the globe. For example, according to Stanford University, over 140 CityU faculty members are listed among the top 2% of the world's most highly cited scientists. CityU is also ranked 1st among local universities in the top 100 universities for granted US utility patents by the National Academy of Inventors for the 5th consecutive year. CityU is ranked top in Citations per Faculty in the QS World University Ranking averaged over a 5-year period from 2017 to 2021 in Hong Kong.
Focusing on its core mission, CityU promotes the integration of research and teaching and is committed to nurturing talent and developing a knowledge-based society. HK Tech 300 is a large-scale flagship innovation and entrepreneurship programme organised by the University to launch start-ups and ignite their entrepreneurship journey. The HK$500 million allocated to HK Tech 300 would help to establish 300 start-ups championed by CityU students in three years.
The CityU Presidential PhD Scholarship, launched in June 2020, offers up to HK$1.56 million per candidate for outstanding PhD students studying in the STEM (Science, Technology, Engineering and Mathematics) fields to attract high-calibre PhD candidates from around the world. For more details, please visit our webpage.