CityU Foundation Spring Gathering celebrates Year of the Ox
A New Year gathering for supporters and friends was hosted by the City University of Hong Kong Foundation (CityU Foundation) on 3 March, which is a highly auspicious date. 

In Chinese, the number 3 represents perpetual growth and vitality, suggesting that infinite possibilities await CityU as it advances and develops.

The Year of the Ox gathering was held on campus as well as broadcast online in view of the pandemic. The event, hosted by President Way Kuo, was kicked off with a performance of a Chinese New Year song Joyful Spring Festival with erhu and guzheng by students from the CityU Chinese Orchestra.

Another highlight was a magic trick performed by President Kuo. Members of the Board of Governors of the CityU Foundation were invited to participate in a papercutting game in which paper was turned into a traditional New Year fai chun decoration with the blessing of "Good Health".

President Kuo then updated guests on the latest developments at CityU, including the commencement of the superstructure work for the Jockey Club One Health Tower; an international energy forum; and the comprehensive capital campaign "United, We Soar".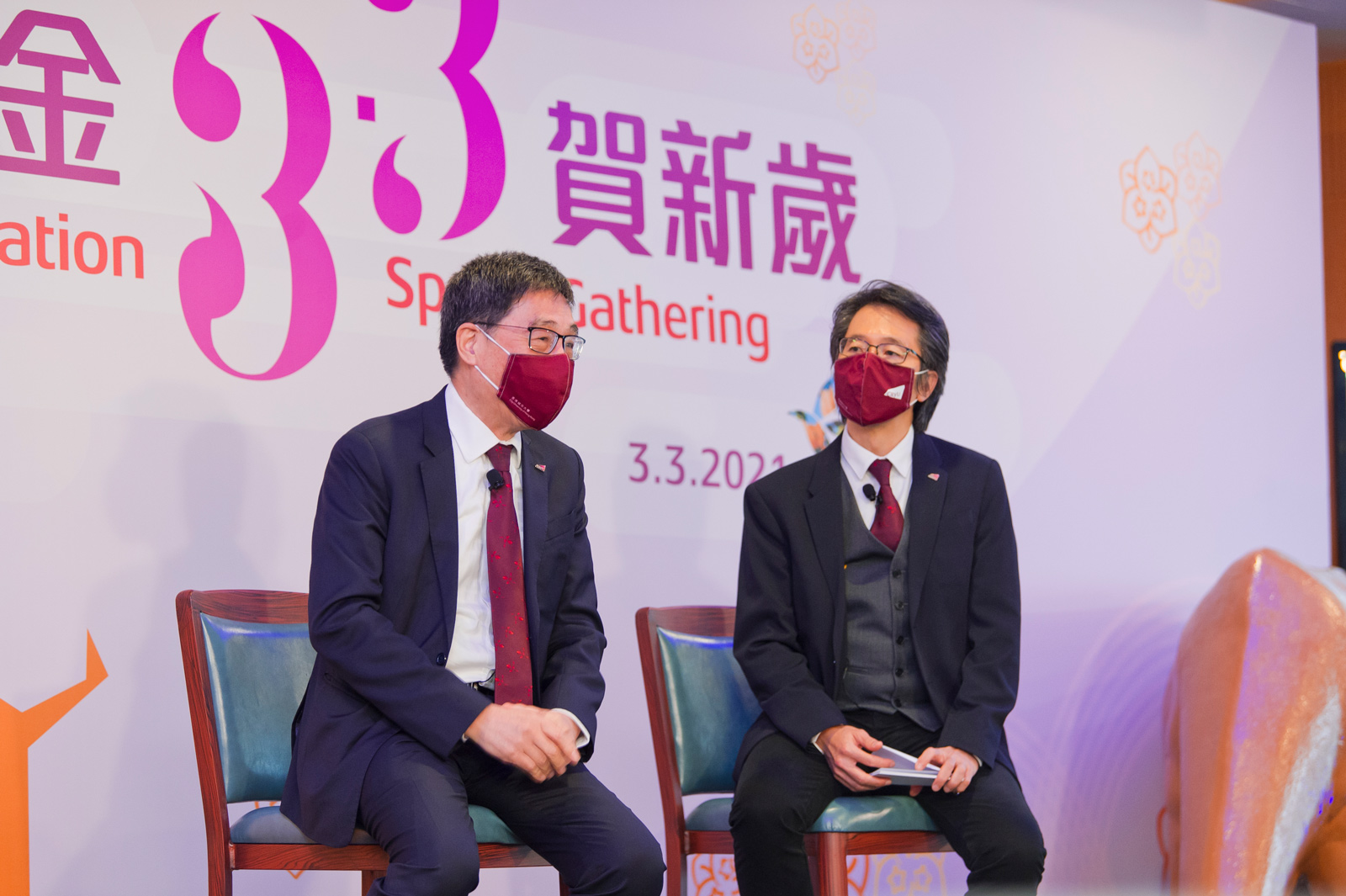 In addition, news about a forthcoming programme concerning knowledge transfer and support for the University community to develop start-ups was announced. Its aim is to benefit the community through commercialisation of new knowledge and research achievements across disciplines at CityU.

The newly launched CityU anthem was introduced during the event. President Kuo, who wrote the lyrics under the theme "Beyond Boundaries", said the anthem adopted a novel way of presenting the University's education philosophy, unique features, as well as expectations for staff and students.

"The message embodied in the lyrics suggests students and faculty pursue excellence and drive the world forward with their knowledge. We hope that the anthem will enhance our unity and encourage mutual respect between faculty and students in order that they achieve their goals," President Kuo said. 

To conclude the event, CityU Foundation members expressed their blessings that the Year of the Ox would bring hope and energy and that CityU would continue to pursue excellence and scale new heights.

Guests included the following members of the Board of Governors of the CityU Foundation: Mr Winfred Chan Hon-pun, Miss Lily Chow, Mr Vincent Chow Wing-shing, Dr Peter Ho Ka-nam, Ms Catherine Kwai Yuk-nin, Professor Cliff Sun Kai-lit and Dr Wong Chun-hong. 

Also attending were Professor Christian Wagner, Provost; Professor Michael Yang Mengsu, Vice-President (Research and Technology); Professor Raymond Chan Hon-fu, Vice-President (Student Affairs); Professor Matthew Lee Kwok-on, Vice-President (Development and External Relations); Professor Richard Yuen Kwok-kit, Chief-of-Staff; and Ms Kathy Chan Yin-ling, Associate Vice-President (Development and Alumni Relations).