CityU Careers Festival 2019 — overwhelming support from nearly 100 employers
The Career and Leadership Centre (CLC) of City University of Hong Kong (CityU) brought the Careers Festival forward to 23 to 27 September this year in a bid to help CityU students prepare well for their future careers.
Around 100 multinational corporations and large institutions from different sectors joined this year's Festival. They included Hang Seng Bank, John Swire & Sons, KPMG, Labour Department, L'Oréal Group, PricewaterhouseCoopers, Société Générale, The Hong Kong Jockey Club and more. 
These employers have provided CityU students with hundreds of graduate and internship positions. Some participating companies have offered on-site interviews with CityU students and made job offers, too. The Festival has featured a 3-day Careers Expo, career preparation workshops, recruitment talks and many other services. LinkedIn, a social media platform for workplace information, has spoken about the innovative ways job seekers can enhance their e-resumes and online profiles and thus stand out in the job market. Students also seized the opportunity to communicate with employers about career planning.
Professor Horace Ip Ho-Shing, Vice-President (Student Affairs) of CityU, officiated at the opening ceremony for the Festival 2019 on 23 September. Professor Alex Jen Kwan-Yue, Provost, Mr Sunny Lee Wai-Kwong, Vice-President (Administration), and Professor Eric Chui Wing-Hong, Dean of Students also attended.
In his opening speech, Professor Ip said, "CityU places great emphasis on the students' career development and employability. In recent years, we have developed specific programmes that encourage students to start their career preparation as early as possible. Thus, we strategically arranged the Careers Festival in September for the first time this year in the hope of offering students better career planning and securing better quality jobs before they graduate."
Cooperating with employers from different sectors, CityU has been able to provide graduate positions and internship opportunities for CityU students in banking, accounting, life sciences, research and development, marketing, public relations, information technology, engineering, aviation and other industries.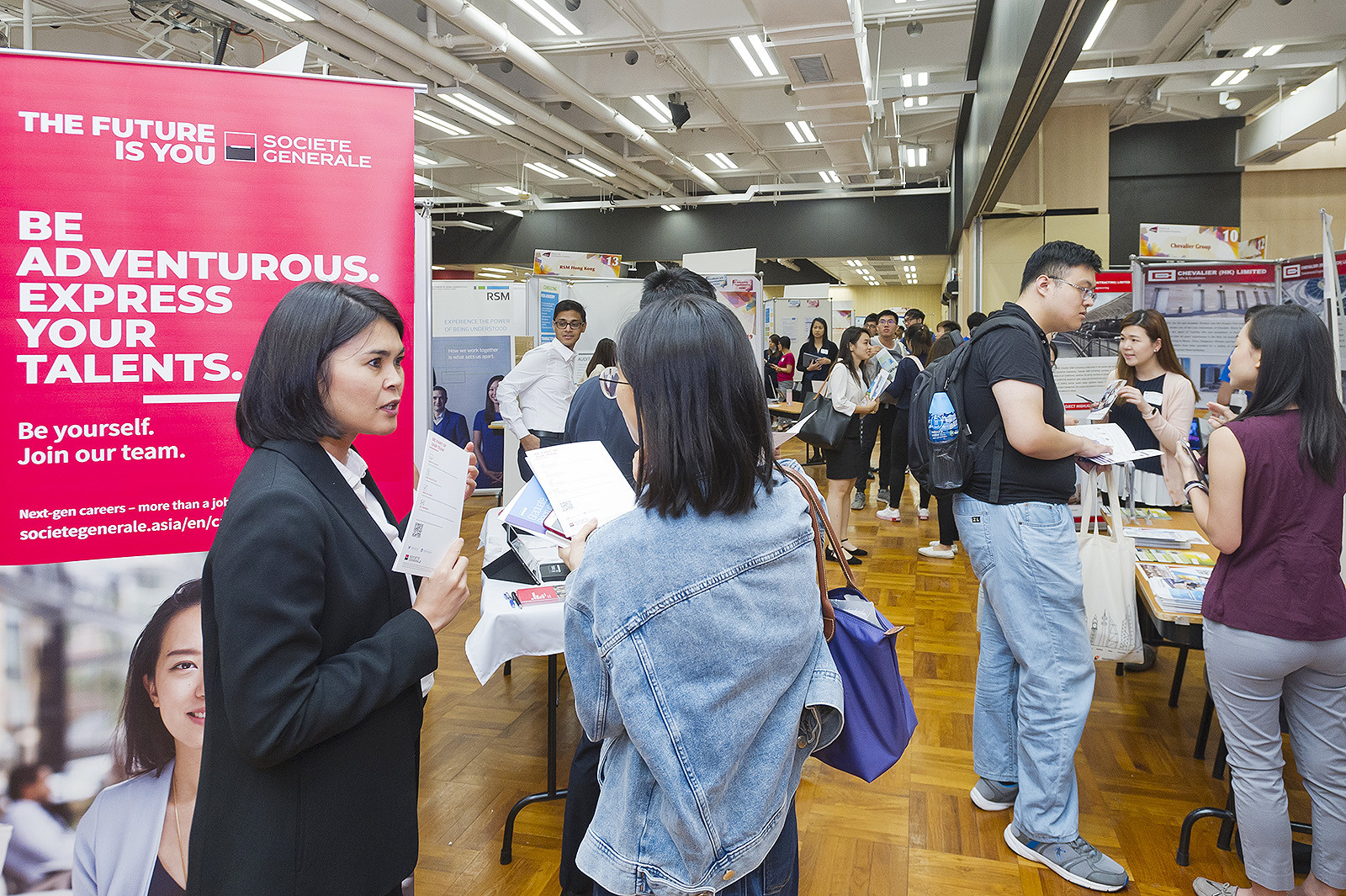 Ms Alice Kirkwood, Section Head of CLC, said that a recent recruitment trend was for employers to give job offers to interns who performed well, which facilitates the employers' recruitment process and talent management. She added that CityU was committed to preparing students for employment and career planning so that they could familiarise themselves with workplace environments, which would help students find an ideal job and quickly adapt to the workplace after graduation.
During this year's Festival, enterprises that recruited management trainees included CITIC Telecom International CPC Limited, Hewlett Packard Enterprise, Hong Kong Airlines Limited, L'Oréal Group, The Hong Kong Jockey Club and more. In addition, a number of organisations provided hundreds of IT related employment opportunities for students.
Multiple government departments and public organisations, including the Airport Authority Hong Kong, Labour Department and the Office of the Government Chief Information Officer, also joined.
Other participating multinational corporations and renowned institutions included ASTRI, Chevalier Group, China Mobile Hong Kong Company Limited, Computershare, KONE Elevator (HK) Ltd, Lee Kum Kee International Holdings Limited, UNIQLO Hong Kong Limited and more. The Labour Department, Industrial and Commercial Bank of China, Hang Seng Bank and L'Oréal Group gave advice on market updates and career prospects at recruitment talks.