Industry Partnership 2021/22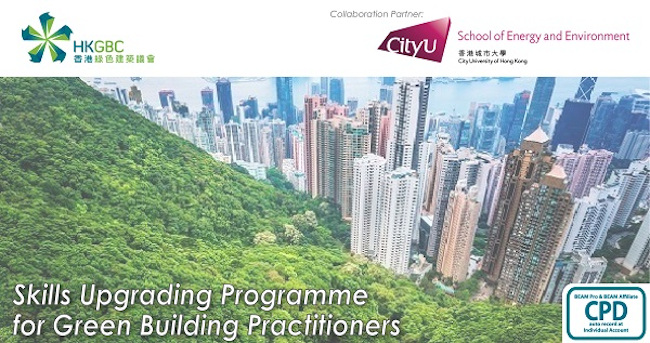 The COVID-19 pandemic has once disrupted the local construction industry.  However, as we move towards the post-pandemic economic recovery, the construction industry is being called upon to produce the next generation of green buildings that are not only environmentally friendly but also contributory to the health and wellbeing of the society. The move towards a higher standard of green buildings will require the construction industry to employ highly skilled practitioners who are equipped with multi-disciplinary knowledge and accompanied by the capacity to have whole-system and whole-life thinking.  
Against this background, SEE has partnered with Hong Kong Green Building Council to offer the "Skills Upgrading Programme for Green Building Practitioners". This training programme has been designed to provide CPD education that is more in-depth and structured than traditional talks or seminars. It offers a wide range of subject choices that span across key elements in the topic of green or sustainable building, including energy and carbon, indoor environment, outdoor environment, community aspects, materials and waste, building maintenance as well as climate change. Taught by experienced faculty from SEE, namely, Dr. Shauhrat Chopra, Dr. Liang Dong, Dr. Keith Ngan, Dr. Jason Lam, Dr. Edwin Tso, Prof. Angus Yip and Dr. Denis Yu, this programme will also serve as an "appetizer" for those considering to pursue post-graduate studies. Upon completion of the courses, participants will be able to gain a basic understanding of the subjects, which serves as a good foundation for further studies. 
Entry requirement: Participants shall be practitioners in the construction industry with a bachelor's degree / higher diploma in a built environment-related discipline. (For non-BEAM Pro registrants, proof of academic qualifications is required.)
Please click here to find the registration schedule of your interested courses.
Date & Time
Topic & Lecturer
What to cover
1
27 Mar 2021 (Sat) &
10 Apr 2021 (Sat)
9:30 am – 12:45 pm

Environmental Impacts of Construction Projects

Dr Liang DONG
Assistant Professor

Environmental impact assessment (EIA), life cycle assessment (LCA); material flow analysis (MFA); construction projects' supply chains; sustainable construction management; circular economy; green building
2
24 Apr 2021 (Sat) &
8 May 2021 (Sat)
9:30 am – 12:45 pm

Indoor Air Quality (IAQ) Engineering

Dr Edwin CY TSO
Assistant Professor

Indoor carbon dioxide, indoor radon pollution, indoor aerosol science, particle removal and air cleaner performance evaluation, volatile organic compounds (VOC), indoor ozone pollution, combustion related pollutants, bio-aerosol, thermal comfort, Sick Building Syndrome (SBS) and disease transmission
3
22 May 2021 (Sat) &
5 Jun 2021 (Sat)
9:30 am – 12:45 pm
Applied Solar Energy in Buildings

Prof. Angus Hin-Lap YIP
Professor
Introduction of different solar photovoltaic technologies; building-attached and building-integrated photovoltaics (BAPV and BIPV); challenges and opportunities of PV installation in Hong Kong; introduction of new PV products; Feed-in Tariff (FiT) Scheme
4
19 Jun 2021 (Sat) &
3 Jul 2021 (Sat)
9:30 am – 12:45 pm
Solid and Hazardous Waste Management

Dr Jason CH LAM
Assistant Professor
Solid waste, hazardous waste, recycling, landfill, waste management, upcycling, waste valorization
5
17 Jul 2021 (Sat) &
31 Jul 2021 (Sat)
9:30 am – 12:45 pm
Building Carbon Footprint Assessment

Dr Shauhrat S CHOPRA
Assistant Professor
Carbon footprint; carbon audit; carbon management; low-carbon building
6
14 Aug 2021 (Sat) &
28 Aug 2021 (Sat)
9:30 am – 12:45 pm
Sustainable Urban Planning and Urban Design

Dr Liang DONG
Assistant Professor
Urban sustainability; sustainable urban planning; Nature-based Solutions (NBS); inclusive city; built environment
7
11 Sep 2021 (Sat) &
25 Sep 2021 (Sat)
9:30 am – 12:45 pm
Maintenance Management of Built Assets

Dr Shauhrat S CHOPRA
Assistant Professor
Historical background and contemporary issues of building management in Hong Kong, life cycle thinking, whole-life cycle asset management, resilient built environment, maintenance standards and policies, tools for proactive asset management
8
9 Oct 2021 (Sat) &
23 Oct 2021 (Sat)
9:30 am – 12:45 pm
LCA for Materials, Ecosystem Goods Management and Climate Change Adaptation

Dr Shauhrat S CHOPRA
Assistant Professor
Carbon emissions from the construction industry, decarbonization policies in Hong Kong, life cycle assessment (LCA), climate change mitigation and adaptation
9
6 Nov 2021 (Sat) &
20 Nov 2021 (Sat)
9:30 am – 12:45 pm
Social Impact Assessment for Construction Projects

Dr Liang DONG
Assistant Professor
Life cycle sustainability assessment, UN Sustainable Development Goals (UN SDGs), social impact assessment, sustainable construction management, Corporate Social Responsibility (CSR), Environmental, Social and Governance (ESG)
10
4 Dec 2021 (Sat) &
18 Dec 2021 (Sat)
9:30 am – 12:45 pm
Energy Efficient Buildings

Dr Denis YW YU
Associate Professor
Heating, Ventilating and Air-conditioning (HVAC), coefficient of performance (COP), water pumps, Air Handling Units (AHU), variable frequency drive, oil-free magnetic bearing compressor, water-cooled condenser, heat pipes, chilled beams, smart windows, etc.
11
8 Jan 2022 (Sat) &
22 Jan 2022 (Sat)
9:30 am – 12:45 pm
Lighting Engineering

Dr Denis YW YU
Associate Professor
Luminous efficacy, luminous flux, intensity, illuminance, brightness, colour, design of electric lighting systems in buildings, fluorescent lamps, LED, light pipes, lighting applications, etc.
12
5 Feb 2022 (Sat) &
19 Feb 2022 (Sat)
9:30 am – 12:45 pm
Noise and Vibration in Sustainable Built Environment

Dr Keith NGAN
Assistant Professor
Sound, vibration, and noise, hearing and the human response to noise and vibration, environmental noise, acoustics of the built environment, noise and vibration control