Education
PhD in Chemistry, Department of Chemistry, Michigan State University
Staff title
Assistant Professor
With interests in combatting climate change and environmental pollution, Dr. Lam's research aims to mitigate global dependence on fossil resources by promoting the production of sustainable energy and chemicals.
As a Postdoctoral Fellow at Yale University, he developed a protocol to convert crude glycerol, a biodiesel refinery waste product, into lactic acid, a building block for biodegradable plastics. For his doctoral work at Michigan State University, Dr. Lam examined electrochemical strategies to convert biomass into liquid fuels.
Outside of lab work, Dr. Lam is an educator and an environment enthusiast. He has mentored numerous undergraduate researchers at MSU and Yale, as well as high school students in the MSU High School Honours Science Program (HSHSP). Dr. Lam has also been invited to design and teach an online certificate program on the practice of green chemistry to a diverse body of professional students in the University of Washington's Continuing Education Programs. Dr. Lam will begin his CityU School of Energy and Environment appointment in July 2019, he is currently a visiting assistant professor at Wesleyan University.
Other Information
Research Interests
Dr. Lam's research focuses on turning industrial waste and non-edible biomass into useful liquid fuel and materials through chemical and electrochemical catalysis. He is also interested in exploring creative means to replace harmful chemicals with benign alternatives, and in promoting the use of recyclable or biodegradable materials that may be returned to nature with minimal or no post-treatment at the end of their useful lives.
Electrocatalysis for Organic Transformation
Industrial Waste and Biomass Valorisation
Renewable Energy Production from Biomass
Catalyst Design and Synthesis
Alternative Synthetic Methods
Positions Available
PhD candidate
Potential graduate students interested in the topics of renewable energy and/or sustainable chemical production are welcome to contact Dr. Lam.
Applicants will have to go through a centralized admission process through the City University of Hong Kong with Dr. Lam's recommendation.
Research Assistant/Postdoctoral Researcher in the field of Organocatalysis, Electrochemical Catalysis, or General Interests in Renewable Energy
Duties

The appointee will conduct routine research duties in the one of projects listed in Research Direction. Model training and professional development will be provided to the successful candidate.

Requirements

A bachelor's or master's degree in chemistry, chemical engineering, or a related discipline. Depending on the project, experience in electrocatalysis in addition to organocatalysis is preferred.

Salary and Conditions of Service

Salary offered will be highly competitive, commensurate with qualifications and experience. Fringe benefits include leave, medical and dental consultations at the campus clinic.

Application

Applications will be accepted until all the positions are filled. Please send completed application form and current CV to Dr. Lam at jason.lam@cityu.edu.hk. For more information, please email Dr. Lam. Please click here to download the Application Form.
City University of Hong Kong is an equal opportunity employer and we are committed to the principle of diversity. We encourage applications from all qualified candidates, especially applicants who will enhance the diversity of our staff.
Selected Publications
Lam, C. H.; Escande, V.; Mellor, K.; Zimmerman, J. B.; Anastas, P. T. "Teaching Atom Economy and E-Factor Concepts through a Green Laboratory Experiment: Aerobic Oxidative Cleavage of Meso-Hydrobenzoin to Benzaldehyde using a Heterogeneous Catalyst" J. Chem. Ed., 2019 (Accepted, ASAP)
Erythropel, H. C.; Zimmerman, J. B.; de Winter, T. M.; Petitjean, L.; Melnikov, F.; Lam, C. H.; Lounsbury, A. W.; Mellor, K. E.; Janković, N. Z.; Tu, Q.; Pincus, L. N.; Falinski, M. M.; Shi, W.; Coish, P.; Plata, D. L.; Anastas, P. T. "The Green ChemisTREE: 20 Years After Taking Root with the 12 Principles" Green Chem., 2018, 20, 1929-1961. (Featured on Front Cover)

Lam, C. H.; Bloomfield A. J.; Anastas, P. T. "Switchable Production of Valuable Feedstocks from Glycerol via Electrocatalytic Oxidation with Earth Abundant Metal Water Oxidation Catalyst" Green Chem., 2017, 19, 1958-1968.
Escande, V. E.*; Lam, C. H.*; Coish, P.; Anastas, P. T. "Heterogeneous Sodium-Manganese Oxide Catalyzed Aerobic Oxidative Cleavage of 1,2-diols" Angew. Chem. Int. Ed. 2017, 56, 9561 – 9565. (*Contributed Equally) (Featured as Hot Paper)
Lam, C. H.; Das, S.; Erickson, N.; Hyzer, C.; Garedew, M.; Anderson, J. E.; Wallington, T. J.; Tamor, M. A.; Jackson, J. E.; Saffron, C. M. "Towards Sustainable Hydrocarbon Fuels with Biomass Fast Pyrolysis Oil and Electrocatalytic Upgrading" Sustainable Energy Fuels, 2017, 1, 258-266. (Featured on Front Cover)

Escande, V. E.; Lam, C. H.; Claude, G.; Anastas, P. T. "EcoMnOx, a Biosourced Catalyst for Selective Aerobic Oxidative Cleavage of Activated 1,2-Diols" ACS Sustainable Chem. Eng., 2017, 5 (4), 3214-3222.
Gillet, S.; Petitjean, L.; Aguedo, M.; Lam, C. H.; Blecker, C.; Anastas, P. "Impact of Lignin Structure on Oil Production via Hydroprocessing with a Copper-Doped Porous Metal Oxide Catalyst" Bioresour. Technol., 2016, 233, 216-226.
Lam, C. H.; Lowe, C.; Li, Z.; Longe, K.; Rayburn, J.; Caldwell, M.; Houdek, C.; Maguire J.; Saffron, C. M.; Miller, D. J.; Jackson, J. E. "Electrocatalytic Upgrading of Model Lignin Monomers with Earth Abundant Metal Electrodes" Green Chem., 2015, 17, 601-609.
Li, Z.; Garedew, M.; Lam, C. H.; Luczek, K.; Jackson, J. E.; Miller, D. J.; Saffron, C. M. "Mild Electrocatalytic Hydrogenation and Hydrodeoxygenation of Bio-oil Derived Phenolic Compounds Using Ruthenium Supported on Activated Carbon Cloth" Green Chem., 2012, 14, 2540-2549.
Li, Z.; Kelkar, S.; Lam, C. H.; Luczek, K.; Jackson, J. E.; Miller, D. J.; Saffron, C. M. "Aqueous Electrocatalytic Hydrogenation of Furfural Using a Sacrificial Anode" Electrochim. Acta 2012, 64, 87-93.
Patents – Jackson, J. E.; Lam, C. H.; Saffron, C. M.; Miller, D. J. "Electrolyzer Reactor and Related Methods" 2016 (Publication no.: US-20160024669)
Patents – Jackson, J. E.; Lam, C. H.; Saffron, C. M.; Miller, D. J. "Electrocatalytic Hydrogenation and Hydrodeoxygenation of Oxygenated and Unsaturated Organic Compounds" 2014 (Publication no.: US-20140110268)
Staff Image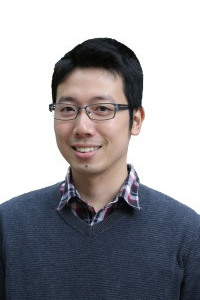 Research Interests
Electrocatalysis for Organic Transformation
Catalyst Design and Synthesis
Industrial Waste and Biomass Valorisation
Sustainable and Renewable Energy Storage
Alternative Synthetic Methods