Great success again at Inventions Geneva Evaluation Days; CityU top among local universities for two years
Researchers at City University of Hong Kong (CityU) received tremendous accolades at Inventions Geneva Evaluation Days (IGED) 2022 by winning a total of 22 awards, the highest number among local institutions for two years in a row, including one Gold Medal with Congratulations of the Jury, six Gold Medals, 13 Silver Medals and two Bronze Medals. Their success keenly demonstrates CityU's outstanding research achievements.
Professor Way Kuo, CityU President, is delighted with the results. "CityU promotes knowledge transfer and advocates 'the integration of teaching and research' to align with world-class universities. CityU's world-class faculty contributes by converting outstanding research into commercial products," he said.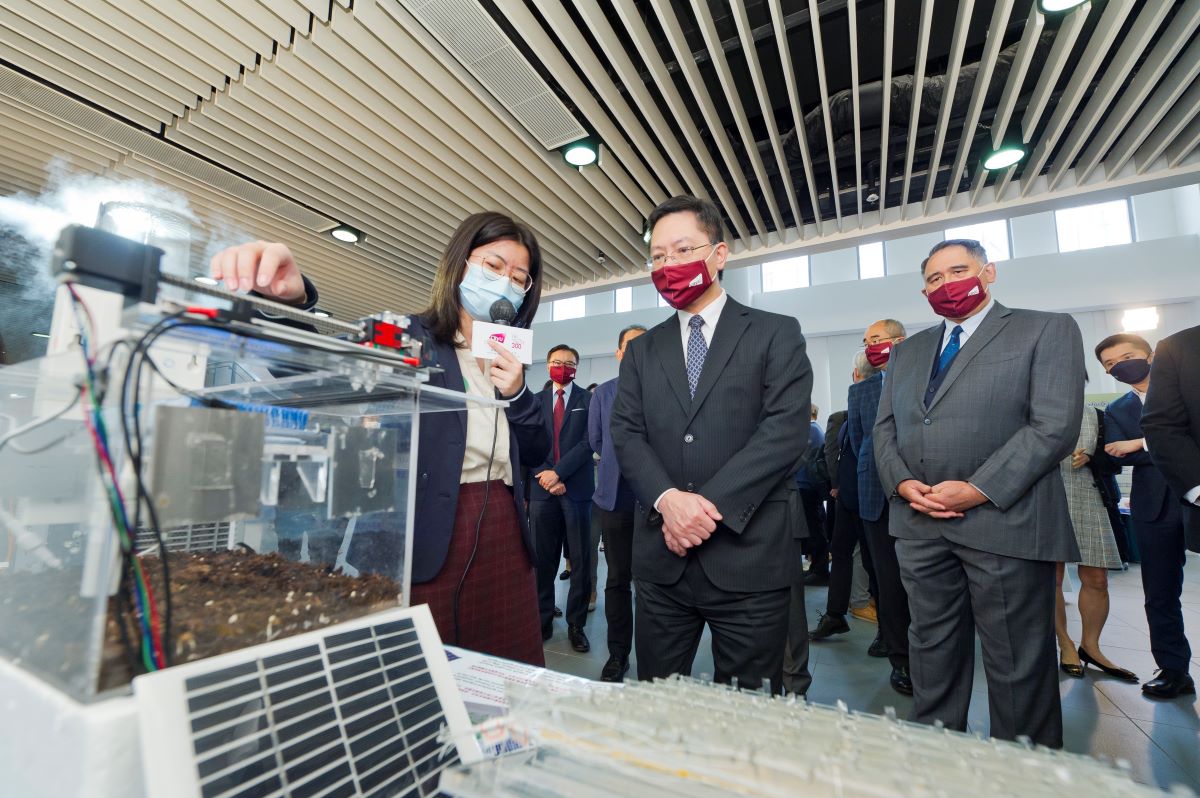 Leading innopreneurship, CityU announced in March 2021 the launch of a large-scale flagship innovation and entrepreneurship programme, HK Tech 300. With an allocation of HK$500 million, the programme aims to assist CityU's students, faculty and staff, alumni as well as members of the public to establish 300 start-ups in three years. It is the largest university-based entrepreneurship programme in Asia in terms of the amount of investment and scale. 
Among the winning teams in IGED 2022, 6 start-up teams from HK Tech 300 and 3 teams supported by the Technology Start-up Support Scheme for Universities (TSSSU) at CityU.
In fact, CityU's teaching and research team has been recognised internationally. CityU is ranked 51st in the top 100 worldwide universities granted US utility patents by the National Academy of Inventors 2020, making us top among local universities for the 5th consecutive year.
In view of the pandemic, IGED is the virtual edition of the International Exhibition of Inventions of Geneva, which is the world's most important annual event devoted exclusively to inventions.
CityU's winning projects: 
Awards

Research team

Project 

Gold Medal with Congratulations of the Jury

Professor Wang Zuankai, Chair Professor of Department of Mechanical Engineering (MNE) and Department of Materials Science and Engineering (MSE); Dr Steven Wang, Assistant Professor, MNE; and Ling Chen, Yau Xiaoxue, Wang Hongbo, PhD students of MNE

"Fog-to-electricity Generator with Ultra-high Power Density"

The research team has founded a start-up, which is supported by CityU's flagship entrepreneurship programme HK Tech 300, to transfer the technology into actual application.

The research team has introduced the first-ever fog-powered green generator for harvesting energy and freshwater from moisture. It combines a newly developed high-power density droplet-based energy generator (DEG) with a nature-inspired, superhydrophobic fog harvesting mesh. This new technology can produce a record-high power (300 V), with a water collection rate of approximately 250 litre per square meter per day. This dual electricity generator and fog harvester has the highest fog-based energy-conversion efficiency reported to date. It provides a sustainable, stable, low-cost, portable, and eco-friendly power supply solution, while simultaneously tackling the freshwater crisis in many major cities and areas.

Gold Medal

Dr Tso Chi-yan, Assistant Professor, School of Energy and Environment (SEE), and Stanley Liu Sai, PhD student, SEE

"Intelligent Thermo-responsive Window for Indoor Thermal Management and Energy Saving in Buildings"

The novel smart window can autonomously regulate solar transmittance in response to the outside temperature. The smart window is transparent in cold weather, allowing solar radiation to pass through to warm a room, and is opaque in hot weather, blocking solar radiation to prevent overheating. This invention can promote the development of energy-efficient and sustainable buildings.

Dr Wang Lidai, Associate Professor, Department of Biomedical Engineering (BME), and Dr Liu Chao, PhD graduate, BME

"A Low-cost Multi-contrast Multi-functional Optical-resolution Photoacoustic Microscopy for Early Cancer Diagnostic and Screening"

This invention is used for early cancer diagnostic and screening, with three main innovations: advanced multi-spectral light source, real-time imaging speed, and effective tumour-specific multi-functional multi-morphologic image analysis methods. It can also be used in ultrafast neuronal activity recording, multi-functional hemodynamic imaging in brain-related pathologic analysis, and long-term drug release process monitoring during treatment.

Dr Yu Xinge, Associate Professor, BME

"Touch VR e-Skin for Metaverse"

This wearable technology enriches the virtual reality/augmented reality (VR/AR) experience through the sense of touch beyond watching and hearing. Designed for everyday use, this wireless and flexible haptic VR e-skin allows wearers to receive haptic feedback in the metaverse and feel the touch of family or friends during video calls. Moreover, for another application, amputees wearing the e-skin can regain their sense of touch.

Xiaomo Limited led by Professor Huang Linfeng, formerly in Department of Biomedical Sciences (BMS)

"Biomanufactured and Customized RNAi Library for Any Species"

Xiaomo Limited is a start-up funded by TSSSU, CityU.

Bacterial cells are used to produce a highly efficient small interfering RNA (siRNA) library that covers the entire genome of any species. This method enables the discovery of potent RNA-based precision medicines and is both cost-effective and environmentally friendly. It can be applied to a range of diseases and will significantly accelerate the development of RNAi therapeutics.

Professor Wang Zuankai, Chair Professor of MNE and MSE

"Structured Thermal Armour"

This thermal armour can be attached to different shaped substrates to remove heat from surfaces at temperatures of 1,200°C or higher. A fast and controlled temperature drop of more than 1,000°C can be achieved within several to tens of seconds. The liquid-cooling technologies is to prevent a thermal crisis in ultra-high thermal-fluxed electric devices. It also enables the traditionally impossible efficient-liquid-cooling of extremely high-temperature devices.

Dr Gajendra Kumar, Research Assistant Professor, Department of Neuroscience (NS); and Dr Eddie Ma Chi-him, Associate Professor, NS

"AI-based Pharmaco-electroencephalography (EEG) Platform for Drug Screening"

The project is developed by AniTech Limited, a HK Tech 300 start-up.

This platform aims to facilitate clinical trials for drug candidates based on models for diseases that affect humans and mice with the aim to monitor adverse drug effects and toxicity. It shortens the time required for neurotoxicity and drug efficacy studies and can be used for a personalised prediction of disease outcomes.

Silver Medal

Professor Fu Hongbo, School of Creative Media (SCM)

"DeepFaceDrawing: Deep Generation of Facial Images from Sketches"

"DeepFaceDrawing" is an interactive image-processing system that produces photorealistic facial images from rough or incomplete freehand sketches, by implicitly modelling the shape space of real facial images.

Professor Michael Leung Kwok-hi, SEE

"Nano-Photocatalytic Marine Antifouling/Anticorrosion Paint (Nano-MA2P)"

The first-ever solar photocatalyst designed to work under seawater. Upon sunlight activation in visible-light spectrum, the coating produces photocatalytic antifouling and photocathodic anticorrosion effects.

Dr Xu Chenjie, Associate Professor, BME

"Cryomicroneedles for Transdermal and Intradermal Cell Delivery"

A minimally invasive array of ice-based needles to load, store, and deliver therapeutic cells to inner layers of the skin. This platform overcomes previous challenges of effectively delivering living cells for cell therapy and brings hope to patients with intractable diseases like some skin cancers.

The research team has founded a start-up, which is HK Tech 300, to transfer the technology into actual application.

Professor Hu Jinlian, BME and MSE; and Su Yupei, PhD student, BME

 

"Super-tough Artificial Spider Silk"

Chemically synthesised spider silk that is tougher than the toughest spider silk found in nature. It is made by the world's first chemical synthesis technology to mass-produce artificial spider silk.

The project is developed by S3Tough Tech Co. Ltd, a HK Tech 300 start-up. 

Professor Hu Jinlian, BME and MSE; Dr Guo Chunxia and Dr Si Yifan, Postdoc; Shi Shou, PhD student, BME

"JanusLean electrospun nano fibre sheet mask"

This is the world's first water-free sheet mask with the following uniqueness: it is made of Chinese medicine nano fibre layer that is produced by electrospinning, and it has directional water transportation ability for moisturising. Moreover, no preservatives are needed, hence saving 80% of materials and 95% of transportation costs.

Dr Yao Xi, Associate Professor, BMS

"Machine-learning Assisted Discovery of Multifunctional Biopolymer Coating for Pathogen Control"

The project is developed by Medi Biotech Limited, a start-up funded by TSSSU, CityU.

There are increasing demands for developing and applying environment-friendly and multifunctional antimicrobial coatings. However, most antimicrobial coatings are not made from edible materials. We proposed a strategy based on machine learning to accelerate material discovery, which can enable us to design and produce antimicrobial coatings made with natural ingredients with desired properties and functions.

Dr Vincent Ko Chi-chiu, Associate Professor, Department of Chemistry (CHEM) and member of the State Key Laboratory of Marine Pollution

"Simple Chemical Modification Methods to Develop Oleophilic and Water-repelling Materials"

Simple photochemical surface modification methods to make functional materials that are both oleophilic and hydrophobic. The new functional materials can absorb oils but repel water and can thus effectively remove oil waste while providing water resistance.

Dr Alex Wong Chun-yuen, Associate Professor, CHEM

"RUNPY: a Rapid, Reliable and Convenient Nitrite Detection Kit for Drinking Water Safety"

An one-minute, instrumentation-free nitrite detection kit with high sensitivity and selectivity allows on site drinking water analysis according to WHO and USEPA guidelines.

Professor Antoni B. Chan, Department of Computer Science (CS)

"Automatic Wide-area Crowd Surveillance Using Multiple Cameras"

An imaging system that combines information from multiple cameras capturing a large scene to generate a crowd-density map on the ground plane, estimate the number of people present, and show their locations in the scene.

Professor Yan Hong, Wong Chun Hong Professor of Data Engineering, and Fan Xinqi, PhD student, Department of Electrical Engineering

"AI-based Face Mask Detection to Assist in the Control of the COVID-19 Pandemic"

An AI-based computer visualisation method to detect face-mask wearing in public, which is an effective preventive public health measure to help control the COVID-19 pandemic.

Professor Zhi Chunyi, MSE, and Chen Ze, PhD student, MSE

"Safe Flexible Batteries and Their Applications"

These flexible batteries are soft, tough, absolutely safe, and super-deformable. They offer an excellent alternative to rigid batteries for the supply of power to flexible consumer electronics.

Dr Lo Wing-cheong, Assistant Professor, Department of Mathematics; and supported by Dr King Lai Wai-chiu, Associate Professor, BME; and Dr Esther Chow Oi-wah, Associate Professor, Department of Social and Behavioural Science

"Smart Wear Enabling the Visually Impaired and the Elderly the Ultimate Freedom to Explore the World"

Our invention is a high-tech, innovative, and light-weight companion device with an intelligence platform for the navigation and independent mobility of the visually impaired person (VIP) involving: (1) Environmental visualisation for creating the 3D virtual map (2) AI programming for identifying and analysing the obstacles and dangers; and planning the obstacle-free path for the user (3) Real time 4D actuation for realising the real-hand free dynamic navigation of the user in most direct way with high accuracy and short response time.

The project is developed by AI Guided Limited, a start-up funded by TSSSU, CityU. 

Dr Steven Wang, Assistant Professor, MNE

"Fast-track Vented Enclosure System for COVID-19 Patient Wards"

A negative-pressure enclosure that quickly stops the airborne spread of the virus that causes COVID-19. This low-cost isolation system can be assembled within 5 minutes and can achieve 87 ACH (air changes per hour), greatly exceeding the value of 12 recommended by the US Centers for Disease Control and Prevention for negative-pressure hospital rooms.

The project is developed by SBC Group, a HK Tech 300 start-up.

Bronze Medal

 

Dr Zhu Kening, Associate Professor, SCM and CS

"Method of Enabling Gesture-based Interaction on the Surface of a Low-cost VR Head-mounted Display"

Dr Lam Yun-wah, Associate Professor, CHEM; and Mr Kwok Shu-hin, Research Assistant, CHEM

"BING: Antibacterial Compound Extracted from Fish Blood"

The project is developed by Peptide Adventure, a HK Tech 300 start-up.