Microfluidic Technology for Accelerated Screening of Anti-Cancer Drugs
New medicines can save and improve lives, but drug discovery is an extremely long and expensive process. One of the top scientists at CityU is developing an integrated system based on his internationally recognised, award-winning biochip technology, with the aim of providing a novel drug-screening tool with greatly reduced drug development time and cost. 
Professor Michael Yang Mengsu, Yeung Kin Man Chair Professor of Biomedical Sciences and Vice-President (Research and Technology), has focused on the study of the biological processes involved in cancer, and the development of biochip technology and nanotechnology for molecular diagnostics and therapeutic applications, with the aim of improving people's lives by converting high-quality research into clinical applications. The Research Impact Fund project conducted under his leadership is working on a microfluidics-based technology platform for efficient screening of potential drug candidates.  
Efficient screening of drug candidates
"Drug screening is the first step in the long process of drug development," explained Professor Yang. "It identifies lead compounds and eliminates false candidates from thousands to millions of compounds, which is critical in the subsequent steps." 
Two commonly used technologies are high-throughput screening (HTS) and high-content screening (HCS). HTS enables the screening of millions of chemicals for their biological or pharmacological activity to identify active compounds, which serves as a starting point for drug design and development. HCS allows the evaluation of biochemical and morphological parameters in intact cell-based biological systems, which is complementary technology to HTS. 
Despite their wide applications, both technologies have drawbacks: HTS is expensive, requiring heavy use of reagents, and HCS suffers from low throughput, slow speed, and a lack of microenvironments to accurately reflect the effects of a compound on cellular behaviour. For efficient and cost-effective screening of potential drug candidates, there is great demand for new high-throughput, high-content platforms, which reduce reagent consumption and mimic the in-vivo environment to which cells are exposed. 
Combining the strengths of HTS and HCS, the research team led by Professor Yang has been developing an integrated microfluidics platform that can mimic the physiological and pathological microenvironments for cell-based assays. That will facilitate the simulation of in-vivo conditions of cell growth, communication and migration for high-throughput, high-content screening of drugs that target and affect cell-cell interactions. 
The platform will integrate multiple parallel channels and docking structures for high-throughput formation of cell and particle arrays by fluid dynamic control. The specially designed microfluidic chip enables tumour cell and spheroid arrays to be formed for screening anti-cancer drugs with different concentration gradients and combinations. It can test the effectiveness of currently available treatments, and identify the most efficient drugs and optimal dosage.
Sensitive detection of cancer cells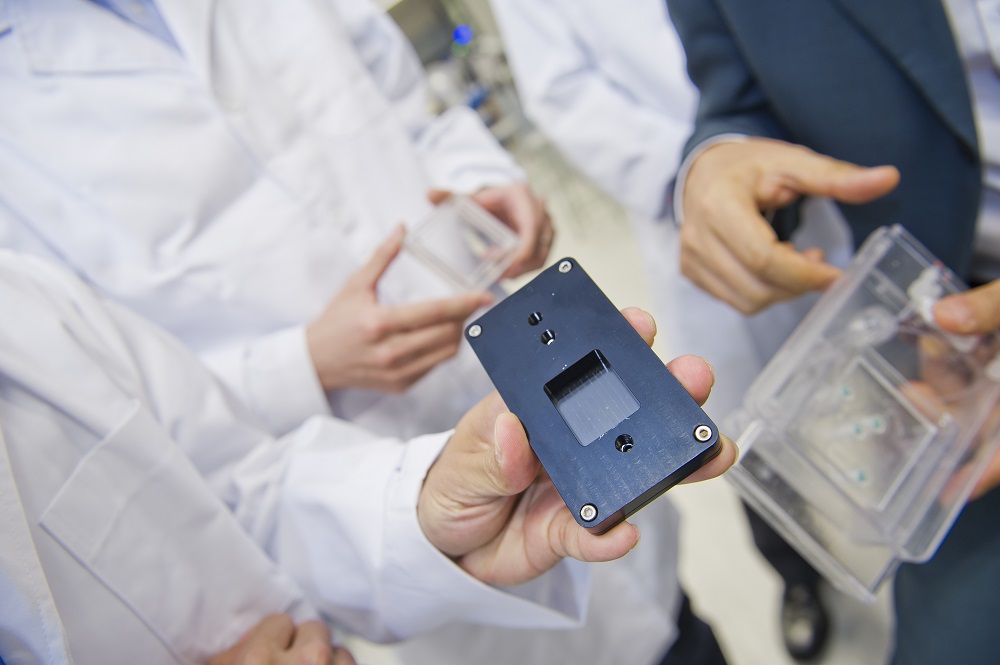 Previously, Professor Yang and his team developed a microfluidic chip which can be used for highly sensitive multiplex detection of gene mutations and pathogens on barcoded microbead arrays integrated with nanoparticle-based signal amplification. Detecting gene mutations helps identify drug targets for precise medicine, and identifying pathogens contributes to early diagnosis and treatment of infectious diseases. 
This patented technology won Professor Yang and his team the Gold Medal at the 47th International Exhibition of Inventions Geneva in Switzerland. It has been licensed to Cellomics International Limited, a CityU spin-off company, which was co-founded in 2018 by PhD students who graduated from Professor Yang's laboratory. The technology has been developed into products for disease detection and diagnosis in hospitals and clinical laboratories. For example, it is used for accurate identification of tumour cells circulating in the blood, enabling early screening for cancer cells through blood tests. 
Professor Yang has already turned several research projects into clinical applications, including the previously developed DNA chip technology for the early detection of cervical cancer. "By translating new discoveries and findings generated in our laboratories into innovative technologies and products for clinical applications, we hope to contribute to improving the health and wellbeing of the people," said Professor Yang. 
This research article originated from CityU RESEARCH.