Masterclass showcases CityU's achievements in research and innovation
Global challenges call for interdisciplinary collaborations and strong local and international partnerships among institutions, industry stakeholders, and community groups, according to the organisers of the HK Tech online Masterclass: Advancing Research and Innovation on 15 December at City University of Hong Kong (CityU).

Furthermore, a vibrant research culture that supports the behaviour and practices expected in world-leading research environments was a prerequisite to research excellence. 

The event presented CityU's experience as a young university and its models for development within the international higher education arena. 

"Every higher education institution is unique, with its own individual challenges and so the ideas that we present today are grounded very much in our own context," said Professor Christian Wagner, Provost, who delivered the opening remarks and the keynote speech. 

"But there is every reason to believe that what works for us might work for you. After all we are fellow travelers," he added.

Professor Wagner introduced lessons that CityU had embraced over the past decade or so in his keynote address. These lessons covered areas such as formulating a large-scale vision for strategic development, urging faculty to unite behind common themes rather than working in silo-like conditions, and going beyond a simple SWOT analysis for developing plans and instead being prepared for the long haul. 
He also talked about the need to identify and expand core competencies, nurture young faculty, and carefully select strategic areas to focus on, which for CityU covers One Health, Digital Society, Smart City, Matter and the Brain. He also pointed out that as competition could be fierce in today's higher education sector, it was important to keep an eye on the rear-view mirror. 

The panelists for the discussion element of the event were Professor Michael Yang Mengsu, Vice-President (Research and Technology) and Yeung Kin Man Chair Professor of Biomedical Sciences; Professor Wang Zuankai, Chair Professor, Department of Mechanical Engineering; and Dr Kannie Chan Wai-yan, Associate Professor, Department of Biomedical Engineering. From HK Tech 300 were present Dr Wilhelm Klein, CEO, Zeta Motion and CityU alumnus, and Mr Martin Zhu Yihao, a member of i2Cool, and a PhD student in the School of Energy and Environment at CityU. The moderator was Mr Pieter Stek, Chief Analyst, AppliedHE.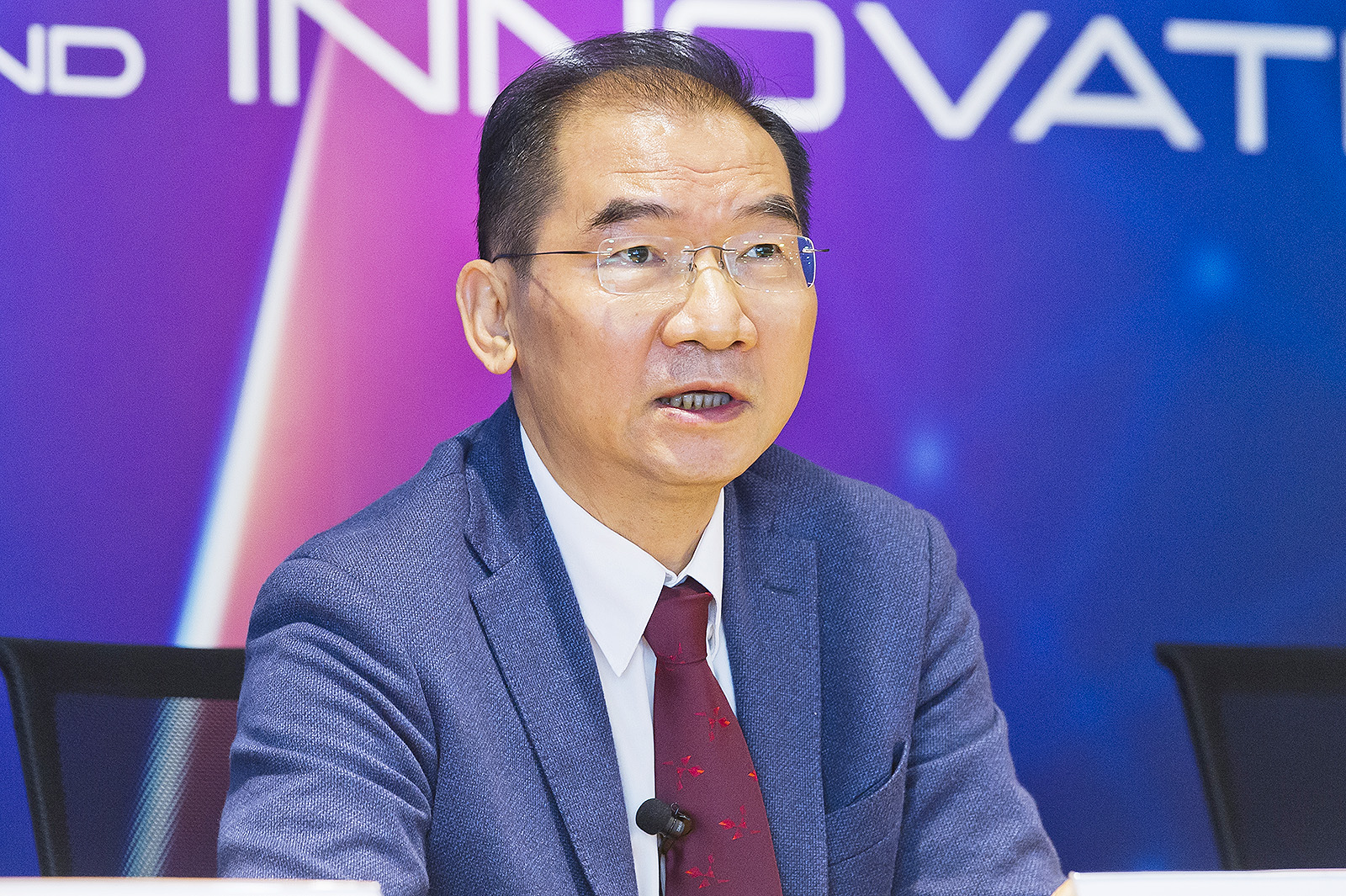 Professor Yang narrated the story behind aspects of CityU's transformation into a highly regarded university, now ranked around 50th in the world, citing our high-impact research and the tripling of our research income over the past few years. 

Dr Chan focused on the importance of partnerships when translating technologies into the community when trying to improve people's lives, while Professor Wang turned the spotlight on the importance of a vibrant campus environment if new ideas are to flourish. 

Dr Klein and Mr Zhu told the audience about their success in the HK Tech 300 initiative and how their ideas were being successfully nurtured thanks to CityU's input.
In the case of the former, several CityU alumni have collaborated to apply smart manufacturing and digital transformation technologies to new areas such as the surface inspection of buildings and other structures, and are now hoping to become HK Tech 300's first unicorn. 

In the case of the latter, new technologies inspired at CityU were being put to use in energy saving strategies and technologies, reducing heat inside buildings and thus saving on electricity bills. 

In closing, Professor Yang said that CityU's new tagline "Venture Beyond Boundaries" signalled a clear intention to encourage faculty and students to aspire to excellence as a young and dynamic university.

The event, with the aim of sharing CityU's bold vision in research excellence and professional education with audiences all over the world, was the first of several masterclasses to be held at CityU in 2022.