Delegation led by President Kuo introduces CityU's latest developments in Taiwan
A delegation of City University of Hong Kong (CityU) led by Professor Way Kuo, President of CityU, visited Taiwan between 15 and 17 February to share the University's latest developments with media representatives and secondary school principals and students.
President Kuo was joined by Professor Richard Yuen Kwok-kit, CityU's Chief-of-Staff, Professor He Jr-hau of the Department of Materials Science and Engineering, and students and alumni from Taiwan.
At the dinner reception for Taiwan secondary school principals and a media luncheon, President Kuo said that CityU is highly rated internationally in many different spheres. According to metrics compiled by Stanford University, more than 180 CityU faculty members are among the top 2% of the world's most highly cited scientists. CityU was first in Hong Kong for the 5th consecutive year for the highest number of academic subjects (15 in 2022) ranked in the world's top 50 in ShanghaiRanking's Global Ranking of Academic Subject list. In addition, CityU climbed to 29th in the 2021 top 100 universities granted US utility patents, according to the National Academy of Inventors, making CityU first among Hong Kong universities for the 6th consecutive year. President Kuo shared CityU's recent achievements at the dinner reception.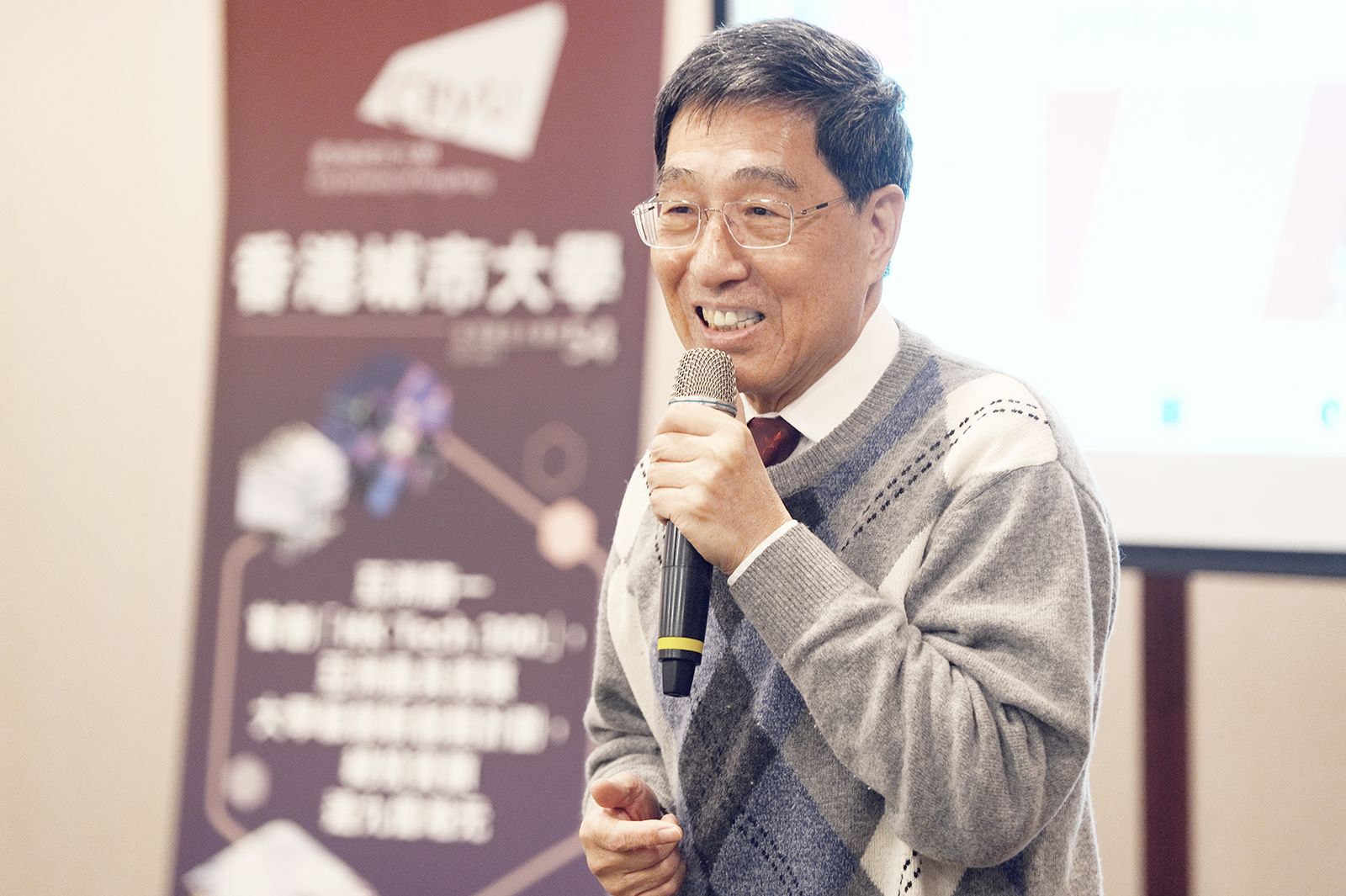 President Kuo added that the establishment of the Jockey Club College of Veterinary Medicine and Life Sciences is one of the most distinctive achievements of CityU. The Bachelor of Veterinary Medicine programme has successfully recruited overseas students from Indonesia, Malaysia, Korea and the mainland. "However, so far, we have no vet school students from Taiwan," he said. "I hope that the best Taiwan students will come and join our vet school."
"The relationship between humans and animals is very close," President Kuo continued. "The 'One Health' concept that we emphasise refers to the ecosystem between animals, humans and the environment."
Another distinctive achievement of CityU is its flagship programme, HK Tech 300. The programme was rolled out in 2021 with the aim of igniting innovation and entrepreneurship among young people.
"Young people are very innovative," said President Kuo. "We greatly encourage them to innovate and start a business, hoping that one day, these start-ups can contribute to the University and society."
Alumnus Mr Porsche Wang shared his CityU experience at the luncheon. He said he was particularly impressed by the University's teaching model. "We do not attend lectures or classes in a passive way. Instead, we have to do a lot of research. This is very different from the universities in Taiwan," he said.
During his visit to National Hualien Girls' Senior High School in Taiwan on 17 February, President Kuo offered his insights on young people's competitive edge and international vision to more than 200 attending students.
President Kuo stressed that the mission of tertiary education is to fully develop students' potential, and that it is very important for young people to have a global perspective.
President Kuo said he believed that the integration of teaching and research, and the separation of politics and education are crucial elements in tertiary education. Most important of all, students' mindset should not be limited by boundaries, and innovation is a way to sharpen their competitive edge. "Your talent will be limited if education forces you to go in only one direction," President Kuo said.
In addition, President Kuo held a book launch for his new book, The Absence of Soulware in Higher Education, on 18 February in Taiwan, with Professor Ovid J L Tzeng, Academician of Academia Sinica and former Minister of Education, serving as the panelist. Also attending the book launch were Professor Kuan Chung-ming, former President of National University of Taiwan, Dr Bruce C H Cheng, Founder and Honorary Chairman of Delta Group, and others.
This book reflects the great changes that have taken place in higher education in Taiwan, Hong Kong, mainland China and globally in the past five years, and analyses with concrete examples the various advantages and shortcomings of each system. It provides a unique analysis in 27 chapters of the higher-education sectors in Hong Kong, Taiwan and mainland China, both their present status and future development prospects, from five angles: the internationalisation of higher education, the integration of teaching and research, the separation of politics and education, quality and evaluation, and creativity and innovation. It is benchmarked against advanced global higher-education practices, represented mainly by the US system.
President Kuo pointed out that Chinese generally value education, but they often place more emphasis on degrees, with few exceptions. Sometimes they believe that the more degrees the better, while neglecting real learning. In fact, the length of our lives does not determine the way we live it. Unless everyone makes an effort to strictly abide by the rules, simplify administration and adopt good advice from all quarters, and the people in power are accountable, everything will simply be reduced to castles in the air.