Quota Controlled Fast Network Printers for the Terminal Areas
The Computing Services Centre (CSC) implemented the Quota Controlled Printing System in December 2003 to better manage student printing activities initiated from open access computers in its Terminal Areas on Level 2, Academic Building. (For details, please refer to Network Computing Issues 38 and 39.) Limited by the affordable printing technology then, all printers connected to this printing system are small but productive desktop models and students must feed their own paper to the printers to obtain printouts. While this solution was considered unsatisfactory due to the substantial maintenance effort and operational support rendered to many small printers, yet the set up could still meet the printing demands at the time.
Starting from January 2009, a new printing system, equipped with better and more mature technology, includes a splendid new feature called "follow me printing" that enables submission of print jobs from any centrally managed PC or notebook computers, and picking up the printout at any printer managed by the printing system. The following figure depicts the concept: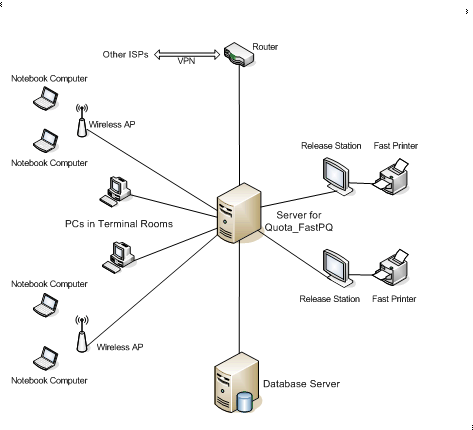 To overcome the problems of small printers mentioned above and to satisfy the printing needs due to growing e-learning and collaborative learning activities, the CSC installed five heavy duty fast printers for students in March 2009 making use of the new feature described above. This new set up has the following distinct advantages:
Print jobs can be submitted from any centrally managed desktop PCs or notebook computers.

Release of print jobs at the most convenient time and location

Deduction of print quota at printing instead of job submission

Central provision of papers for printing increasing the user convenience as well as reducing the chances of paper jam
All computers inside the CSC Student Terminal Area, Library's Information Space and Oval Area, and notebook computers connected to the Wireless LAN can enjoy this service. Currently, students at the CSC can find these fast printers at
The Printing & Plotting Room

The main entrance of CSC

The corridor between Room E and F

The corridor outside Room G

The corridor near Room M
As going green is one of CSC's goals, students are strongly encouraged to use double-sided (or 2-sided or duplex) printing whenever possible. By doing so, students can help in saving trees, reducing carbon in the atmosphere, and holding a handier set of hardcopies on the one hand, and saving up their print quota on the other. For details, please refer to the "Best Printing Practice".
This new service has been well received by students. By the end of Semester B, students have submitted most of their print jobs to these fast printers instead of those manual-fed small ones. From our record, students have also shown their support for green computing by adopting duplex printing for around 80% of their print jobs.
References: