Bachelor of Engineering in
Intelligent Manufacturing Engineering (BENG ITME)
工學士 (智能製造工程學)
Admission Code:
JS1216 for JUPAS (HKDSE) applicants
1216 for Direct/non-JUPAS applicants
1706A for Advanced Standing I applicants

Apply Now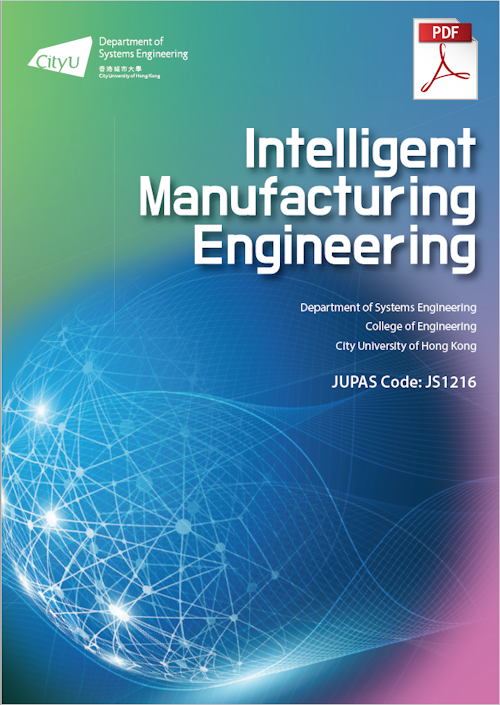 Future Intelligent Engineering Entrepreneur 明日智能工程企業家
The Department of Systems Engineering (SYE) offers a single major, the BEng in Intelligent Manufacturing Engineering. This major aims to develop the abilities of our students in integrating intelligent manufacturing systems with:
Industrial Internet of Things,
Automation and Robotics,
Management Analytics,
Artificial Intelligence, and
Industrial Big Data
As an outcome, our graduates will possess the practical skills in engineering sciences, design innovations, automation and data analytics, so that:
Our graduates can apply these skills to improve and innovate various operations of modern manufacturing enterprises in the Industry 4.0 setting;
Our graduates can also apply these skills to service industries and commercial enterprises, in automating their various business operations, to push for ever higher efficiency.
What You Will Be Studying
Our curriculum provides the students with systematic training in engineering sciences, design innovations, automation and data analytics, with a focus on intelligent manufacturing. Specifically:
The General Education and College required courses equip students with the necessary background in English, basic sciences and computer programming.
The major core courses are divided into three blocks, namely, the Core Technology Block, Integration Block and Application Block –

The Core Technology Block includes the scientific principles and applications in industrial engineering and management science, electronics and semiconductor, and advanced manufacturing technologies.
The Integration Block emphasizes the integration of cutting-edge knowledge and applications, particularly in data analytics, intelligent manufacturing systems, automation and robotics, Internet-of-Things, and Industry 4.0.
The Application Block provides practical opportunities and industrial experience to the students with the Engineering Workshop, Final-Year Project, Industrial Attachment and Internship.

Our curriculum also offers elective courses for students with choices to broaden/deepen their knowledge in areas such as electronics, manufacturing technology, and industrial systems engineering.

Source: Hong Kong Productivity Council

Source: Department of Systems Engineering
1. Core Courses (66 credit units)
Select ONE from the following:
2. Electives (15 credit units)
For Undergraduate plus Taught Postgraduate Degree Programmes only
A maximum of 9 credit units of P5 and/or P6 courses can be used to fulfill the MSc degree requirements.
3. Optional Courses
Undergraduate Degree Plus Taught Postgraduate Degree Programme
As part of the CityU Talents Programme, high-caliber BEng in Intelligent Manufacturing Engineering students can opt for the "Undergraduate Degree Plus Taught Postgraduate Degree Programme" route to earn a bachelor's degree and a master's degree upon graduation. Click here to find out more details about this exciting opportunity!
Career Placements
Our graduates have a board range of career opportunities in industrial, services oriented and business enterprises. There is a strong demand for intelligent manufacturing related posts in the industry.
Professional Recognition
This major is designed to meet the accreditation requirement of the Hong Kong Institution of Engineers (HKIE). Accreditation from HKIE will be sought.
Major Leader
Professor Andy H.F. CHOW
Email: andychow@cityu.edu.hk
Student Handbook and Model Study Path
Last modified on 28 September, 2023