On-line Submission of CSC Work Request
As a step towards a paperless campus, the Computing Services Centre (CSC) has successfully developed an on-line system for the submission of CSC Work Requests. Starting from 15 May 2002, all CSC Work Requests have to be submitted on-line. The new Web-based system is easy to use and accessible from the Intranet using the Departmental Account. In addition, each department can nominate up to four staff members to log in and manage the on-line submission system.
To submit a CSC Work Request, users simply choose "e-Communication" on the Intranet menu and then select "Submit CSC Work Request" to invoke the e-form. When a user submits a request, the system automatically generates an incident number for the request. The requester should write down this number and use it for reference in the future.
The on-line system is built on top of our existing Help Desk system, which is used to track calls or problems related to using computing facilities on campus. In fact, before rolling out the on-line submission system, work requests submitted using the CSC Work Request paper forms have been entered into the system to enable progress tracking. The enquiry option, "CSC Work Request & Help Desk Incident Enquiry", can be found under "e-Communication" of the Intranet menu.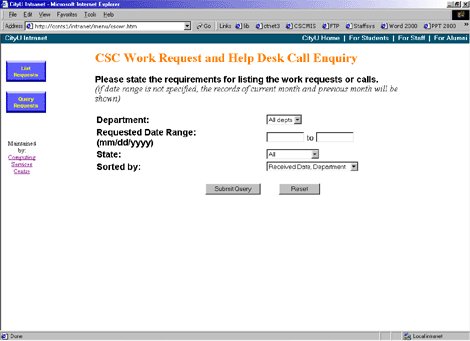 For further information, please contact the CSC Help Desk at 2788 7658.