Dr SHI Yongchuan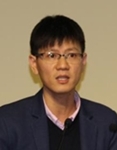 Associate Dean, Center of Entrepreneurial Talent Cultivation,
Wenzhou University
Speaker Information
Dr SHI is an associate head, an associate professor, a Master's Tutors at Wenzhou University. He is also a senior trainer of KAB Entrepreneurship Education Project, International Labour Organization,UNICEF, and a visiting scholar at University of California, Berkeley.
There were over 20 journals of entrepreneurship education that published in some core journals, consisted of "Research in Educational Development", "China Higher Education Research", "Research in Higher Education of Engineering", "Jiangxi Social Sciences". Also, there were lots of entrepreneurship reviews that published in some newspapers, including "People's Daily", "China Youth Daily", "Science and Technology Daily" and "China University Students Career Guide". He have entirely or partly edited 5 entrepreneurship materials, e.g. "KAB" (University Students' Entrepreneurial Base), "University Students KAB Entrepreneurial Conciseness". He hold or participated in over 20 topics, e.g. The National Social Science Fund of China, Humanities and Social Sciences Fund, Department of Education, Zhejiang Education and Science Planning. Thus, achieved Second in Zhejiang Science and Technology Progress Award and first honor in Zhejiang Education and Science Research.

Speech Topic: Wenzhou University is in an entrepreneurial culture's region, create "Wenzhou Model" of entrepreneurship education, that is the practice and exploration of training talent at Wenzhou University
Wenzhou University is located in a unique culture's region, she aims to train up people who are with talent of a sturdy professional foundation and have abilities of entrepreneurial management and practice. Also, the core is to develop the university students' abilities of innovation and entrepreneurship, the main idea is depth fusion of entrepreneurial education and professional education, fully discover Wezhou citizens' entrepreneurial spirit and fuse actively with resources in Wezhou. Training up people to improve the model and optimize the curriculum. Fully implement an innovative and entrepreneurial education plan that is a new entrepreneurial education system of hierarchical classification, depth fusion and progressive, in order to enhance the abilities of startup students, strengthen the characteristics of entrepreneurship education curriculum, train up people who have regional innovation features, enhance the quality and standard of training startup students.