Dr KUAN Meng-Jong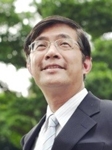 Associate Professor, Department of Business and Entrepreneurship Management, Kainan University (KNU), Taiwan
Professor, Taiwan Learning Center, University of Management and Technology (UMT)
Education background:

Virginia Polytechnic Institute and State University (VPI&SU), USA, Industrial and Systems Engineering, PhD (1992/08 ~ 1996/06)
National Defense University, Chung Cheng Institute of Technology, Aeronautical Engineering, Master (1983/07 ~ 1985/07)
National Defense University, Chung Cheng Institute of Technology, Aeronautical Engineering, Bachelor (1977/08 ~ 1981/07)
Work Experience:
School Experience:
Kainan University since 2000, former department head of Information Technology Center, International Business Department, the Department of Information and Communication, Department of Information Management; Dean, Institute of Innovation and Project Management; Dean, School of Information. He has long been engaged in the field of innovation and project management through practice teaching and academic research. He has authored more than 30 journal articles and published seminar papers more than 100 articles, including 2 published monographs, 6 textbooks and translated one book. He is the former editor of "Journal of Project Management and Systems Engineering" and a writer of "Project Manager Magazine" writing innovation and project management articles and more than 10 articles published. He has presided and completed more than 10 development program through industry-university cooperation project, NSC project, Ministry of Education program and Chung-Shan Institute of Science program.
After School Experience:
He served in the Chung-Shan Institute of Science & Technology (CSIST) as an associate professor, engaged in systems engineering and project management work for 18 years. Founding chairman, International Engineering Innovation and Brand Development Institute; Direct, Taiwan Goldratt Associate; Supervisor, National Project Management Association; Former executive director, Taiwan International Chemical Industry Association; Former RAMS technical adviser, AFNOR Asia Pacific, Chief Executive Officer, AFNOR Asia. He has Industry consultant and lectures experience more than 25 companies and institute related with innovation and project management.
Speech Topic:Agile-Innovation Project Management
1. Innovation / Entrepreneurship Education must combine Theory, Practice and Research:
Best practices for innovation and entrepreneurship education should enable students to achieve their specific implementation of innovation and entrepreneurship what they have learned and new ideas, which also requires that students have the ability to manage the innovation and entrepreneurship project. One of the best way to allow students learning by doing is the integrated the theory, practice and research of Innovation and entrepreneurship and then implement teaching and education.
2. Interaction with the Project Management and Innovation / Entrepreneurship:
The way of "Project Management" approach has now developed into a managed business activities. Project management is a management subject based on system engineering, information technology management tools, in which covering engineering, economics, management science and many other subjects. Also, another important development is that people actually have generally acknowledged the role of innovation and technology in the enterprise change, growth and profitability, as well as the importance of business model innovation enterprise innovation transformation. The development of innovation and technological change and innovation business model is often applied as project-based activities to operate.
3. A Conceptual Framework of the Agile-innovation Project Management:
A conceptualized "Agile-innovation Project Management)" framework is introduced.
Through relevant research, the interaction between agile-innovation and project management with its applied research has been explored. A conceptual framework of "Agile-Innovation Project Management" is developed and applied to contact lean, agile and innovative concepts and project management methods, so that organizations can use the model to enhance the effectiveness of project management systems engineering process, applying agile project management to achieve organizational business model innovation applying systems engineering to construct a operational system supporting business model innovation. Modern enterprise management paradigm shift is based on agile, lean and innovative concepts and methods, integrating systems engineering, project management and business models to build competitive advantage.
4. Problem Solving-oriented Multi-criteria Decision Making Approach:
The Problems faced by innovation and entrepreneurial process are complex and uncertain. The critical success factors system of innovation and entrepreneurship project management can be established by using the "Hybrid Multi-criteria Decision Making Method", we can explore the mutual influence among these critical success factors of innovation and entrepreneurship project management. With this system structural model, we can identify key problems of innovation and entrepreneurship project. Consequently, a performance evaluation of the implementation of innovation and entrepreneurship project can be illustrated by performance radar chart for different topics in case study, and then we can propose improvement strategies and implementation measures.
5. Practical Application of Agile-Innovation Project Management Conceptual Framework:
In viewpoint of practical applications, we can acknowledge needs of agile innovation and project management empirical research on "Product Development and Innovation" , "Project agile innovation and development" and "Business model innovation" related areas from viewpoint of "innovative companies". Thus achieve controllable agile innovation and lean development to enhance the competitiveness of enterprises. Practice examples include: Customized pharmaceutical equipment innovation and development, Innovation and R&D Green blower; Anion machine business model innovation; Antrodia cinnamomea (牛樟芝)product innovation; Business model innovation combined with other tools; Exquisite(玲瓏) business model innovation and entrepreneurship and University City concept. Substantive outcome of the practical case can be used as teaching materials in innovation and entrepreneurship education.