Dr HU Guilan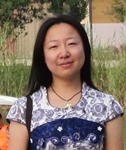 Associate Professor, School of Management,
Jiangsu University
Guest Introduction
Gui-lan HU, Ph.D., associate professor of Jiangsu University, visiting scholar Of Canada Ryerson University , Alibaba BBS moderator. Engaged in the research on entrepreneurship education and entrepreneurship, inspire and guide students to integrate theory with practice entrepreneurial awareness, she think :no commercial miracle can copy, entrepreneurship is the best education. She Wrote 13 business related papers, also the author of " the perfect Wolf team - creating high performance internet entrepreneur "and others four books of business case. Develop and design a new curriculum "the network entrepreneurship theory and practice", advocating personalized and technology business under the Internet economy. Case "ZOCAI jewelry, from the traditional to the network " won the national MBA case competition third prize in 2009, member of 2013 national superior course "entrepreneurship."

Speech Topic: Internet Startup of University Students in China
Nowadays, our life was affected by two world's trends that are internet and being international. The author is doing the research continuously in internet startup of university students in China. It is concluded that SIX stages of internet startup of university students in China were created under a great number of in-depth interviews, researches, explorations, tracks, and summaries. It shows that the different forms of startup, features, disciplines, and the new trends and new features of internet startup.