Motivating CityU students to develop talents - Scholarships help transform students' experience.
There are always ways to balance academic and talent development. Thanks to the generosity of donors, four CityU students and alumni exemplify how they strive a balance and become all-rounded persons.
Hugo Poon Sheung-hei, Bachelor of Science in Surveying
Wharton Chan Wan-tung, Bachelor of Social Sciences in Asian and International Studies
Jason Cheng Kin-man, Bachelor of Laws (Honours) and Postgraduate Certificate in Laws
Grace Lau Mo-sheung, Bachelor of Science (Honours) in Creative Media

No one knows better than Hugo Poon Sheung-hei, captain of the CityU men's table tennis team, the secret of capturing five consecutive championships at the annual intervarsity table tennis competitions organised by the University Sports Federation of Hong Kong, China (USFHK).
Hugo, who obtained a Bachelor of Engineering in Materials Science and Engineering and is now studying for a Bachelor of Science in Surveying, witnessed how the support of one generous donor helped the CityU men's table tennis team dominate local university athletics. 
"We haven't missed a single USFHK championship since Mr Stewart Wong Sue-toa began sponsoring our team five years ago," said Hugo.
Mr Wong, Managing Director of Hanison Construction Holdings Limited, offers a range of scholarships for CityU's table tennis players including the Stewart Wong Table Tennis Most Dedicated Award and Most Valuable Player Award, both won by Hugo. "While most of my classmates need to have part-time or summer jobs to finance their tuition, I can focus on my studies and training," said Hugo.
Thanks to generous support from Mr Wong, the CityU table tennis players practise in a well-equipped venue with the best equipment and get the opportunity to have former Hong Kong table tennis representative and Olympic silver medalist Mr Ko Lai-chak as their star coach. However, the biggest benefit for these students is the opportunity to travel overseas for training and competitions, including a two-week intensive training trip to Nantes and Paris in France.
Wharton Chan Wan-tung, a Year 4 student on the Bachelor of Social Sciences in Asian and International Studies programme and captain of the CityU women's table tennis team, was grateful to Mr Wong for supporting her participation in the National Student Sports Games in mainland China, providing her with the opportunity to exchange techniques, skills and strategies with mainland Chinese players. "It was a very fruitful journey for me," said Wharton.
To Wharton, Mr Wong is more than just a donor. He is a life mentor who sends heartfelt messages of encouragement to the team before every competition and celebrates important festivals with them. "I feel really grateful to Mr Wong for letting us access the best resources and training among all university table tennis teams in Hong Kong," she said.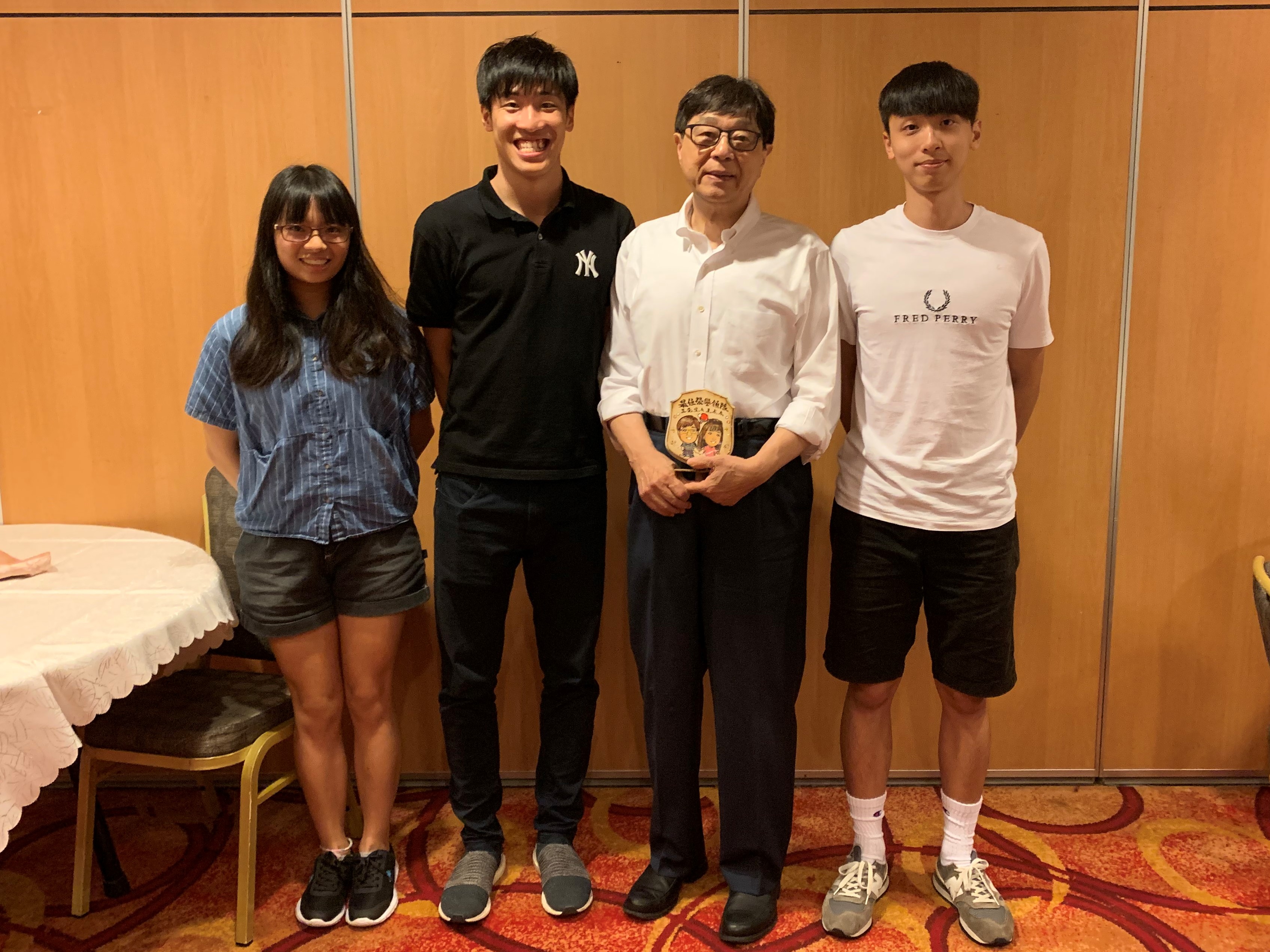 To many students, the most important aspect of scholarships is not the financial support but the spiritual recognition. Jason Cheng Kin-man, a graduate of the Bachelor of Laws (Honours) and Postgraduate Certificate in Laws, was a CityU's badminton team member. He had received the Hong Kong Chiu Chow Chamber of Commerce Ltd Elite Athlete Scholarship and Mr Herman Hu Outstanding Student Athletes Award when he was studying at CityU, and he knows how these scholarships transformed his life.
"These scholarships required me to achieve certain academic results as well as sports performance. It was such an important recognition that I strived for the best to train myself with full strength," Jason said.
Not only did Jason bring home a few championships at the USFHK competitions, he also won a silver award at the National Universities Badminton Championship. He is sincerely thankful to the donors, "I really feel grateful for their recognition, which has been the locomotive for all my hard work," he said.
The hardships endured by athlete students go beyond imagination and that is why scholarships are so important to them. Grace Lau Mo-sheung, graduate of the Bachelor of Science (Honours) in Creative Media and a member of the Hong Kong karatedo team, was admitted to CityU under the Student Athletes Admission Scheme in 2009.
Grace was an awardee of Mr Herman Hu Outstanding Sports Talents Scholarships, which she considers to be the driving force behind the years of perseverance and hardship during her studies and practices. She started learning karate at the age of 11 and won a few prizes during her teenage years, but not until Dr Herman Hu Shao-ming granted her the scholarship did she realise that athletics could be an achievement in Hong Kong.
While her classmates were working part-time or taking up summer jobs to pay off their tuition, Grace was able to focus on her academic pursuits and sports training, which shared some similarities. "Karate is not only about memorisation and repetition. We have to master punching and kicking in the form of martial arts. It's about creativity, similar to what I learnt in creative media," she said.
"When I met Dr Hu for the first time, it was already two to three years after I had received the scholarship. I was totally moved by his generosity. Even though I knew he did not expect us to do anything in return for his support, I couldn't help bowing and thanking him when we first met," she recalled.
She also expressed her gratitude in another way: leading the CityU women's karatedo team to win a gold medal at the USFHK competition, while earning herself the honour of USFHK Sportswoman of the Year in both 2014 and 2015.
Grace became a full-time professional athlete when she graduated, joining the Hong Kong karatedo
team. She won bronze medals at the Asian Games and the World Karate Championships in 2018, both of which topped Hong Kong's performance record in the sport, showing that CityU athletes not only dominate local university sport fields, but also put Hong Kong on the map of world athletics.