Moving Forward with Hyper-Converged Infrastructure
Introduction
CityU currently maintains its own datacenters to provide an IT infrastructure supporting diverse services for teaching, research, administrative, and management use. Dated back a few decades ago, we have adopted a three-tier architecture consisting of compute, storage and networking. This approach has provided us with a reliable backend that we are proud of over the years.
Now the IT ecosystem is experiencing a change in which most components previously in the hardware domain is now prefixed with "software-defined"
. In the extreme case, migration to "cloud" may even eliminate the need for a full-scaled datacenter.
To avoid this from happening, the solution appears to be the adoption of Hyper-Converged Infrastructure (HCI), which we shall discuss below.
What is HCI?
Over the past few years, datacenters around the globe are catching up with the hype of virtualization technologies. We are of no exception. Without much change in terms of hardware, we could make use of the current infrastructure to transform servers into virtual machines. From the user's perspective, we encounter much less service interruptions since services are not concretely bound to particular server hardware. From the administrator's perspective, more time can be spent on fine-tuning and enhancing systems while troubleshooting time has been reduced.
The above relies on the implementation of hypervisor software as well as management components provided by vendors such as VMware. Yet, what we have achieved can only be termed as
COMPUTE
virtualization. We are still adopting a three-tier architecture consisting of compute, storage and networking. This architecture is expensive to build, complex to op
erate and difficult to expand. Simply put, the architecture was good enough over the past decades. Yet, it cannot live up to the l
atest technologies.
HCI can be viewed as an evolution over compute virtualization. It also incorporates storage and network virtualization and the corresponding management features that further reduce manual tasks or help automate the entire operation.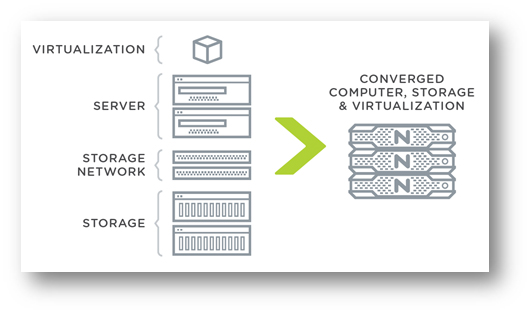 Diagram excerpted from Nutanix HCI solution
​With HCI, all key datacenter functions (comp
ute, storage and network) r
un in a tightly integrated hardware and software solution. A software layer needs to be installed on top of the HCI certified, flash-accele
rated, industry-standard servers. This eliminates the complexities associated with the fiber channel networks, purpose-built storage, and complex storage LUN planning. It also shifts network binding off from switch-port level to a network overlay, hence reducing the dependence on proprietary software and hardware attached to particular brands.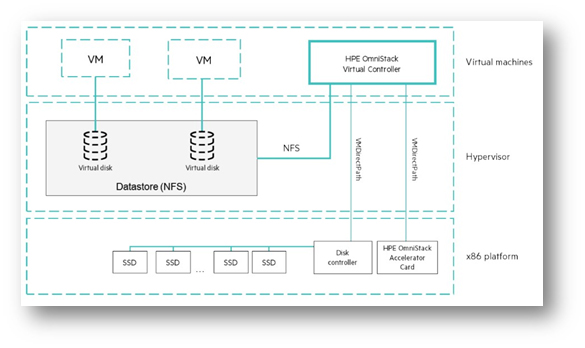 Diagram excerpted from HPE SimpliVity HCI solution
How HCI meets our needs?
Supplement cloud computing

Cloud computing offers a more flexible and rapid deployment of services. Yet, the challenges of delivering services through public cloud include the loss of control, higher cost and lack of enterprise-class security. HCI can supplement cloud computing as its adoption of various virtualization components renders it easier to migrate services to / from the cloud.

​Reduce cost and datacenter footprint

​Datacenters adopting HCI will have servers with higher density of compute resources. Dedicated storage devices and corresponding switching equipment, panels and cables will not be needed. They will be integrated with a high-speed resilient network. Though power consumption may not be less, cooling would be easier than before as the targeted area is smaller.

Delivers higher agility and more control

​​With HCI, a single IT team can now monitor and manage the computing resources in the least amount of time, freeing personnel to focus on other strategic priorities. It also brings good news to backup / restore requirements, in which the software-defined storage provides quick and easy snapshots. Since HCI solutions are much easier to scale up or down, the IT team can buy the compute and storage they need for a short period of time and add capacity as needed.
Summary
Datacenter Services at CityU are benefitting from the HCI solution. Through consolidating and transforming IT resources, we are ready to migrate services to public cloud, renovate datacenters with smaller footprint and enjoy higher level of automation in our daily system administration tasks.
​