Windows 8 - The Unified Experience at First Glimpse
Taking a huge leap forward, Microsoft launched the latest version of the Windows Operation System – Windows 8. The new operating system radically changes the way Windows works by introducing a new shell and user interface designed to be used with touchscreens yet maintaining certain compatibility for mouse and keyboard users. It takes Windows into the world of touch and low-power devices, giving people unified experience on personal computers, laptops, tablets, and even mobile phones.
Windows 8 comes in four editions: Windows 8, Windows 8 Pro, Windows 8 Enterprise for intel-based PCs and Windows RT for ARM-based tablets like the Microsoft Surface.
Comparison chart of different editions of Windows 8:
 

 

 

Runs on ARM processor only

Can join a Windows Domain?

Can be managed by Group Policy?

 

 

 

 

 

 

 

Buy add-on from Microsoft

Runs programs you used with previous versions of Windows

 

Microsoft Office apps bundled with OS

 

 

 
New features in Windows 8
As Windows 8 Enterprise Version is included in the campus license, we will focus on the new features of Windows 8 Enterprise Version only.
1. Start Screen
A new and redesigned user interface is optimized for touchscreens as well as mice and keyboards. Multi-touch as well as gesture recognitions are supported on touchscreens. It will be the first screen shown at startup. It replaces the Start menu of previous versions of Windows. Users can open apps, websites, contacts, and folders on the Start Screen, or just glance at the tiles of the Start Screen to get the latest news, real-time updates, and info.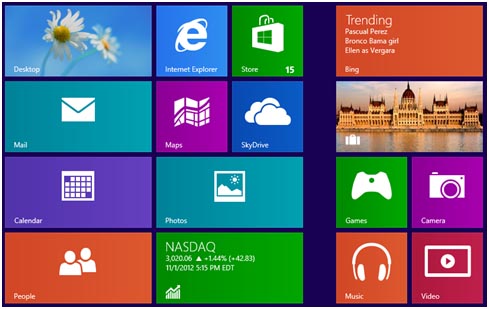 2. Windows Store
A tile called "Store" can be found on the Start Screen. Users can get into the Windows Store by pressing the tile. A variety of apps divided into categories can be purchased and installed through the Windows Store. Users can also apply apps updates through the Windows Store. A number is displayed on the tile to indicate the number of updates that are available for apps.
3. Microsoft Account Integration
Microsoft account can be used to sign in the PC running Windows 8. When a user signs in with a Microsoft account, the PC is connected to the cloud, and many of the settings, preferences, and apps associated with the account can "follow" the user between different PCs especially the settings of Hotmail and SkyDrive.
4. Windows To Go
Windows To Go is a new feature for enterprise users of Windows 8 that enables users to boot a full version of Windows from external USB drives on host PCs. It is designed for enterprise usage and targets scenarios such as continuance of operations, contractors, managed free seating, travelling workers, and work from home and so on.
5. Internet Explorer 10
Windows 8 ships with Internet Explorer 10, which can run as either a desktop program or as an app with a new full-screen interface optimized for use on touchscreens. Internet Explorer 10 also contains an integrated version of Flash Player, which will be available in full on the desktop, and in a limited form in the app.
6. Hyper-V
Microsoft has replaced its previous virtualization solution with a more powerful, scalable, and capable solution called Hyper-V in Windows 8. Hyper-V is based on its server-based virtualization technologies, giving a more compatible and integrated solution to users. XP Mode based on the old Windows Virtual PC technology is no longer supported in Windows 8. 
Schedule of Windows 8 Support at CityU
The Computing Services Centre (CSC) has begun to evaluate Windows 8 since its beta version. Currently, the CSC is experimenting with the final release, and participating in seminars and training courses to prepare for the support.  The new OS also needs to be tested for its compatibility with our existing environments. It cannot be formally supported and widely deployed on campus before support units have ensured that all the in-house developed applications, e-learning and administrative systems can run smoothly under Windows 8.
As a general practice, the CSC will make Windows 8 available on CSC managed computers for teaching and learning as soon as possible. The earliest possible time for this implementation will be Semester A, 2013-14.
References