CityU allocates HK$9m to support its e-learning strategy
City University of Hong Kong (CityU), in support of its Discovery-enriched Curriculum (DEC) and the growing importance of mobile technology, has allocated HK$9 million to implement its e-learning strategy.
Dr Andy Chun Hon-wai, CityU's Chief Information Officer (CIO), said the University is devoted to promoting teaching and learning through the application of the latest technology.
"We have consistently upgraded and expanded the e-learning platform to create a technologically advanced and pedagogically rich environment that supports a diverse range of teaching and learning needs. Recently, we have enhanced our mobile-learning and social-learning capabilities. We will continue to move aggressively as a leader in this area. In particular, we will address specific teaching and learning needs to support the new 334 academic reform to enhance the competitiveness of our students," he said.
According to Dr Chun, a total of HK$9 million has been allocated to support the University's e-learning strategy, HK$5 million of which will be used to set up two grants, namely the DEC Mobile App Development Grants (MADGs) and the DEC Technology Adoption Grants for Teaching Innovation (TAGs). The first round of applications for the two grants attracted about 30 proposals from teachers and students.
MADGs encourage the adoption of mobile-learning through the development of mobile apps that support teaching, learning, research, administration and other general uses, whereas TAGs support the purchase of necessary mobile devices, software and apps needed to implement innovative teaching methods.
A total of HK$4 million will be used to support other e-learning initiatives, including the development of a Facebook-like social environment for knowledge sharing and discussion, and the provision of recorded or live-stream lectures that introduce the emerging "flip classroom" concept.
In addition, CityU has recently created a unique mobile web technology platform that allows the University to easily transform its entire public online interface, consisting of hundreds of websites and hundreds of thousands of web pages, to be mobile friendly.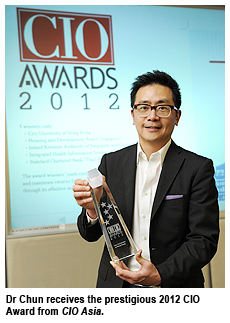 This project was listed in the CIO 100 Index and was awarded the prestigious 2012 CIO Award which the leading regional enterprise IT magazine CIO Asia hands to the top five most outstanding IT projects in this region. CityU is the only university in Greater China, and one of the very few Universities in Asia, to have received the award in the 12 years since it was established.
"The CIO Award is a particularly special honour because it represents recognition from fellow peers in the IT profession across Asia. The award is further affirmation of CityU's continued leadership in the use of technology to support our higher education mission," Dr Chun said.
CityU's first mobile learning pilot scheme, launched in March 2011, lets students borrow from a stock of 400 iPads and iPod Touch devices. Under the support of Professor Wang Guiguo, Dean of the School of Law (SLW), a school-wide mobile learning project in October 2011 began subsidising iPads for all law students. Roughly a thousand iPads were deployed.
Dr Avnita Lakhani, an SLW assistant professor and the leader of a commercial law course, is among the first in SLW to pioneer the use of iPads in the classroom by allowing students to use iPads to make presentations on analysis of sample legal problems, encouraging students to give feedback through peer evaluations on classmates' presentations, and accessing course materials.
LLB final-year student Eutonia Chen Yuen-tung found the mobile learning scheme very rewarding because the iPad facilitates reading and searching for reference materials and cases everywhere, anytime. She said it is very common for practicing barristers to use iPads to store and read documents, and SLW's initiative is a good way for students to get accustomed to this practice in the profession.
Dr Terence Cheung, teaching the digital marketing and customer relationship management course in the Department of Information Systems, also encourages students to discuss and exchange ideas on marketing inside and outside the classroom on social media via mobile devices. His student Katy Lo Yee-ki said this learning mode was particularly useful in engaging the participation of passive learners.