New m-learning scheme boosts learning
Students at City University of Hong Kong (CityU) will be able to study and share knowledge anytime, anywhere under an innovative mobile-learning (m-learning) scheme offering access to hundreds of iPad and the iPod Touch.
The aim of the pilot scheme launched last month is to promote interactive learning and knowledge exploration both in and outside the classroom. It also encourages teachers to devise activities to cultivate students' potential and promote better communication between students and teachers.
Around 400 students from the departments of Asian and International Studies, Biology and Chemistry, Electronic Engineering and Information Systems have enrolled in the scheme. They have been given hundreds of iPad or the iPod Touch for learning. More departments are expected to join the scheme in the new academic year.
The process has involved the installation of new software onto CityU's existing Blackboard e-learning platform that transforms it into an m-learning platform. Students can log-on to Blackboard using an iPad, iPod Touch, iPhone or mobile phones using the Android operating system after downloading a specific application. Through Blackboard, they can download assignments, join discussions, and upload photos and videos.
CityU has also incorporated Qualtrics, an online opinion poll software into the m-learning platform. With the combined use of Qualtrics and iPad, iPod Touch and other mobile phones, students can instantly respond to teachers' questions in class.
Professor Arthur Ellis, Provost, welcomed the pilot scheme. "CityU is committed to a technology-enriched learning environment as an integral part of its Academic Development Proposal. By incorporating elements of advanced technology such as m-learning into course design, we can facilitate interactions between teachers and students that will enhance the quality of education our students receive," he said.
Dr Andy Chun Hon-wai, Chief Information Officer, said, "The way we teach and learn has changed dramatically in the past few years. CityU has always been proud of its technology-rich environment for learning. This pilot is just one example of how the University is extending its e-learning capabilities to embrace mobile-learning as well as social-learning."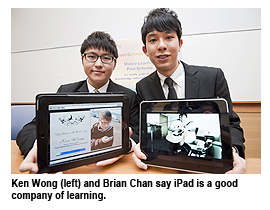 Before the pilot scheme was introduced, the m-learning mode was adopted by the Bachelor of Business (Honours) in Electronic Commerce programme. Brian Chan Wai-man, a Year 3 student in the programme, said, "In one of our tutorial classes, we were required to form groups and use iPhones to videotape digital marketing devices like touch-screen guides and QR codes in shopping malls. The videos were uploaded onto the internet immediately for sharing with other groups of students in different locations." He added that he and his fellow students could save time on setting up meetings, discussing assignments and compiling reports by using iPads.
"We can have a closer relationship with tutors as we can exchange ideas anytime, anywhere," said Ken Wong Shu-hung, another Year 3 student in the same programme.
Dr Terence Cheung Chun-ho, Programme Leader of BBA (Hons) in Electronic Commerce, said new mobile devices have powerful functions, are light enough to carry around and have excellent online capability. Students have online access to various platforms and social networks such as Google docs, Google calendar, Facebook, Twitter, and Blackboard Mobile for real-time sharing and learning. It helps them track their learning and updates them with the latest development in their subject areas, he said.
Dr Cheung cited an example of how communication efficiency was enhanced using this new initiative. Around 40 students had earlier used an online platform to discuss the schedule of a Shanghai study tour.
CityU's m-learning platform helps extend learning beyond the classroom and builds a learning environment that encourages interaction and the exchange of knowledge.