CityU HK Tech 300 co-organises a thematic round-table discussion with Deloitte China on "New opportunities for Innovation and Technology Enterprises – How to Identify Opportunities in Hong Kong's Capital Market"
City University of Hong Kong (CityU) HK Tech 300 and Deloitte China today (10 November 2022) held a thematic round-table discussion on "New opportunities for Innovation and Technology Enterprises – How to Identify Opportunities in Hong Kong's Capital Market". In the discussion, industry experts and government representatives exchanged views on issues such as the development and financing of innovation and technology enterprises, and discussed the prospective establishment of Hong Kong Investment Corporation Limited (HKIC) by the government, and the newly proposed Chapter 18C (referred to as 18C) of Hong Kong's listing regime, as proposed by the Hong Kong Stock Exchange. CityU also signed a Memorandum of Understanding with Deloitte China on the same day to jointly support the development of HK Tech 300 start-ups.
The new Policy Address announced a number of policies to support innovation and technology enterprises with investment opportunities. While the government will soon promulgate the Hong Kong Innovation and Technology Development Blueprint, Ms Lillian Cheong Man-lei, Under Secretary for Innovation, Technology and Industry, elaborated the coming major plans in her keynote speech.
"To promote the development of innovation and technology (I&T) in Hong Kong, apart from consolidating and strengthening our research and development edge, we must promote the commercialisation of our technological outcomes. This can create more concrete development opportunities for the community and inject fresh impetus to our economy. We will make full use of Hong Kong's unique advantages to pool together global innovative resources to attract talent and enterprises, and will also strive at the same time to build Hong Kong into an international I&T hub through a joint venture with Mainland cities in the Guangdong-Hong Kong-Macao Greater Bay Area," she said.
Dr Hon Wendy Hong Wen, Legislative Council Member (Election Committee), delivered a keynote speech on new directions and opportunities for innovation and technology enterprises in Hong Kong. She analysed the role of the HKIC in supporting Hong Kong to be proactive in competing for talent and enterprises, as well as promoting the structural transformation of the Hong Kong economy.
Ms Winnie Han, Head of China Issuer Services and Senior Vice President of Global Issuer Services of HKEX, introduced in detail how the proposed new Chapter 18C rules, which are under consultation, might facilitate the listing of advanced technology companies that could not meet the existing profit, revenue or cash flow requirements of HKEX's listing rules. Hon Duncan Chiu, Legislative Council Member (Technology and Innovation), then discussed with panel guests to explore new opportunities for I&T enterprises in the Hong Kong capital market.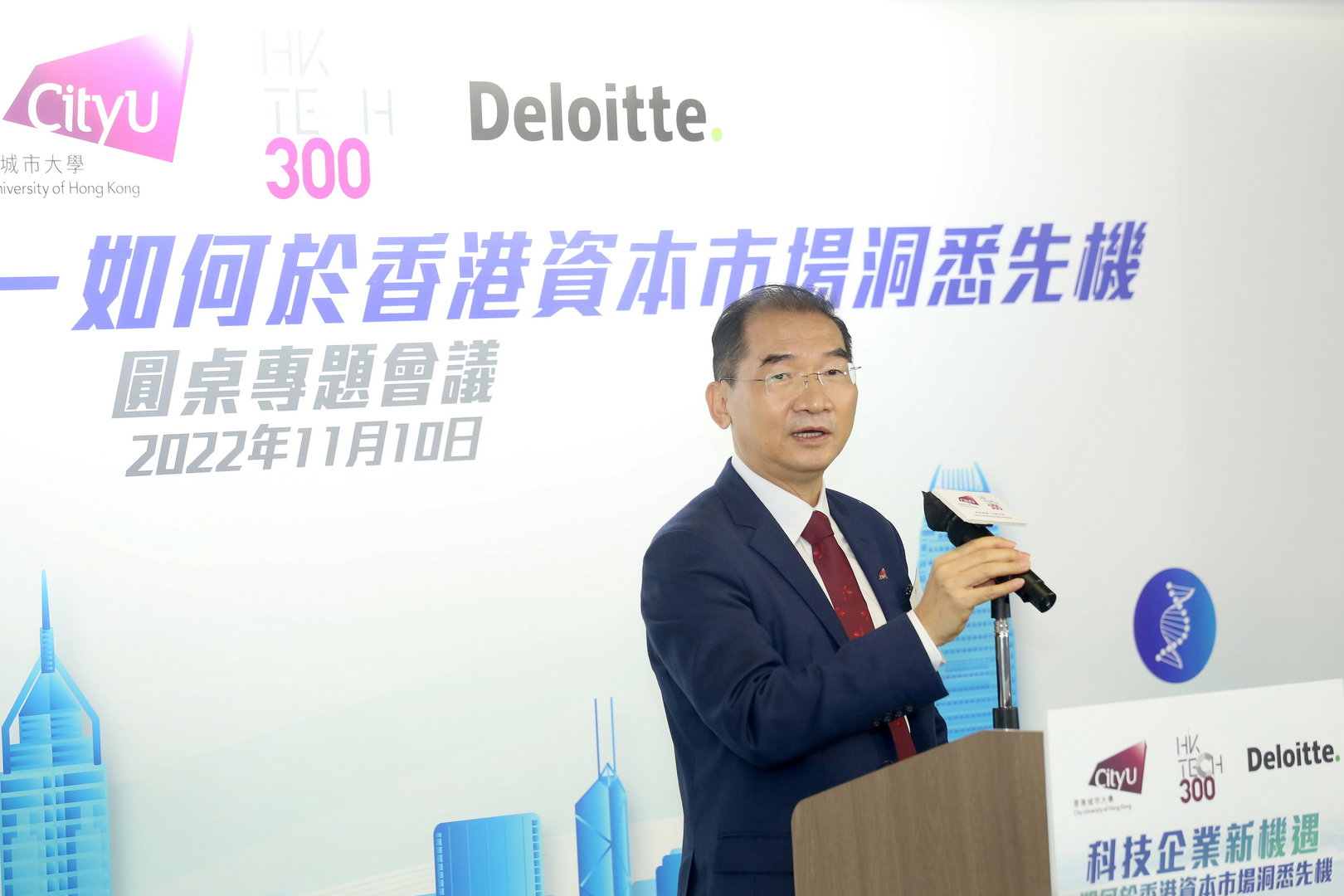 Professor Michael Yang Mengsu, CityU's Vice-President (Research and Technology) and Chairman of the HK Tech 300 Executive Committee, said in his speech, "CityU has been collaborating with business stakeholders in a number of ways. CityU launched the HK Tech 300 programme with its own funding of HK$500 million to help young start-up teams transform their research findings into innovation and technology products and services, which has won wide support and an overwhelming response from society." He said he hoped that the government would instil an innovative mindset in formulating the funding assessment and allocation mechanism of the upcoming HK$10 billion "Research, Academic and Industry Sectors One-plus Scheme" to truly promote the transformation of scientific research and innovation entrepreneurship in Hong Kong.
"Innovation and Technology (I&T) is the core pillar to provide sustainable economic development and the proposed listing regime for specialist technology companies also allows technology companies of all kinds to penetrate into this international market with depth, breadth and liquidity. Deloitte shares the same aspiration with CityU's HK Tech 300, helping to build Hong Kong's I&T ecosystem, cultivating talents with diverse and future-ready capabilities, and shaping Hong Kong to an international I&T centre. As part of Deloitte's INspire HK strategy, this collaboration with CityU marks our deep commitment to cultivating Hong Kong's future I&T talents. We look forward to supporting more academic-business exchanges and collaborations," said Mr Edward Au, Southern China Region Managing Partner of Deloitte China.
Mr Robert Lui, Southern Region and Hong Kong Offering Services Leader of Capital Market Services Group at Deloitte China noted that the ratio of new economy IPOs in Hong Kong's initial public offering market continued to rise following the largest listing regime reform introduced by the Stock Exchange of Hong Kong in April 2018. He is confident that these reforms including the most recent listing regime for special purpose acquisition companies and proposed listing regime for specialist technology companies can help bolster Hong Kong's position as the international financial centre. The city has the capabilities to become a fundraising centre for I&T businesses in the world and the Greater Bay Area.