IGNITE Training Programme
An eight-week programme to educate, guide and inspire students and others interested in launching successful start-ups how to start their entrepreneurial journey from scratch. The mission of the programme is to help you:
Identify your market and users
Grow a product story
Navigate tech to create a prototype
Inspire like-minded peers
Test your business model
Empower with funding
Overview
Stage 1
Stage 2
Stage 3

Brainstorm Ideas
Build a Team of Rockstars
Present Your Business Idea in One Line

Build MVP (Minimum Viable Product)
Develop a Profitable Business Model
Know Your Market and Benchmark Your Business

Legal and Intellectual Property Matter
Get the Capital/Investment
Deliver a Convincing Pitch
Think Bigger
1 on 1 Coaching Session Every Week (Optional)
Cohorts in 2023
10th Cohort (Bootcamp)
11th Cohort
Date
9 May, 12 May & 13 May 2023
Oct 2023 (tentative)
Time
Tue 9:00am - 5:00pm (whole day)
Fri 9:00am - 1:00pm (half day)
Sat 9:00am - 1:00pm (half day)
Sat 10:00am - 12:00pm
Venue
CityU Co-working Space, 8/F,
United Centre, Admiralty
CityU Co-working Space, 8/F,
United Centre, Admiralty
Format
Physical
Physical
Application deadline
Ended
TBC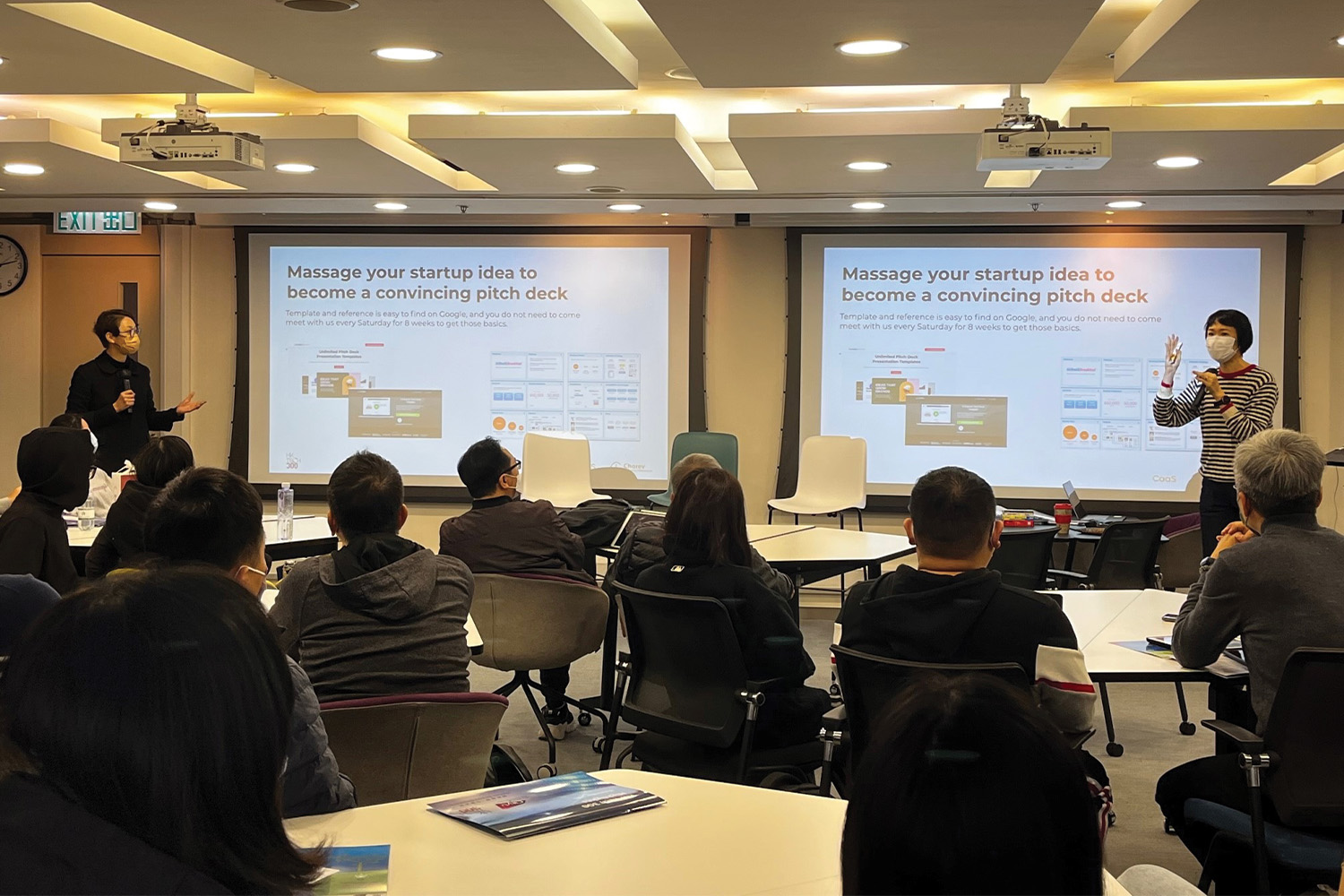 Award Opportunities

Lau Tat Chuen Outstanding Startup Idea Awards
The awards aim to encourage CityU students and the community to open their minds to endless possibilities and turn their innovative start-up ideas into real businesses. All teams in the HK Tech 300 Training Programme will be invited to give a 5 min pitch / submit a presentation video at the end of the course. The award will be given to the most outstanding team in the class with a great business idea demonstrated by a sustainable business model, a good customer and market analysis, and with strong social impact.
The cash award of HK$5,000 each has been granted to the most outstanding team of each class starting from Cohort 2.
Congratulations to our awardees: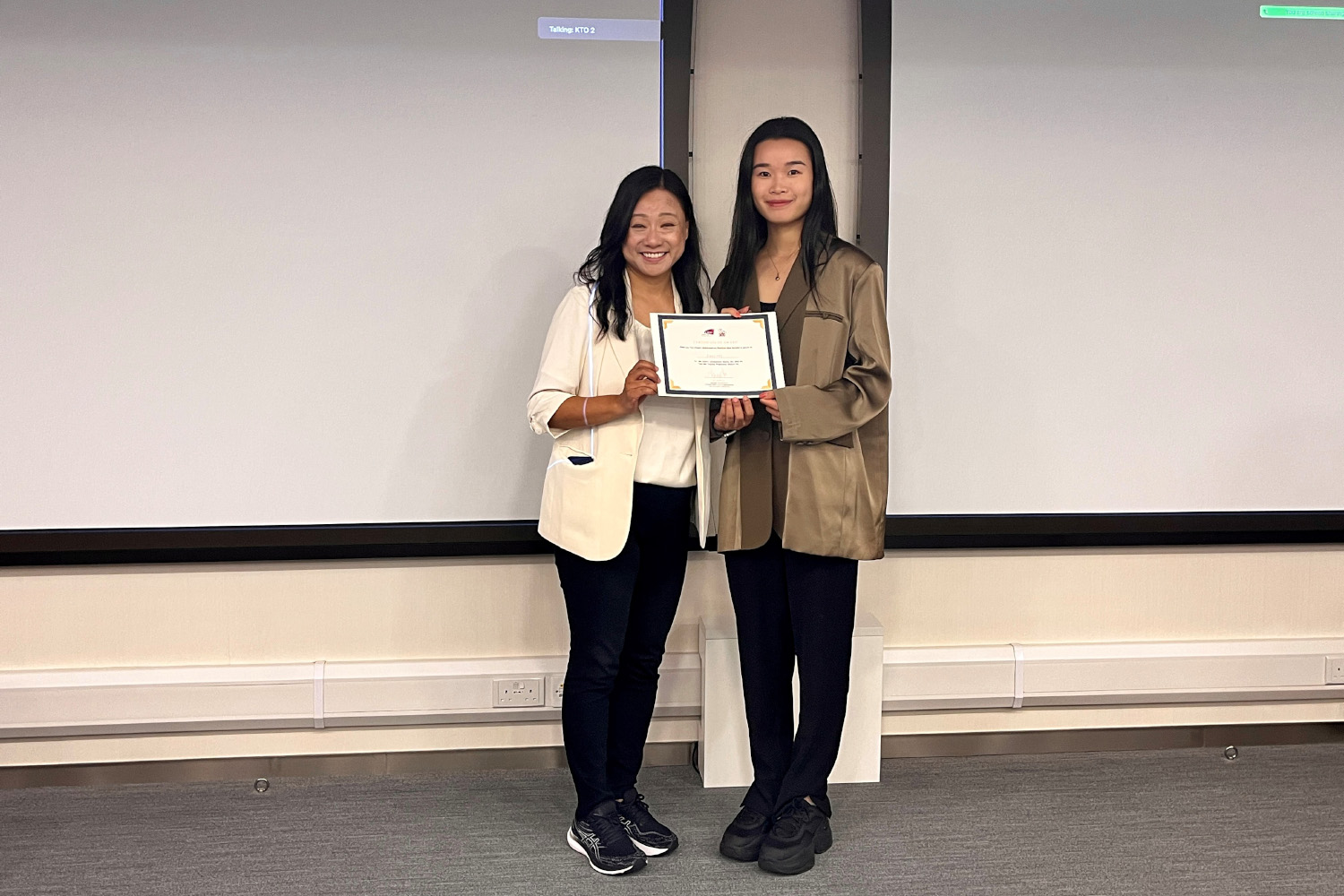 Trainers' Bio
Ms Amy Ip

Amy is an expert in design thinking, Director of CaaS (an Innovation Design and Strategy consulting firm). Leveraging her past experiences in driving product and service innovation at technology companies, she coaches corporations on digital transformation and she advocates on the importance of team's culture for innovation success.  Working closely with investors network, Amy lead venture building projects to help startup build innovative and sustainable businesses.

Amy started her start-up journey as a co-founder in her 20's during first dotcom boom around 2000. She continued to develop her career in start-ups like Yahoo! in Hong Kong, Microsoft in USA and Tencent in mainland China. During her tenure in Tencent, she has led teams developing 10+ start-up business from 0-1. Over her career she has participated over 50 business brand service design and development. She is now advising various start-ups and is an investor herself.

Previously, Amy was Head of Fjord Greater China (Part of Accenture Interactive) and she led Digital Transformation Programs to help clients develop experience strategies; her clients include banking, insurance, automobile, telecommunication, and retail industry. Amy is currently a Vice Chair and Committee Member of Hong Kong Designer Association, and Advisor and Mentor to IXDA HK Design community. She is part-time teacher at universities and guest speakers of BODW, IXDC, IXDA and various design conferences in the past.
Ms Catherine Wong

Ms Wong is a professional coach and trainer. She is the former Hong Kong office head of APCO Worldwide, a global strategic communications consultancy headquartered in Washington D.C., the USA. With her extensive leadership experience in the communications industry, her coaching usually focuses on helping people to become more effective communicators and leaders.

Catherine has served clients from different levels – from university students, middle managers to C-suite executives on topics related to leadership, communication, change management and transition. Catherine stresses the importance of mindset and behavioral change when training her clients. Companies that she has worked with include: Cathay Pacific, HSBC, University of Science and Technology, PIMCO, Baring Asset Management, Hong Kong Police Force and Urban Renewal Authority.

Ms Wong is an accredited practitioner of the Myers-Briggs Type Indicator ®️ Step I & II; Accredited Certified Coach (ACC) of International Coach Federation; and a certified facilitator for John Maxwell's "Laws of Teamwork" and "Developing the Leader within You".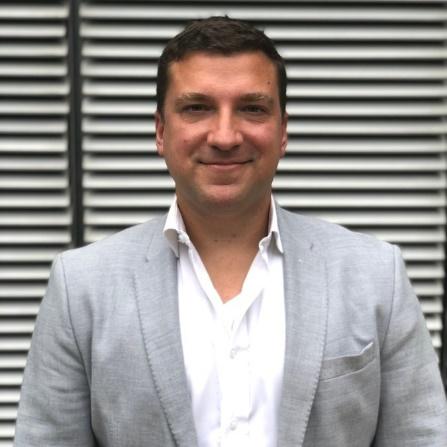 Mr Kevin Brisebois

Kevin has spent the past 12 years in China, Hong Kong and Silicon Valley supporting integrated corporate hardware innovation and startup hardware founders design and scale custom manufacturing solutions. He started his career at Jabil the 3rd largest Contract Manufacturer globally & Radius Innovation and Development helping industry leading brands develop and scale complex hardware solutions. In 2018 Kevin joined Brinc, Hong Kong's longest running and most active venture accelerator. Kevin mentors dozens of global founders annually on how to navigate the challenges of product development, identifying the right development and supply chain partners and how to effectively transition to manufacturing in China. Kevin is also an active mentor for the HKU iDendron programme and member of the British and American Chamber of Commerce Innovation & Technology Committees.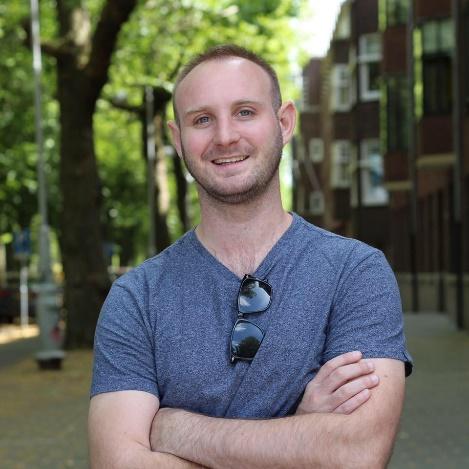 Mr Nick Zieber

Nick co-founded EC Accelerate, a virtual accelerator and mentorship programme that reached more than one thousand founders in three years. He designed systems for customer onboarding, programme curriculum, project tracking, and sales operations. He has mentored founders on every stage of the product life cycle. For more than 10 years Nick has been involved in nurturing the tech & startup ecosystem in Hong Kong and Shenzhen. He works closely with founders, VCs, accelerators, and digital innovation teams to build strong, effective, enduring teams.
Mr Desmond Ho

Desmond named "Forbes 30 Under 30 Asia 2020 - Social Entrepreneur". He is a serial entrepreneur specialising in AI, fintech and social venture. In 2017, he has provided a financial technology solution to expedite the social infrastructure development in Myanmar, with his company enrolled in the Cyberport Incubation Programme, Cambridge Social Ventures and University of Chicago. In 2021, he has founded Alpha AI to streamline the car insurance claims process by AI and blockchain technology with the company admitted into Cyberport Incubation Programme, CityU HK Tech 300 Angel Fund and EthAum VC in Singapore. He graduated from the University of Cambridge with a background in artificial intelligence, real estate, urban planning and economics. He is currently the Vice President of Cyberport Startup Alumni Association (2022-2023).
Vice President of Cyberport Startup Alumni Association (2022-2023)

Forbes 30 Under 30 (Asia) - Entrepreneur (2020)

Incubatee, Cyberport Incubation Programme – Alpha AI

Incubatee, Cyberport Incubation Programme – Commvest Asia (2018-2020)

MPhil in Planning, Growth and Regeneration, University of Cambridge, United Kingdom
Ms Fiona O

Fiona is an education entrepreneur who has dedicated to education innovation and technology projects with over 12 years of experience in the education industry. In 2017, she has founded i CAN Education Group, a reputable education platform that delivers quality education exchange programs and study consultation services. In 2018, she has co-founded Brainy Alliance Corporate Training and Consulting, providing best-of-class corporate training and coaching programs to prestigious companies such as Octopus, Estée Lauder and Bank of Singapore in Digital Transformation, Artificial Intelligence and Design Thinking. In 2021, she has founded GloStudy, one-stop career development platform using AI technology to help students find the best-fit education with the company admitted into Cyberport Incubation Program and CityU HK Tech 300 Seed Fund. She is also guest lecturer in CityU and HKPC teaching Entrepreneurship Programmes.
Incubatee, Cyberport Incubation Programme – GloStudy

Incubatee, Cyberport Incubation Programme – GloStudy

Founding President of Hong Kong and International Education Association Society Reference no.: REF.CP/LIC/SO/19/60952

Co-founder, TIPSY, the startup community supporting entrepreneurs and connect peers and decision-makers to establish Hong Kong and Asia as a global hub for innovation

Guest Lecturer, City University of Hong Kong

Guest Lecturer, Hong Kong Productivity Council

Mentor for HKSAR Government Child Development Fund, Institute of Leadership and Management Foundation Limited

Youth Career Mentor, Hong Kong Unison
Ms Wendy Yau

Wendy has 10+ years' experience in entrepreneurship funding administration and start-up incubation in CityU and HKUST. She is passionate about helping start-up teams to obtain various kinds of funding resources and by connecting them with the right people.