CityU expert in veterinary epidemiology granted Lifetime Achievement Award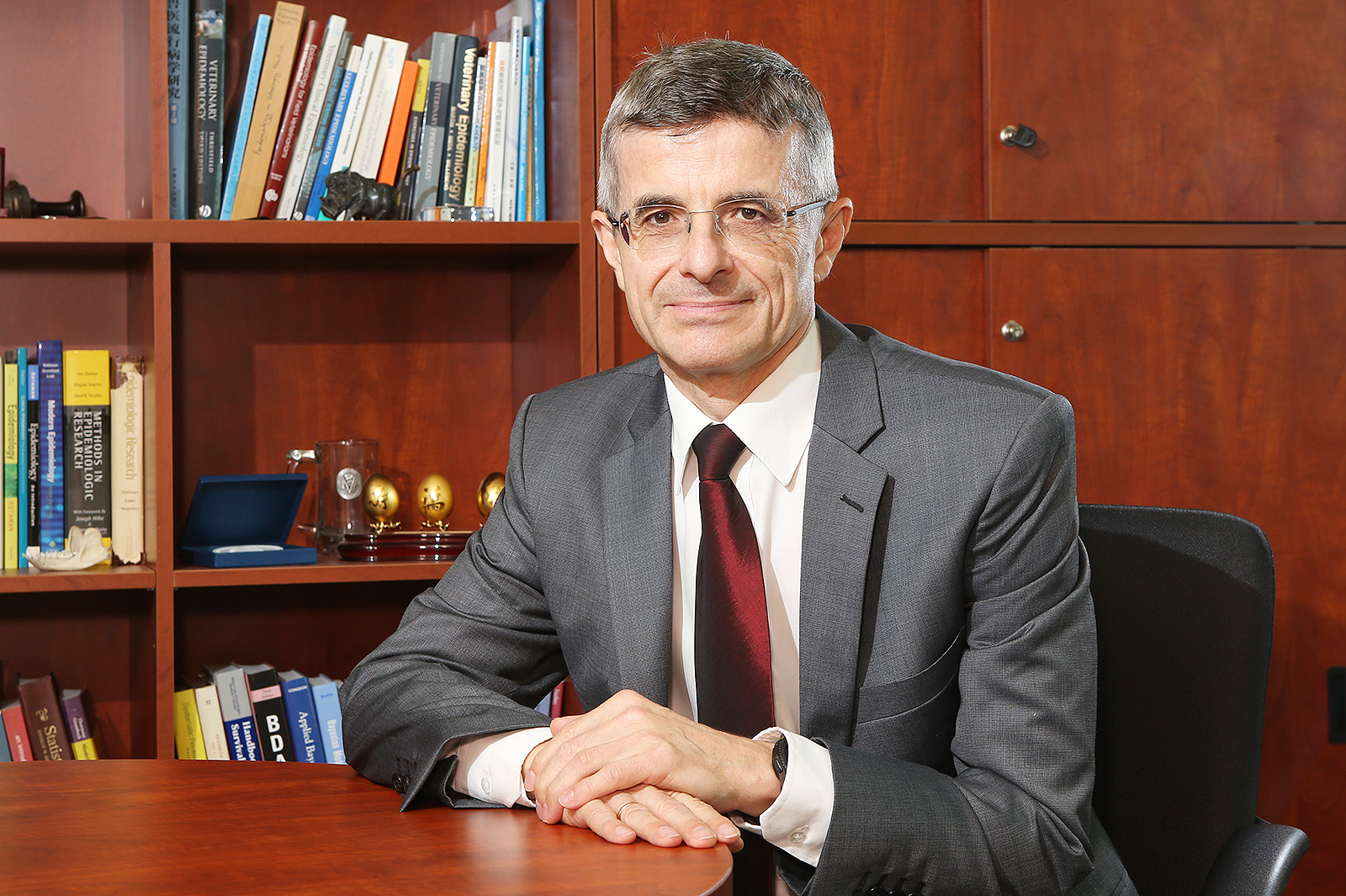 The prestigious Calvin W. Schwabe Award has been bestowed upon Professor Dirk Pfeiffer, Chow Tak Fung Chair Professor of One Health and Director of the Centre for Applied One Health Research and Policy Advice at City University of Hong Kong (CityU). 
Given by the Association for Veterinary Epidemiology and Preventive Medicine, this annual award honours Professor Pfeiffer's lifetime achievement in veterinary epidemiology and preventive medicine.
Calvin W. Schwabe is known as the father of veterinary epidemiology and One Health. In 1966, he established the world's first department of epidemiology and preventive medicine in a veterinary school, which was at the University of California, Davis. While there, he set up the Master of Preventive Veterinary Medicine programme, which remains the longest-running veterinary epidemiology programme in the world. 
As a specialist in veterinary epidemiology, Professor Pfeiffer ranks in the top 2% of the world's most highly cited scientists in the veterinary sciences field, according to metrics compiled by Stanford University, reflecting his high academic standards and substantial influence in the world.
The research of Professor Pfeiffer, who joined CityU in November 2016, focuses on the prevention and control of infectious diseases of global significance, such as avian influenza and African swine fever, using advanced quantitative epidemiological methods with a special emphasis on the translation of science into policy.
Professor Pfeiffer has held numerous memberships of advisory committees and expert panels around the world, including with the Food and Agriculture Organization (FAO) of the United Nations, the World Organisation for Animal Health (OIE), the European Food Safety Authority, the UK Government's Animal and Plant Health Agency, and the Animal Health Surveillance Governance Board for England and Wales, UK.
He currently chairs the Applied Epidemiology Technical Working Group of the OIE/FAO Network on Avian Influenza and he is a member of both the Global Pool of Experts on African Swine Fever and the Standing Group of Experts on African Swine Fever for Asia of the FAO OIE GF-TADS (Global Framework for the Progressive Control of Transboundary Animal Diseases). He is also a permanent member of the OIE Advisory Group on Covid-19.
Professor Pfeiffer holds a 20% appointment as Professor of Veterinary Epidemiology at the Royal Veterinary College in London, the world's top-ranked veterinary school (QS World University Rankings 2021), and he has been an Adjunct Professor at the China Animal Health and Epidemiology Centre since 2014.
"I am deeply honoured to receive this prestigious award in veterinary epidemiology. I want to emphasise that I have been fortunate to work in many countries around the globe conducting epidemiological research, training epidemiologists and engaging with government policymakers as well as other stakeholders. It has been incredibly motivating and rewarding to have had the opportunity to directly or indirectly touch the professional lives of a large number of people from around the world," said Professor Pfeiffer.