The New Face of the Student Computer Literacy Programme Website
The website (http://literacy.cityu.edu.hk) of the Student Computer Literacy Programme (SCLP) has been revamped this summer to better serve the needs of students and meet the requirements of today's web standard. The following web design guidelines have been adopted:
Simple and Clear Navigation
A navigation menu has been included to group all links under 3 categories, namely "About SCLP", "Course" and "Enrolment". The navigation menu appears on the left hand side of every page is to facilitate easy access. And there are 5 hot buttons shown at the top right hand corner for providing quick access to frequently used pages.
Browser Compatibility
The new website does not use frames, pop-up windows or Flash Shockwave so as to minimize the problems frequently occurred in web browsing. Various web browsers including Internet Explorer 7 & 8, Firefox, Chrome and Safari have been tested. Not only the new website is compatible with the Windows platform, it is also compatible with Macintosh computers, iPhones and other smartphones.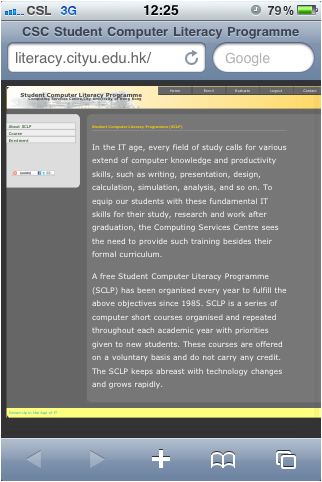 All Resolutions
The website has been designed for computers with different screen resolutions ranging from 800x600 to 1680x1050 and even higher.
Fast Loading
The website is designed for fast loading and most of the web pages can be shown in a few seconds. While loading a webpage, a loading image
will appear, telling users that the system is still working on the requested page.
Readable and professional looking fonts
The use of fancy fonts is avoided because those fonts might not be available on most computers. Common and professional web fonts such as Arial and Verdana are used instead.
Use of University EID to login
For those pages (such as downloading course materials or enrolling a computer course) which require checking users' identity, logging in with the University EID is needed. The web server will authenticate the login with the central LDAP server.
Web 2.0
In an attempt to incorporate Web 2.0 elements into the new website, an AddThis link is included to facilitate the sharing of information. There is also a link to the SCLP FaceBook group where users can discuss and subscribe SCLP news.
Conclusion
The SCLP has always been well received by CityU students. With this new look and structure of the SCLP website, finding the right information has never been easier. Without doubt, the Programme will continue to be a big success.