CityU Alumni Card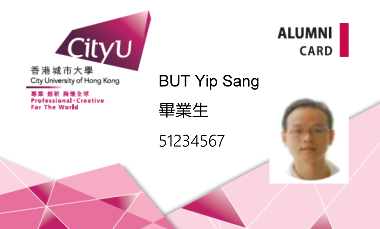 Alumni are welcome to apply. New graduates can apply for the Alumni Card online once your status is changed from student to alumni. It may take one week after your actual graduation day as indicated in AIMS.
Application fee for the Alumni Card is HK$100 and the card will be issued within one month upon submission. Alumni Card, with validity till the upcoming 30 June, is renewable online in June at an annual fee of HK$50.
Alumni can now apply for alumni library services (fee applied) through the Alumni Card application and use the smart card to get access to the library.
Alumni Cards issued from October 2020 to February 2022 are expired (if not renewed) and cardholders are invited to renew their cards at AIMS by clicking "CityU Alumni Card" under the "Alumni Services" tab to continue enjoying the on- and off-campus privileges until June 2023.
(Terms and Conditions applied)
Alumni Cards issued before October 2020 are obsolete.
---
"Vaccine Bubble" Requirements
Starting from 26 September 2022, all access card holders are required to have received at least three doses of COVID-19 vaccines, or have one dose of vaccine within the last 6 months. Only those who are unfit to be vaccinated will be exempted, and only when a valid QR code of COVID-19 Vaccination Medical Exemption Certificate is presented.
You shall upload the vaccination records via AIMS ("Personal Information" -> "Declaration for COVID-19 Vaccination / 2019新冠病毒病疫苗接種聲明") to enable access to the campus by simply tapping the Smart Alumni Card on the entrance gate readers as the current entry procedures.
Please rest assured that the data collected will be used strictly in accordance with the relevant provisions of Personal Data (Privacy) Ordinance.
For any enquiries, please contact us by email: alumni@cityu.edu.hk.