Overseas Study Opportunities
Student Exchange Programmes
Overseas study experience is an important part of university education. It provides opportunities for students to broaden their horizons and develop a global view. Students are encouraged to pursue exchange studies outside Hong Kong by participating in student exchange programmes organised by the School of Law or Global Engagement Office (GEO).
Please visit the list of partner institutions for more information about the Student Exchange Programmes launched between our School and other law schools worldwide and proceed to do the online application before the prescribed timeframe. Please click UG or PG for more details about the undergraduate and postgraduate exchange programmes.
Center for Transnational Legal Studies
CityU School of Law has entered into an alliance with Center for Transnational Legal Studies (CTLS), Georgetown University Law Center and other top-ranked law schools around the world.  For the list of Founding Partners and Partner Institutions, please click here.
THEMIS Network
The School of Law, becomes the second Asian law school to join the Themis network which was originally a collaboration between European law schools, namely Università Bocconi (Milan, Italy), Esade (Barcelona, Spain), Freie Universität (Berlin, Germany), Université Paris Est Créteil Val de Marne (Paris, France), Maastricht Law School (Maastricht, The Netherlands), Universität St. Gallen (Switzerland) and WU (Vienna University of Economics and Business) (Austria).
For more information, please click here
Global Legal Education and Awareness Project (G-LEAP)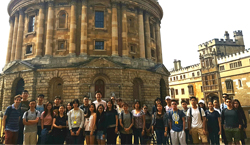 In order to complement the existing exchange progammes and to produce law graduates who could deal with the challenges of working in a globalised environment, the School of Law launched the Global Legal Education and Awareness Project (G-LEAP) in October 2007. It is designed to promote excellence in legal education with a view to providing opportunities for our law students to have a global perspective in the study of law.  Under G-LEAP, the School signed an agreement with University College, Oxford*. Our students can study a credit-bearing law course for one month on an intensive basis during the summer term.
* to be confirmed
Application details of the G-LEAP will be announced to the students between January and March of each year.
The arrangement of G-LEAP is subject to confirmation.
LLM GLOBAL GATEWAY® Programme
The School's LLM programme is a GLOBAL GATEWAY® Programme, which allows the students to participate in exchange and dual programmes under the cooperative agreements signed with a number of universities and institutions.
Please click HERE for more information about the GLOBAL GATEWAY® Programme