Professor of Veterinary Parasitology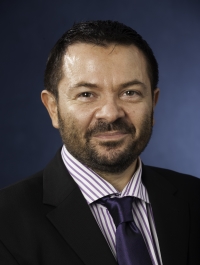 BSc, MSc, PhD, CBiol, PGCErtHE, FHEA, FSTVM, FSB, FRES
Office Address
Room 1B-409, 4/F, Block 1B, To Yuen Building, 31 To Yuen Street, City University of Hong Kong
Prof. Sparagano received his BSc and MSc from the University of Paris VII, France, his MRes from the University Blaise Pascal, France, and his PhD from the Institut Pasteur and the University Lyon I, France.
Before joining City University of Hong Kong, he was the Associate Pro Vice-Chancellor for Research and Professor of Animal Health and Biotechnology at Coventry University, UK. Prior to this appointment, he was the Associate Dean for Research in the Faculty of Health and Life Sciences at Northumbria University, UK.
Olivier is a Chartered Biologist, a Fellow of the Society for Tropical Veterinary Medicine (of which he is currently the President for the third time), a Fellow of the Higher Education Academy, a Fellow of the Royal Entomological Society, a Fellow of the Royal Society of Biology and an Associate Member of the Royal Society for Chemistry. He has published over 150 peer-reviewed papers and over 350 conference abstracts.
Professor Sparagano's research over the last 25 years has covered topics from molecular diagnostics of parasitic diseases, vaccine development, probiotics, vector-borne diseases (ticks, mites, mosquitoes) in a broad range of animals (pets, farm animals and wildlife animals).
Camarda, A., Pugliese, N., Bevilacqua, A., Circella, E., Gradoni, L., George, D., Sparagano, O. & Giangaspero, A., Sep 2018:
Efficacy of a novel neem oil formulation (RP03™) to control the poultry red mite Dermanyssus gallinae.
Med Vet Entomol, 32: 290-297. DOI: 10.1111/mve.12296
Tomley, F. M. & Sparagano, O., 18 Jul 2018:
Spotlight on avian pathology: Red mite, a serious emergent problem in layer hens.
Avian Pathology, 47:6, 533-535, DOI: 10.1080/03079457.2018.1490493
Hubert, J., Erban, T., Kopecky, J., Sopko, B., Nesvorna, M., Lichovnikova, M., Schicht, S., Strube, C. & Sparagano, O., Nov 2017:
Comparison of Microbiomes between Red Poultry Mite Populations (Dermanyssus gallinae): Predominance of Bartonella-like Bacteria.
Microb Ecol (2017) 74: 947. DOI: 10.1007/s00248-017-0993-z
Sigognault Flochlay, A., Thomas, E. & Sparagano, O., 1 Aug 2017:
Poultry red mite (Dermanyssus gallinae) infestation: A broad impact parasitological disease that still remains a significant challenge for the egg-laying industry in Europe.
Parasites & Vectors201710:357. doi: 10.1186/s13071-017-2292-4
Štefanidesová, K., Škultéty, Ľ., Sparagano, O. A. E. & Špitalská, E., 15 Jun 2017:
The repellent efficacy of eleven essential oils against adult Dermacentor reticulatus ticks.
Ticks Tick Borne Dis. 2017 Aug;8(5):780-786. DOI: 10.1016/j.ttbdis.2017.06.003
Sparagano, O. A. E., 2017: Transcription Factors as a Target for Vaccination Against Ticks and Mites.
Adv Protein Chem Struct Biol. 2017;107:275-282. DOI: 10.1016/bs.apcsb.2016.11.004
Sylejmani, D., Musliu, A., Ramadani, N., Sparagano, O. & Hamidi, A., Jun 2016:
Associations Between the Level of Biosecurity and Occurrence of Dermanyssus gallinae and Salmonella spp. in Layer Farms.
Avian Diseases. 60, 2, p. 454-459 6 p.: DOI: 10.1637/11327-111415-Reg
Graham, K. M., Sparagano, O. A. E. & Finn, R. D., Jun 2016:
Isolation of the monooxygenase complex from Rhipicephalus (Boophilus) microplus: Clues to understanding acaricide resistance.
Ticks and Tick-borne Diseases. 7, 4, p. 614-623 10 p. doi: 10.1016/j.ttbdis.2016.01.012