A Brand New WebMail System
WebMail is a convenient tool for users to send and receive e-mail from any workstation that is connected to the Internet. Using any standard Web browser and the same e-mail account, staff and student can access their e-mails that are kept in the central e-mail server from any place within or outside campus.
Since 1999, the Computing Services Centre (CSC) has provided a WebMail service using the Mailspinner software. Since the vendor of Mailspinner was acquired, support quality has dropped significantly. Unresolved technical problems such as language support remain unresolved. For continuous improvement of service quality, the CSC is regularly reviewing this service and searching for better solutions. After a period of vigorous software evaluation, in-house tailoring and pilot run, we are pleased to announce that a brand new WebMail system powered by Infinite InterChange 3.62 was launched for students and alumni in May 2002.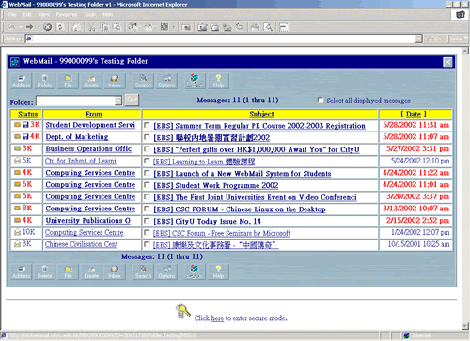 There are many enhancements in Infinite InterChange over Mailspinner including:
Better support of double-byte character sets, e.g. Traditional and Simplified Chinese characters.
Support a wider range of e-mail formats and standards.
Enhanced user interface.
Improved spell checker.

Better support for file attachments.
New features that are only available in the Infinite InterChange system include:
Message searching. It provides a sophisticated but easy-to-use search tool that allows users to search messages that contain specific text and/or are from a specific person.
Personal distribution list. If you send mail to a particular group of people frequently, you can define that group of people in a personal distribution list.
Registered mail. The WebMail system will notify you upon any outgoing message being read by the recipient.
URL hotlinks. The system can recognize URLs that begin with the strings: "http://www", "www", "ftp://ftp", "mailto:" ... etc.
The InterChange WebMail is under pilot test for staff and will be in production before the new academic year commences.