Newspaper, Radio & TV on Your Office PC
The successful implementations of Intranet and VideoNet have opened up a series of new services. Now sitting comfortably in your office, you can read newspaper, listen to the radio or even watch TV all on your networked PC.
In the past, you might be used to buying a newspaper on your way to work. Why not change your habit and read the electronic version being delivered to your PC instead? It is absolutely free no matter how many of them you read. You may also glance at all the headlines and clippings of different newspapers.
On the Intranet Home Page
, click Newspaper.
To learn what is happening in Hong Kong and worldwide, you may want to listen to the hourly updated News Summary of RTHK.
On the Intranet Home Page
, click Radio.
If listening is not good enough, you can watch the Cable TV news channels. There are totally six news channels including Cable News 1, Cable News 2, CNN, BBC, Discovery Channel and CNBC which bring you the most up-to-date local and worldwide news. The broadcasting of the Disney Deal is a good example.
On the Intranet Home Page
, click CityTV.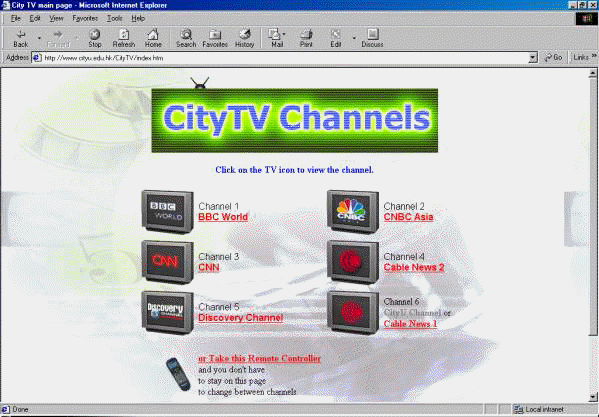 Of course, the Campus News, Newsletter and Reference links on CityTouch should not be missed too. Campus News displays different types of University Messages as follows:
Today's Event
News & Announcement
Conference, Seminar & Course

Media Clippings
Departmental Messages
Newsletter provides links to CityU publications such as Linkage and University Bulletin. If your department has any Web-based publications, you are welcome to provide us with your URL. We can help promote it by adding a link to your publication on the Newsletter page.
Reference collects some important information on hot topics like the Merit Based Reward Scheme Papers.
It should be noted that for radio and television broadcast, you have to enable your PC to talk by adding a sound card and a pair of speakers.
Stay tuned with CityU Intranet and experience the convenience and efficiency that technology brings you!