Organic Light Emitting Diode
OLED is considered as the leading display technology in the 21st century. They compare favorably with other display technologies such as inorganic LEDs, liquid crystal displays (LCDs), plasma display panels (PDP) and inorganic EL, because OLED in general exhibits a thin structure (on the order of nm), high luminous efficiency, low power consumption, self-emissive property, fast response time (on the order of ns), potential low production cost, light weight, large operating temperature range, structural flexibility, and wide viewing angle of approximately 170o. Potential applications of OLEDs include high-density information displays such as full-color displays for cellular phones, MP3, car stereo, PDA, digital camera and wall-mounted televisions, general lighting as well as backlights for cellular phones and LCD.
City University of Hong Kong is the leading local institution with an international status in the R&D of OLED. Particularly, CityU has developed several key OLED propriety technologies and intellectual properties through several RGC and ITF projects. Through the support of two completed ITF projects and a number of RGC projects on OLED, CityU has acquired comprehensive infrastructures and facilities (deposition systems, clean room, photolithography system, device testing and material characterization equipments) for OLED fabrication. CityU is the first and only institution in Hong Kong that can manufacture market-ready OLED, ranging from monochrome color to full-color panels, and is capable of routine production of OLED panels by using the in-house 200mm x 200mm OLED pilot line.


CityU Proprietary Materials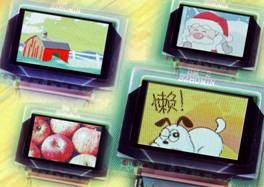 Upper: 96RGB x 64 full-color OLED;
Bottom: 112 x 84RGB full color OLED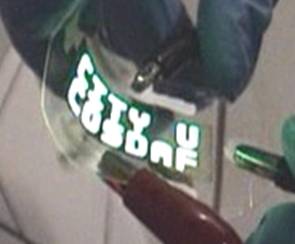 Flexible OLED on plastic substrate
Track Record
OLED Publications and Patents
More than 150 SCI journals, 2 book chapters, 12 pending and issued US patents
Proprietary Materials, Device Structures and Electrodes
Marketable Products

128RGB x 160, 96RGB x 128, 96RGB x 64 and 112 x 84RGB Passive Matrix

Full-Color

OLED;
128 x 64 and 96 x 64 Passive Matrix

Area-Color

OLED;
256 x 256, 128 x 64, 96 x 64 and 96 x 39 Passive Matrix

Monochrome

OLED

Latest Core Technologies

White-Emitting OLED;
Flexible OLED;
Thin Film Encapsulation;
Photovoltaic Device