Nanodiamond & Superhard Thin-films
cBN in COSDAF
Center Of Super Diamond and Advanced Films (COSDAF) is the leading local institution with an international status in the R&D of hard coating especially diamond and cBN. COSDAF has established several methods to deposit thick and adherent cBN thin films with the finianical support from several RGC and ITF projects. COSDAF has acquired comprehensive infrastructures and facilities (deposition systems and material characterization equipments) for development of super-hard coating. CityU is the first and only institution in the world that can prepared, highly pure, thick and uniform cBN film in large area (4 × 4 cm2). And the deposited cBN films show high stability for more than 2 years. The adherent and stable characteristics of the cBN leads to the project of cBN coated tools for practical machining.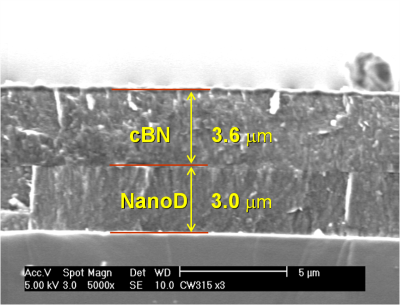 The cross-sectional SEM image of the thick cBN-nanodiamond-Si structure
| | |
| --- | --- |
| (Left) Cross-sectional HRTEM image of the diamond/cBN interface. The cBN grows directly on diamond with no aBN or tBN layer. | (Right) B (main image), N (inset, lower part, middle), and C (inset, lower part, right) elemental mapping indicating an interface between cubic BN and diamond. |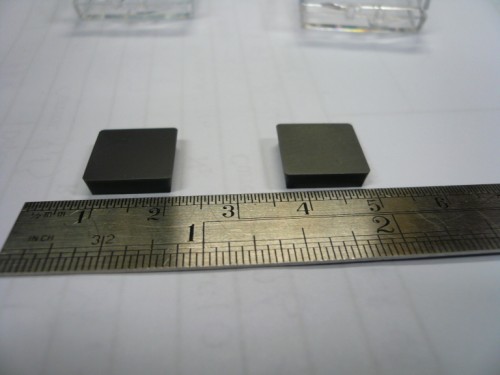 (Left)The diamond coated WC substrate. (Right) The cBN-diamond deposited on WC inserts.
cBN-diamond mutlilayer structures
Preparation of multilayers stems from superlattice structures where two thin layer materials with different properties are stacked periodically to yield the overall properties surpassing that of individual material components. The smallest mismatch in lattice constants (1.3%) and surface energies of diamond and cBN ease the combination of diamond and cBN into multilayer structures. We synthesized nanocrystalline cBN (N-cBN)/nanodiamond (ND) multilayer structure with equivalent layer thickness of ~100 nm on the basal ND film coated silicon substrates. The cBN/ND multilayer film also enhances the mechanical properties of individual layer materials (Hardness of cBN and nanodiamond are 70 and 60 GPa respectively) and the surface of cBN preserves the chemical stability, suggesting the utilization in mechanical protective coatings and tribology.
| | |
| --- | --- |
| (Left) Cross-sectional SEM micrograph showing the N-cBN/ND multilayer grown on a thick ND buffer layer | (Right) Dependence of hardness and elastic modulus on displacement measured on a nine-layered N-cBN/ND multilayer |
Publications and patents
More than 120 SCI journals (4 in Science and Nature)
5 issued and 2 pending US Patents
The representative articles were selected as the cover of the international journals.
| | |
| --- | --- |
| (Left) MRS Bulletin 2003 | (Right) Advanced 2004 |