Organic Light Emitting Diode
Novel Electrode
Although ITO is probably the most successful transparent conductive oxides, indium is a relatively scarce element in the earth's crust. The cost for ITO production is therefore high. The other drawback of ITO films is the instable chemical stability in a reduced ambient. The indium of ITO layer can diffuse into the organic materials, leading to degradation of LED device performance. Besides, the toxic nature of indium could be hazardous to human and environment.
Properties
ITO
AZO (Al:ZnO)
Stability in reducing ambient
Unstable
More stable
OLED Degradation
In diffusion
Nil
Cost
Scarce element, expensive
More abundant, less expensive
Environmental Effect
Toxic
Environmental friendly
Comparison of ITO & AZO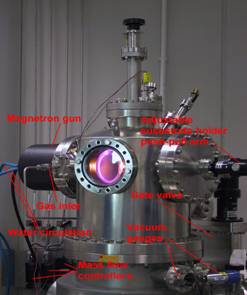 CityU's Transparent Cathode for Dual Side Emitting OLED
Aluminum-doped zinc oxide (ZnO:Al or namely AZO) films are used as anode material for preparing OLEDs. For the preparation of AZO films, midfrequency reactive ac magnetron sputtering (TwinMag) in a vertical sputter system operating at 40 kHz is utilized. Argon and oxygen are the process gas and reactive gas, respectively. As an inexpensive target, metallic zinc with aluminum content of 2 wt % is applied. Films are deposited at a fixed target to substrate distance of 80 mm and a constant argon pressure of 0.15 Pa. The base pressure is lower than 3×10–6 mbar for all depositions. Due to high ion flux and ion energy, and the effective activation of plasma species, good film properties can be obtained at a deposition rate of approximately 10 nm/s and substrate temperature lower than 200 °C. The film resistivity is as low as 3×10–4

cm and the optical absorption in the visible spectral range as low as 1%. These films exhibit a carrier density above 8×1020 cm–3 and optical band gap of 3.9 eV. The important parameter for the LEDs, i.e., surface work function, is higher than 4.3 eV.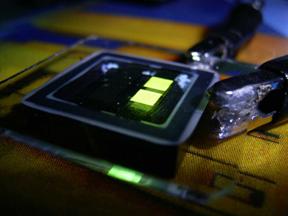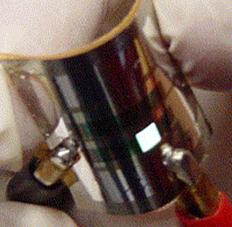 LED Fabrication on Rigid Glass and Plastic Substrates by Using AZO as an Anode