About the Programme
The College has specially arranged a summer programme for exchange students. They will conduct a research project under the supervision of a faculty member at CityU. Apart from gaining research experience, they will have the opportunity to participate in outside classroom activities. For example, industrial visits and cultural events will be organized to give them a brief introduction of the industrial establishment in Hong Kong as well as a taste of the Chinese culture.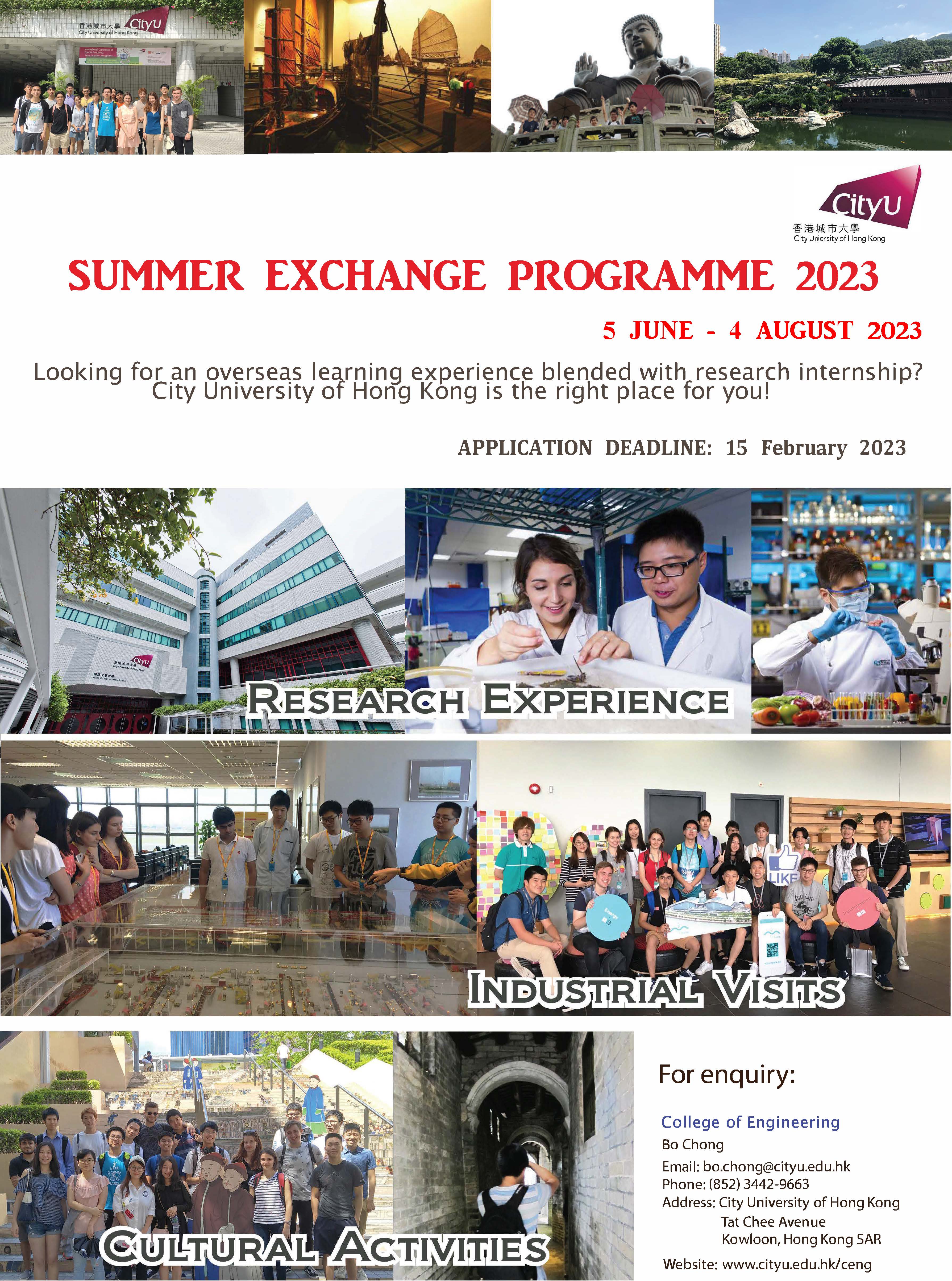 Key Dates for Summer Term:
| | |
| --- | --- |
| Online Application period | 15 Jan - 15 Feb 2023 |
| Duration | 5 Jun - 4 Aug 2023 (9 weeks) |
| Expected Date of Arrival | To be confirmed |
Course:
Participating students will register for a 6-credit unit course.
Possible internship research areas:
Science:
chemistry; biology;  environmental science; cancer biology; regenerative medicine; neuroscience; nanomedicine; multimedia computing; distributed mobile computing and wireless networking; applied algorithms; data science and knowledge management; systems, software engineering and internet applications, evolutionary computation; applied analysis; computational mathematics; mathematical modelling; probability and statistics; theory and computational physics; spectroscopy and imaging; atomic, molecular, optics, low dimensional systems; soft matter and biophysics; radiation physics
Engineering:
civil, structural and geotechnical engineering; architecture and architectural engineering; applied electromagnetics; optoelectronics, electronics, nanotechnology and biosystems; wireless communications; networking; computer engineering and control systems; device physics; materials science; mechanical engineering/ product design/ manufacturing/ quality engineering; robotics/ mechatronics/ automation; bio/ biomedical engineering; nuclear and risk engineering; systems engineering; engineering management
Eligibility
Applicants must:
be a full-time student at one of our partner universities for no less than one academic year.
meet the minimum academic "good standing" requirement at their home university.
meet one of the following English requirements if English is NOT the medium of instruction at their home university:

TOEFL 79 (internet-based test) or above; OR
IELTS 6.5 or above; OR
Chinese Mainland's College English Test (CET) Band 6 or above.

be nominated by their university's international office or unit concerned.
Application procedures (Deadline: 15 Feb 2023) 
1.   Applicants must submit their application via the online system: 
Account registration (Select College of Engineering)
Application login 
     Upload the following documents to the online system
CV
5 project choices in priority
Academic transcripts
2.   Applicants must also submit all the required documents in ORIGINAL copy via their home university:
Application form for student visa (ID995A)
Proof of English language proficiency (if applicable)
Request for visa sponsorship & student's agreement (via the online system)
Declaration by financial sponsor (sample)
Copies of financial documents under the name of the applicant (e.g., bank statements, savings account passbooks, scholarship award notification, tax receipts, and salary slips.). If another party sponsors the applicant, please provide the sponsor's financial statements instead. Please do NOT send in original documents. All submitted documents are non-returnable once submitted
Copies of the travel document of the applicant and the financial sponsor (if any), containing personal particulars, date of issue, date of expiry
For details on the visa application, please visit our Global Engagement Office.
More about…